By Emma Arubi
ON December 14, 1998, a ceiling fan cut Mr. Omasan Amunubo's face. After treatment, the surgery left five stitches below his left eye.  Omasan, Male, 53, has since undergone other medical operations to correct the defects that resulted from the surgery, to the extent that he  developed advanced glaucoma. Today, Omasan is completely blind from what has been described by an Ophthalmologist as Corneal Opacification.
He uses a guide to take him around. He currently needs about N5 million to travel to India for a surgery to restore his sight and  is appealing to well meaning Nigerians to come to his financial aid. Omunubo, who was brought in a red Toyota Corrolla car to the Vanguard office in Warri, Delta State, narrates how his problems started and his needs for help. Excerpts:
Why are you in Vanguard Office this morning?
I had a ceiling fan accident 12 years ago. I was sleeping on the table, and the ceiling fan was blowing above my head while the air conditioner was on. By mid night, I woke up and climbed the chair next to me to switch the A/C off. But instead of stepping down, I stood on the table, and walked towards the door.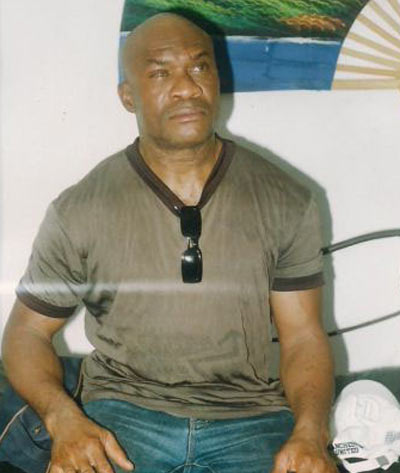 All of a sudden,  I heard a gbooo sound on my face. I shouted God! God! God! God! I had to bring out the handkerchief on my left pocket. Before I knew it, it was soaked with blood. I pulled off my shirt and tied it on my left eye because I thought the eyeball had burst. I had to grope my way to the door because I locked the door.
I suceeded in opening it and called for help. That was precisely on December 14 1998. I can still remember that night. I was rushed to and treated at the Golden Cross Hospital , FESTAC, Lagos. I had five stitches under my left eye and three stitches on the bridge of my nose, making it eight stitches on my face, with thick plaster. By 4am, I said I would not stay here. I did not stay in the hospital. So, I was discharged and was allowed to go home.But treatments continued.
When did your eye problem deteriorate to this level?
I joined First Bank as a security personnel. My former OC Squadron, who  retired as star commissioner, Kayode Ororo, got me the job in First Bank after 1999, and said he was attaching us to the Managing Director as his personal bodyguard. Six of us were employed by that man.
That MD was a good man. You know, when you are working for a big man, you will not have time for yourself. From that 2001, I was the bodyguard to the MDs and Executive Directors and about three other MDs. So, I had no time for my treatment as such. Sometimes, I would go to the East for about 20 days. I had never spent Christmas in Warri except this last Christmas when I was in the village. I spent all my Christmas with my boss.
If I went to the East,  it was money for me because it was N2000 per night. I prefer to go to the East. When I was in the East, I was hard working.
One day, my boss was coming from an Exco meeting and gave me her brief case from the left side of my eye. She noticed that I had to turn my face to collect it from her. She asked me what was wrong with my left eye? I told her I had a ceiling fan accident. I removed my eye glasses to show her the stitches. I told her that the eye was getting better.
She observed me for two years plus and then called the CSO and asked him to attach a mobile police sergeant to her and they moved me back to my department. But before then, I had gone to see my optician who gave me the glasses I was using before I was moved back to my security department.
But your eye degenerated to the level that you can no more see?
It was last year, 2009, when I had that acute malaria attack, and since it affects the head, it also affected the eye. I was in admission for eight different times in two different hospitals. After the last treatment, the malaria did not go and it affected the other eye. When I went to St. Mary, at Ijebu Ibu, they were giving me one month appointment and two months appointment to enable them to  study the situation because the temperature had normalised.
There were two Indian doctors then and they said the temperature had to come down to 16 but it was still hanging on 24. And because of the stress of travelling to Lagos from Ijebu Ibu I developed high blood pressure. As a result, I had to sleep overnight on Sundays to see the doctors on Mondays.
The last surgery I underwent, I spent10 days there. When they performed the surgery, there was an inflammation because it got infected and the doctors had to use antibiotics. Six injections were pierced into my eye to clear the inflammation as the eye had turned red.
I went through hell. Since I started this treatment, I have used over 60 eye drops, at N5000 each.
Now that it is at this level, have you gone back to your former employers for help?
Yes, but I keep telling them that I want to go to India for further this treatment and that they should raise funds for me.
Have you found out where the treatment will take place and how much it will cost?
When I go back to the doctor this month, I will discuss with my doctors who will send letters to the two Indian doctors who will send letters of invitation from the headquarters there before I will know the cost. But put together, I will need about N3.5 million on my own, and I will be going with a guide.  I am appealing to good Samaritans because I know that we still have good people.