By Dapo Akinrefon
ALTHOUGH the Edo State gubernatorial race will not hold until 2012, but to Mr Kenneth Imansuangbon, an educationist and chieftain of the People's Democratic Party, PDP, the time for change is now.
He recently took his governorship bid to Edo Central Senatorial District, where he sought blessings from traditional rulers. He took time off to comment on burning issues in Edo State. Excerpts:
How will you describe the reception you received at your declaration?
It was a beautiful outing. We saw the passion of the royal fathers in Esan land, we saw their conviction. They are convinced that the party, the Peoples Democracy Party (PDP) will allow for internal democracy.
They were disappointed with the way the Action Congress (AC) supplanted what would have been for Edo people in my own person in the gubernatorial primary of 2006.
However, they are saying loud and clear that they want a better Edo State where security would be guaranteed, where employment would be guaranteed.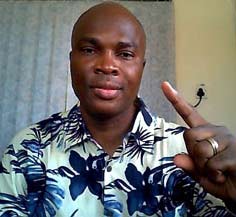 They want a state where the young men and women would be engaged, where the roads would not just be cosmetic but real, where the caterpillars would not just be parked but where the drums and sounds of caterpillars would be seen and heard, and people would be engaged, where agriculture would be given focus and priority attention and where our schools would be allowed to function.
That is the desire and dream of the royal fathers.
That is why I am in the race. That is why I took the message for 2012 to the traditional rulers in my senatorial district. It is the first step to the victory that is coming in 2012.
Considering that the incumbent governor, Comrade Adams Oshiomhole, is still popular, how do you intend to wrest power from him?
Oshiomhole is very unpopular, not popular. Any right_thinking Edo person who loves the state would know that Oshiomhole's rhythm is slow. It is at its lowest stage. The caterpillars are just parked. That is not popularity.
The insecurity in the state – the kidnapping, armed robbery and other crimes – is more pronounced in Oshiomhole's administration. Only a few days ago, armed robbers went to the First Bank, Ekpoma to rob. They killed three policemen.
I am sure that is not the kind of state he wants. I understand with Oshiomhole that he does not really have what it takes to pilot the affairs of the state. I sympathise with him, in all sincerity of purpose basically because he is from a purely protestant background.
This is different from a background the Edo people need – a background of administration, a background of understanding the problems and the plight of the people. First, you must understand the problems of the people. Secondly, you must be able to provide viable solutions to the problems. So, Oshiomhole lacks that, with respect to him.
He might wear short khaki like we saw for eight years during former President Olusegun Obasanjo's administration. Fine, but Oshiomhole's governance is far from good and purposeful. So, for this, he is not popular.
What do the people of Edo need? They need a young, articulate, vibrant person like Governor Babatunde Fashola in Lagos, who came from the private sector. Fashola understands the problems of Lagos State; that is why he is getting the answers.
So, what we need in Edo now is not old men, it is not people who feel they are demigods. The Edo people need very simple-hearted, passionate people who understand the problems. The problems are what they are; the answers are in my blueprint.
The Edo people need a man who is coming from the private sector, a man that would not be laden with burden, a man who is free to serve the people the way the people want. I think I am that person.
You want to be governor but the problem seems to lie in your party. How do you intend to solve that problem?
The fear of internal democracy, like the traditional rulers expressed, they said "we love you, you are a vibrant person. We gave you our blessings in 2005 but you were supplanted by the AC. The party brought Oshiomhole, who was never a member of the party, two weeks to the election from the Labour Party to come and supplant you and he went ahead to take your nomination."
You can see the passion and fear of the traditional rulers. That can only happen in a country like ours. But that is why young men and women like us are in the race.
How can we take away that fear? I am proud and happy to report to you today as I speak that we have a Chairman in the party in Edo State, Chief Dan Osi Orbih, who is young, articulate; a university graduate. He has promised internal democracy.
Chief Tony Anineh has promised internal democracy, that there will not be interference with primaries in Edo State. Dr Samuel Ogbemudia has also promised that. Leaders of the party in the state have all promised that.
I believe what the leaders have said. They said they want transparency, they want internal democracy.
They promised that the best candidate will represent the party. They said that the best candidate with popularity who can win and dislodge Oshiomhole will represent the party.
So, in 2012 we expect transparency, we expect honesty, and we expect integrity.
But with the Orbih_led administration, so far so good, I cannot but believe what is happening in the party. I have very tremendous respect for Orbih and trust him. He promised that, God willing, he is going to organise a free and fair primary.
Don't forget that the beauty of Edo State election is that it is going to be the only election, so the whole world is going to be monitoring it. It is not going to be like what happened in 2007, I can assure you. Not only in PDP, even in ACN and in the All Nigeria Peoples Party (ANPP), and others because for Edo State to move forward, we must begin to do things right.
So, if we must win in 2012, we must have young, viable, credible, articulate candidate.
I think the PDP is well organised, well orchestrated and we are in order to do that and that is what we are promising the people. Everybody should come on board onto the PDP.
The bad ones have left; it is the credible people that are remaining in the party. With the bad eggs out, good ones remaining, we putting our house in order, I can assure you that the PDP is the party to beat in the state in 2012.
Your party is factionalised in Edo State. What are are leaders like you are doing to bring the factions together?
The PDP is a big party. In PDP, I must tell you that yes the party is a big family, there are skirmishes.
Leaders in the party and I have been doing our best and I can assure you that the state of the party today is stronger than ever.
However, there are little problems, there are problems all over, but those problems, God willing, our leaders are great people, they will resolve the problems.
Chief Anineh and Dr Ogbemudia are siamese twins, nobody can separate them, not even politics. I can assure you that those two men are soul mates and you cannot separate soul mates. Those who think they are divided will be shocked in 2012.