By Clara Nwachukwu
Federal Government's plan to increase power generation capacity, hovering around 3,000 Mw, got a lift on Monday, as Mobil Producing Nigeria Unlimited, MPN, a subsidiary of Exxon Mobil Corporation, announced the discovery of a rich gas condensate, offshore Akwa Ibom State.
Ongoing reforms in the power sector is expected to attract increased investments, particularly in gas-to-power, where the International Oil Companies, IOCs, are being wooed to assist government not only in investing in Independent Power Projects, IPPs, but also increase the supply of gas to feed the power plants through an aggressive domestic gas obligation, as contained in the Gas Master Plan.
Also speaking, the Chairman and Managing Director of Mobil Producing, Mr Mark R. Ward, said, "We are focused on developing oil and gas reserves and supplying natural gas that will boost commercial power production in line with the Federal Government's aspiration,'' adding, ''This is another example of our commitment to the growth of the oil and gas industry in Nigeria."
Discovery of Gas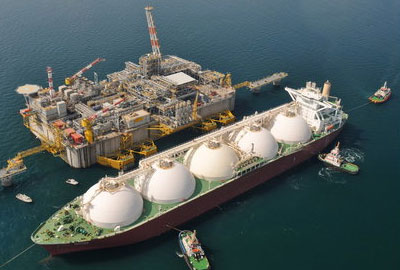 Mobil, which is in joint venture with the Nigerian National Petroleum Corporation, NNPC, also said the discovery was made in its Oil Mining License, OML 104, which is approximately 75 kilometers offshore of Akwa Ibom, Southeast Nigeria.
Christened Pegi-1, Mobil said, "the discovery well was drilled in 315 feet (96 meters) of water to a total depth of 11,407 feet (3,477 meters) beneath the Awawa Field and encountered 165 net feet (50.3 meters) of rich gas condensate."
Natural gas condensate or wet gas is a low-density mixture of hydrocarbon liquids present as gaseous components in the raw natural gas. Such gas is also non-associated gas and contains hydrocarbons, which are not captured in quota allocations for member countries by the Organisation of the Petroleum Exporting Countries, OPEC.
Mobil in a statement by its Executive Director, Mrs Gloria Essien-Danner, said, "The Pegi discovery is part of ExxonMobil and NNPC's programme to increase oil and gas reserves and production capacity, and to supply power and natural gas to the growing Nigerian domestic market."
Analysis of recovered samples indicates an American Petroleum Institute, API gravity of approximately 41 degrees. Significant additional potential remains in untested deeper targets within the Pegi fault block as well as in adjacent fault blocks.
Accordingly, Essien-Danner noted that pending results from additional exploration planned in the area as well as development studies will determine the optimal plan for bringing this newly discovered resource into production."
Gas reserves
Nigeria is often regarded as more of a gas country than oil, with current total gas reserves put at approximately -183.3 trillion standard cubic feet, TSCF, made up of: Associated Gas, AG of 96.0 TSCF (from oil exploration), and Non Associated Gas, NAG, or natural gas of 87.2 TSCF, according to industry regulator, Department of Petroleum Resources, DPR, calculations.
With this realisation, government developed an ambitious gas master plan and monetisation programme, with a view to fast tracking commitment to domestic gas obligation for IPPs in line with government accelerated aspiration for electric power generation.
However, inconsistent policies, non-commercial gas pricing, funding and dearth of gas gathering infrastructure combine to frustrate efforts in new gas finds, as majority of finds are from crude associated sourcess.
To encourage oil companies and other investors, government introduced new graduated gas pricing regimes as follows:
$1.00 per million British thermal unit, MMBtu at the end of 2010;
$1.50 per MMBtu at the end of 2011; and,
$2.00 per MMBtu at the end of 2013
And thereafter, allow market forces to determine prices in subsequent years, a development the IOCs described as one of the best bargains in commercial gas pricing in Nigeria so far.
The nation requires gas of about 3,500 mmscf/d to feed existing IPPs, if generation capacity targets are to be met. This made government to develop guidelines for Domestic Gas Supply Obligation, as oil companies preferred to channel their natural gas for export through Liquefied Natural Gas, LNG, for higher returns, thereby starving the domestic industries and IPPs of the needed gas.
Mobil Producing, which currently produces approximately 700,000 barrels of oil, condensate and natural gas liquids per day is the operator of OML 104 with 40 percent working interest, while the NNPC holding the remaining 60 percent. The company is also the operator of other adjacent oil blocks including OMLs 67, 68 and 70 and deepwater OML 133.