By Demola Akinyemi,Ilorin
For the family of Alhaji and Alhaja Tunde Busari both natives of Ilorin in Kwara state , it has been decades of nightmares, agonies, pains, humiliation and disappointments over their state of childlessness until early this month when a set of twins silently crept into the family. The family got married in 1986.
Alhaja Nimota, 45, a multimillionaire international business woman of no mean repute is the worst hit as her crying and wailings seemed endless over the talks around town among friends and relations that she had used her womanhood in replacement of  the intimidating wealth and properties she had acquired.
Speaking in an interview with Saturday Vanguard in company of her husband aged 53, Hajia Nimota recalled with nostalgia, her days of sobbing  over her seeming endless search for a child .
She also showed various receipts from a particular specialist hospital in Ilorin where her husband's sperm was requested and various medical tests were done on her. The twelve receipts, she said  totaled about  N1.4m.
The husband interjected that they had to discontinue the process as demanded by the doctor because during their various visits to the hospital, they didn't see any of their patients  with a baby.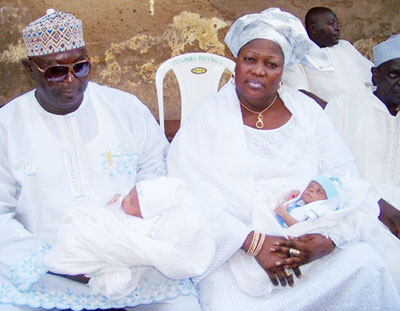 Her husband, Alhaji Tunde Busari ,a successful businessman  told Saturday Vanguard that  it has not been easy for them.
"It was a hell of a  life. We had to stop  because all the time we visited the place on appointment, we didn't see any evidence even though people claim  several couples with fertility problems were treated there. Though, the doctor was confident that the process would deliver a baby,  we decided to stop and he could not force us to be coming and more importantly it involved a lot of money . We spent well over one million and could not continue''
Hajia Nimota the wife who was being consoled  in the cause of the interview by a  team of friends around her also remembered vividly how she traveled to  Ghana and Ivory Coast severally in search of a cure for her delayed conception but to no avail.
Her words: " There were so many concoctions that I took. Some were so horrible and had  very offensive odour that I  vomitted each time I took them and I must take them because I was looking for a baby and I knew that I had not used anything or done anything that would deprive me of God's blessing and a  bundle of  joy .
I used to think about the wealth that God has given me and I  wonder who will inherit them after my death .''
The husband here interjected again, "Everywhere we went, whether to see  herbalist or Alfa, they will tell us that this woman has been destined by God to have babies on earth but they did not know  when. Finally, we resorted to prayers  alone''
The wife also explained how she adopted  children of other members of the family and relations, training them in terms of their education and all other things.
" Eventually, when they grow up and start misbehaving and I reprimand them, they will go back to their parents and instead of them to send them back, they will accommodate them and won't bother to ask what was amiss. There were several cases like that. I will burst into tears again and think that if its my own child, such a thing won't happen'.
"But my husband will keep encouraging me that its through those Good Samaritan's habit and attitude that my own children will come and that I should not stop helping them. You know in African tradition, when a woman is pathetically barren like I was, families and relations believed that she would get hers through tolerating and accommodating other people's children".
Alhaji Busari also told Saturday Vanguard how in an attempt to keep her mind busy from endless thought over her state of childlessness, he  tactically encouraged her to establish clubs and societies so she would have social activities that would keep her busy all the time.
''I give kudos to her because I know that some women in cases like this would decide to try other men, but in fairness to my wife, she had been extremely faithful all the way and I thank the almighty Allah that He has fully rewarded her. And I told almighty Allah in my several prayers for her that if He granted my wife a child I will dedicate the baby to Allah.
Alhaji Tunde Busari also recalled how his wife went for many medical tests as prescribed by the doctors and her case was medically written off.
The wife also interjected:
'' In my shop,  children  always  come in large numbers anytime I am around to greet me. I will give them money and gifts.  I was scared when  my neighbors in the market started insinuating that I was using their destiny or something.
They made several futile attempts to stop them but to no avail. There was a day one of my relations insulted me over my state of childlessness. I was driving to somewhere . I had to abandon the vehicle on the road and took a taxi because of the shock. I sobbed  throughout in the taxi and other passengers'  consoled me but I couldn't tell them what happened.
"But having gotten the assurance wherever we went that God  destined a  child for me, we decided to settle for real prayers and we thank almighty Allah that his mercies prevailed at the end".
Alhaji  Busari recalled how he felt when the wife informed him that she missed her menstrual, period.'
' I received it with mixed feelings. I thought maybe it was her age because she had reached menopause. It was quite unbelievable, even though that was what we have been labouring for over the decades. But to my utmost surprise, her behaviour changed. At the slightest provocation, she would fight back''
He noted  that although, there had been dreams by people that somebody will have babies in the family , it wasn't until we went for a scan that we discovered that it was   a set of twins and both of us kept it close to our chest until the day of delivery.
Although she was delivered of the set of twins at a private hospital in Ilorin,  on the 7th November, 2010 without any complications or operation, the husband said he burst  into tears when he got there and set his eyes on the twins, a male  and a female. His  wife, he said wept more.
Asked if they still want more  children at their age, the husband said, ''now that the flood gate has been  opened, I want her to give me a set of triplets and enter Guinness Book of Records but the wife defers, saying  that she wants just two more.
"Whichever way it goes,our family is happy now and the mercy of God is once confirmed. When there is life, there is hope ".