By Onochie Ainbeze
On August 17, 2009, I sent in the following diary material from Berlin where I was covering the World Athletics Championships:Avinoam Porot is in his 60s. He is an Israeli journalist  who would always remind you that he is from a beautiful country.
A walk from our Abba Hotel on Lietzenburger street to Savignaplatz train station on our way to the Olympic Stadium brings out the best he knew of Nigeria.
He mentions Nigerian players this reporter never heard of back home. In these days of players going abroad from academies, you may understand my problem with the names he reeled out.
But he actually started with track and field. We are here in Berlin for the World Championships and Porot is happy that he was there when the "phenomenon" lowered the 100m race time to 9.58 and would have probably run 0.2 secs faster if he did not look side ways in early celebration about five metres to the line.
"Nothing can be like what we saw here on Sunday," Porot says of Usain Bolt's record that the world will continue to talk about.
" I'm happy I was part it all," Porot continues. "It has vindicated me because I told my newspaper it was important we covered the championships and some people felt it would not make a huge difference. Now they are calling for more details."
We are now on the train heading to the stadium.
"How is Francis Obikwelu?," he asks. "Does he come home?" He must be doing well in Portugal."
Obikwelu is one of the Nigerian athletes who adopted another nationality because of Nigeria's indifference to their athletes. He won silver for Portugal at the Athens Olympics and will be thanking his stars for giving him the courage to adopt another country if his status now is anything to go by.
"Obikwelu is good but he likes money," Porot says.  "He was certainly going to leave Nigeria.  Even if Portugal did not adopt him another country would have done so because he had made up his mind to quit Nigeria and seek greener pastures. He was in Israel.
He first wanted Israeli citizenship  but the money in track and field in Israel is not big, not as big as what you get in football, so he left and went to Portugal."
This will  be an interesting revelation to Nigerians. Porot is always smiling while talking. He talks well and eats well. Two breakfast experiences were interesting. He is usually slow but he gets you listening. He consumes his food slowly and makes many trips to the buffet table. He continues on
Nigerians.
"Nigerian players are good. I like Bello. He is good but he is not as good as Yakubu Aiyegbeni was when he was in Israel. Yakubu left Israel a one million pounds player but today is worth 15 million pounds. Nigerians have been doing well in Israel. Vincent Enyeama is the best keeper in Israel and the second best is also a Nigerian — Dele Aiyenugba.
Interestingly, two of them came from Enyimba. Nigerians have played in Israel.  I remember Mike Emenalo. He was good, very good. By my rating, he was the best of them all. And he is very intelligent. That's why Aviam Grant took him to Chelsea when he was their manager. Mike became their chief scouting officer.  I interviewed him and he was brilliant.
He really showed he's got tremendous knowledge of the game, very brilliant.  Is he still in Chelsea?
"Yes", I told him. The topic changes to track and field and the high hotel bills here as we approach  the Olympic Stadium.  On arriving at the Olympic Stadium Station, the ovation of fans cheering athletes meant that we hurried into the media tribune to watch the heats going on, making the parting with Porot   inevitable.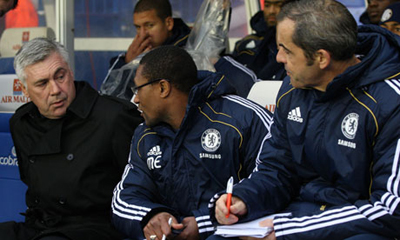 I was out of the country  when Chelsea announced Mike Emenalo an assistant manager to replace Ray Wilkins.  Ancelotti protested Emenalo's  appointment on the grounds that he was not consulted and not that Emenalo was not capable of doing the job. Well, this is my own celebration of the elevation of one of the most brilliant sports men I have ever known.
I have rerun the above story because of the lines on Emenalo. It is for Nigerians to appreciate this man the more. Emenalo is intelligent but not loud. He is one of those who work quietly and allow their work to speak for them. He was like that as a player.
When he made the USA '94 World Cup team, I wrote that he deserved a place in the Guinness Book of Records. Nobody had quit the game for more than five years and returned to play in the World Cup finals.
Emenalo did. Shortly after his debut for the Eagles in a World Cup qualifier against Tunisia in 1985, he left to study in  USA on scholarship. He completely quit big time football and paid more attention to his studies. After graduation, Emenalo returned to football and played for Moolenberk in Belgium.
It was from there that he walked into the Nigerian camp and after initial squabbles over his visit Clemence Westerhof decided to try him.
At that time there was nationwide clamour for Nduka Ugbade to go to the World Cup. He had captained 1985 Under 16 FIFA World Cup squard, a team that placed Nigeria in the map of football by winning that maiden world diadem. Ugbade was also great in Saudi Arabia '89 FIFA Under 20 World Cup.
His progression drew accolades and he had a place in the team as the World Cup approached. Ben Iroha was outstanding in the left back position and Ugbade was well positioned to be another player there, at least, as a back-up. Nobody took Emenalo serious when he arrived camp.
Allowing him one or two training sessions was just to appease him so that he would leave camp satisfied that officials gave him a fair chance like others. But Emenalo knew he needed just one chance. After his first training, Westerhof felt he needed to observe him again.
After his second training session  Westerhof was asking where he had come from. The lanky player who could play in any position in the defence had so impressed that Westerhof asked him to stay. Training was very competitive. When selection time approached, the media and many Nigerians rooted for Ugbade.
They wanted to see a player that could turn one of the faces of the World Cup having progressed from two age grade programmes of FIFA. FIFA also would have made Ugbade prominent in USA. Westerhof responded this way: "I understand the way people feel about Ugbade.
I share in this feeling too but that is sentiment. At this moment Emenalo is in a better shape."
Emenalo went on to play matches at the World Cup. In one move against Italy, he had overlapped from the full back, outpaced up to five players and laid a perfect pass to Rashidi Yekini inside the Six Yard Box. Italian keeper had been displaced and many thought Nigeria's equalizer had been created.
Rather than one-time the ball Yekini tried to control it first. He did but never had a second chance to jab in.
A leg from nowhere cleared the ball. It was Nigeria's saddest miss in USA '94   and Italy went on with their 2-1 victory. But that USA '94 squad remains Nigeria's best. It was after USA '94 that Emenalo moved to Israel after a brief spell at Notts County.
In Israel he played for Maccabi Haifa when Avran Grant was manager of the club. Grant found him a brilliant guy and the moment he was named Chelsea Manager he invited Mike to join the club as Chief Scouting Officer. Part of his job was to monitor opponents and present technical reports.
Mike reads game so brilliantly that when Scolari became Chelsea Manager he also wanted to work with him. So was Guus Hiddink and even Ancelloti who would not have him as his assistant manager. Ancelotti would prefer he continues analysing teams and players for him to make decisions.
Whatever happens to Emenalo with Ancelotti, the world has come to know of a certain Nigerian who is better known abroad than in his home country. My happiness is that something good also comes from Nigeria. Congratulations, Mike Emenalo.
In as much as I agree that Ancelotti  a point if it was true that he was not consulted before your elevation, my happiness is that nobody is questioning your competence.
Those who may raise eyebrows are those who have not heard you analyse football and give directions. Whatever happens at Stamford Bridge, we are proud of you.
Subscribe for latest Videos