By Emmanuel Edukugho
In the first decade after independence, there was free-flowing access to education at all levels – primary, secondary and tertiary (university specifically).
Beginning from primary education, since the rest of the education system is built upon it, the primary level is the key to the success or failure of the entire system. The duration of primary education is supposed to be six years.
Chief Obafemi Awolowo first premier of the Western Region, introduced and successfully implemented the first Free Primary Education in Nigeria for children up to the age of 18 years. Awolowo and some ministers in the Action Group government of Western Region launched the Free Primary Education Programme virtually in all towns, villages and cities in the West. In all the places people turned out in large numbers for the launch.
The educational edge that the Yoruba people of the West had over the rest of the country was as a result of the free, compulsory primary schooling introduced by Awolowo. With primary education, permanent literary and even numeracy were inculcated on the beneficiaries including ability to communicate effectively.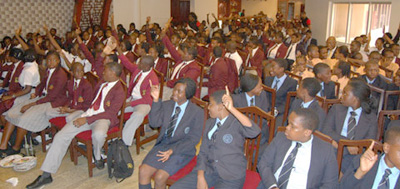 Most of the elites who occupied commanding height in commerce, industry, banking, economy and politics some years after independence were products of the free primary education scheme.
After Chief Awolowo set the pace in the West, Dr. Nnamdi Azikiwe and then Alhaji Ahmadu Bello were compelled to introduce the scheme in the East and North respectively. With the bold free education policy of late Awolowo came the promise that greatness can emerge through the right investment in education. As it became a national agenda, millions of Nigerians were able to go to school.
While there were efforts to discourage the incidence of dropping out at primary level of education, but if it so happened, adult and non-formal education existed which enabled such early leavers to continue with their education to any level.
Secondary education is the next after primary which prepared children for higher or tertiary education, irrespective of sex, religion or social status. Initially, it used to be between five to six years duration, straight and direct, offering diversified curriculum and teaching basic subjects to enable students acquire further knowledge and skills. Some of the early secondary schools in Nigeria were established by British colonial administration, Christian missionaries, regional/state governments, communities and individuals.
Alongside secondary schools were modern schools in some parts of the country, especially in the old West, which admitted those who finished standard or primary six. But the modern schools did not exist for long as they soon disappeared.
There were also vocational and trade schools designed for individuals to acquire practical skills as craft6smen, artisans and technicians at sub-professional level.
In the 70s as the military ruled, the Universal Primary Education (UPE) was launched in the country, becoming the forerunner in the transformation of basic education. Primary education was declared free and compulsory for all Nigerian children.
However, the standard was not the same as before and after independence in 1960.
Children were taught in conducive learning environments, ventilated classrooms not overcrowded. Teachers were highly committed, well trained with sufficient facilities for teaching and learning. Almost every school had a library, particularly at secondary level. But with UPE things seemed to fall apart. Most children were receiving lessons under trees sitting on the ground. Classrooms were overcrowded, no benches nor desks, roofs were leaking, grossly inadequate toilets and lack of water.
Coming of national policy on education Nine years after independence, precisely in 1969, there was a National Curriculum Conference attended by a cross-section of Nigerians. The conference came as a result of general dissatisfaction with the existing education system which had become irrelevant in meeting national needs, aspirations and goals.
A seminar of experts from a wide range of interest groups and perceived stakeholders was convened in 1973 as follow-up to the National Curriculum Conference. It deliberated on what a national policy on education for an independent and sovereign state of Nigeria should be. The outcome of the seminar was a draft document which after due comments were received from all parts of the country emerged the final document, known as the National Policy on Education (NPE), first published in 1977.
Government believed that the far-reaching provisions set out on all sections of the policy should transform all aspects of the nation's life over time. Consequently, a National Education Policy Implementation Committee was set up by Federal Government to translate the policy into workable blue prints that would guide the bodies to implement the policy. Over the years, the policy had gone through revision.
A significant development in this respect was the introduction of Universal Basic Education (UBE) scheme, enacted into law which provided uninterrupted 9-year compulsory Universal Basic Education for all children of primary and junior secondary school age throughout Nigeria. It is tuition-free and compulsory, pre-vocational and academic.
Students who have completed junior secondary school are streamed into the senior secondary school, technical college, an out-of-school vocational training centre or an apprenticeship scheme. The streaming is done based on academic ability, aptitude and vocational interest. The senior secondary school whose duration is three years is comprehensive with core curriculum in which every student takes a minimum of eight and maximum of nine subjects.
Those who successfully complete the senior secondary school proceed to universities, polytechnics, monotechnics and colleges of education.
These gloomy statistics tell the story about Nigeria's basic education so far. About 22.1 million out of 42.1 million Nigerian children are in primary schools.
Out of 33.9 million Nigerians eligible for secondary education, only 10.4 million are attending. Of all the students who sat for SSCE examinations from 2000 to 2006, only 25% passed with credits in Mathematics and English.
Out of the 1.5 million Nigerians seeking admission to tertiary institutions, only about 19.5% get admitted.
Results of the West African Senior Secondary School Certificate Examination (WASSCE) May/June 2010 released by WAEC showed that slightly less than 25% obtained credits and above in mathematics, English and the relevant subjects required for admission into the university.
The National Examination Council (NECO) 2010 Senior Secondary Schools result showed that just above 2% of the candidates who sat for the examination passed.
According to UNICEF 2007 Education for All Global Monitoring Report, 60% of pupils enrolled in primary schools in Nigeria dropped out before the last grade. That Nigeria is among nations with largest number of out-of-school children in 2004.
About 55% of its adult population are illiterates – meaning they cannot read or write.
Education is till not properly accessible in Nigeria at all levels. Though funds are inadequate not even up to half of the 26% UNESCO recommendation of national budgets, the little allocated cannot  be accounted for due to corruption, embezzlement, misuse and abuse by managers of the education system. Over N200 billion of UBE funds with CBN yet to be accessed by various state governments as at June 2010 while most of the schools suffer from infrastructural decay.
Corruption has affected the way funds are allocated within the national/state budgets diverting expenditures from education to high kickback areas.
Former EFCC chairman, Mallam Nuhu Ribadu, at Babcock University convocation ceremony, acknowledged that education is our destiny in the journey towards freedom and progress, but as reality of our nation has shown he warned: "If we don't build this project of education on the important values of honesty, transparency and accountability, education itself can become a rapacious, self-consuming monster that nurtures nightmarish visions."
He revealed that Nigeria has spent over N1.1 trillion on education in the past five years – "a whopping budget that appears to have deepened more private pockets than any national institution."
The Education for All Global Monitoring Report says that many of the developing countries including Nigeria will not achieve Education for All by 2015. Nigeria is one of the 15 countries with the highest number of illiterates and one of the top 5 countries of the developing world that will not achieve any meaningful EFA goals in 2020 let alone 2015.