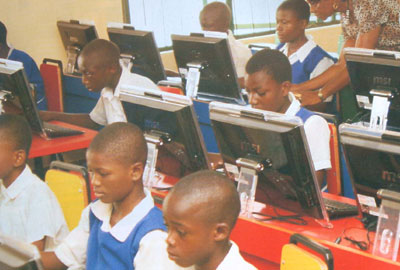 By Judith Ufford, Features Editor
THE Niger-Delta states are looking up. From Cross River, Akwa Ibom to Rivers, the story  is that the indigenes of these states are beginning to enjoy the dividends of democracy. Of particular note is Rivers State- the new haven for possiblities.
The Governor, Rotimi Amaechi  has gone 'wild', using oil money to the best advantage, particularly in the education sector. But observers argue it wouldn't have been otherwise given the amount of money at his disposal.
Even  the Governor did not dispute this when he stated recently: " I believe that if we  have oil money, then we should lay a strong educational foundation because if you don'tproduce qualified graduates who can compete anywhere in the world, there is no way as a state we can grow".
This was the take off point when we met recently.
"The challenge we have now is overwhelming. In fact, with what we are doing now you will  wonder whether  the state has just be created. We shouldn't be building primary school at this stage,  rather we should be renovating or expanding but you can't believe that we are building primary schools because the ones we met on ground are either dilapidated or do not measure up to our desired  standard.
We had a situation where there  were classrooms but no offices for teachers, headmasters. So, we set  up a committee headed by the Deputy Governor. We brought somebody from the World Bank and Professor Takena Tamuno, former Vice Chancellor of the University of Ibadan. Their recommendation was that we demolish the 1,300 primary schools we have and build 750 primary schools that would have a library, auditorium, ICT.
Presently, all the classrooms are connected to ICT. We don't teach ICT, we teach each course using ICT, the child now learns ICT and learns the course, that way it is easier  to learn ICT. It is challenging and tasking. That is the vision but my Commissioner for Education is quite wonderful. She is transparent.  She is honest and tough. She doesn't particularly like money, so you can't accuse her of corruption.
She is contented with what she has. Most people who are corrupt are people who are greedy and the instability in the country encourages it because you may have enough and you are not sure that when the next man comes you are still going to be comfortable. She is doing a wonderful job and I praise her for that. Don't forget that primary education is not our responsibility by the Constitution but we took it over. All we said to the local governments is that we know that the responsibility is yours but just concession it to us to manage on your behalf."
I wasn't too comfortable with this and didn't hesitate to interrupt him. When you take over the responsibility of the local governments, what do they do with their funds, I asked him.
"I don't know", was his response, adding: "Maybe you might need to ask the local government chairmen".
But I wasn't satisfied with that answer. Governance at the local government council level is touching the lives of the average Nigerian. But when they are not allowed to as much as carry out little assignments that pertain to the grassroot how can they improve on performance, I wondered.
He agreed with me but was also quick to add that his views on that subject was not for public consumption. So we left it at that.
He continued with the state's accomplishment in primary education.
"We are constructing 750 primary schools, we have already awarded 350. We will award another 150 to make it 500. One hundred have been completed and they will be furnished and equipped and children will be using it.
They have everything: basketball pitch, a farm and a playground. By August/September, we'll do another 150, so we should have about 250 before our  third year anniversary. People don't know  we don't have enough funds, that is why when the President came, he asked me where I am getting the money to do all these things and I told him, I have not taken a loan till date despite our rating of B and B+. B from F & P and B+ from
Fitch. We are the first state in Nigeria to be rated by two companies and we are the first to be rated by F & P. The rest go to Fitch."
From primary education, he moved on to secondary.
"We looked at the secondary schools. Why did we take over primary schools? We say the graduands of the primary schools impact negatively on the students in the secondary schools. If they produce poor pupils at the primary level there is no way you can transform them into wonderful graduates at the secondary level. It is the foundation that determines the sub-structure. The foundation is very important to us.
They are working on the foundation. We are constructing a secondary school and I dare you to come and see it. I have invited other governors, my colleagues to come and see it. In fact, one governor told me that the university in his state has provision for six students per room but this school has two students per room, compulsory boarding with all the sanitary facilities, everything complete. All the fixtures – wardrobe, reading light, etc – in place. When the President visited the place,  he was very impressed but he does not believe that two children alone should be in a room. He says we should have more than two children. My argument is that I have seen my children in their rooms."
For one building such super structure in his state, how come his children are outside the country. He had a ready response to that.
"By accident of the political crisis in Nigeria, my children are schooling abroad. I had vowed that my children will school here. There is a particular thing that you learn  here. If you are not grounded in the challenges of the Nigerian environment, when they bring you back, your father will continue to carry you until he dies.
Don't forget that I was chased out of the country, my children were also chased out of the country and since then they have moved on. This is for people not to say Rotimi why don't you bring your children back, or why are your children not schooling here. It is by accident. For me, education is primary and if we are going to do that, there are two things you must look for, content and environment.
And if we have oil money when else can you build that? So we went to build this kind of secondary schools. It has 1,000 students per school, two children per room, 25 children per class, an auditorium, sports field, hall, two wonderful dining halls, accommodation for all the teachers, offices for all the teachers, library, workshops and laboratories. They are there for you to see. We have completed one and it cost us N3.6 billion per school for the secondary school.
"Then we are going ahead to build a world class university. We will transfer the existing university to the new one. Currently, they are building the infrastructure: road, drainage, power, sewage, etc. This one will be built on 200 hectres of land. Don't forget that every year, we send 300 students overseas on scholarship fully paid for all the number of years of course of study, be it medicine, law, oil and gas, engineering.
The first set of graduands that went under former Governor Peter Odili will graduate this year. The university has given us five places for masters. What we did was to give it to our engineers. The essence is to develop manpower but it is between UK and Canada," he informed.
Subscribe for latest Videos