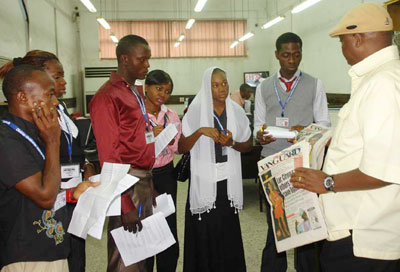 By Mekowulu Izuchukwu
Vanguard Media Limited, Tuesday, enlightened the students of Olabisi Onabanjo University during their excursion visit to the Headquarters of the organisation in Lagos.
Speaking to the students during the interactive section, Mr Charles Gerrard, who took the students round the organisation departments noted that Vanguard has fulfilled and will keep on fulfilling its promise of providing information, entertainment and education to the masses.
"We have different desks that take care of different types of news. Be it human angle stories, core hard news and what have you; Vanguard is up and doing" he said.
In answering the question on what Vanguard set to accomplish in the near future, Mr Charles said "we will like to dominate the entire  market and be the best newspaper in the world"
The students where later taken to graphic department, lithographic department and the press room where extensive lectures on the news business was given to the students.
Speaking to journalist after the tour, the president of the department Mr Bamilosin Kehinde praise the efforts of the organisation in feeding the masses with objective and balanced information.
"Vanguard is the best. Out there in the society once an information is from The Vanguard people tend to believe and swallow it hook-line-and- sinker" he said.
He also thank the management for accepting and exposing them to the wide knowledge of the print business.
Subscribe for latest Videos