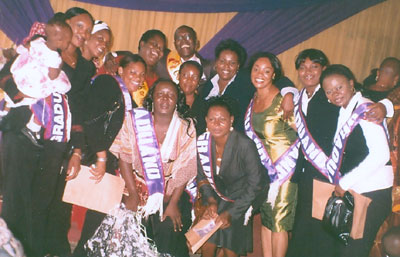 By Dayo Adesulu and Nnamdi Ojiego
Really, it was a sight to behold when eight degree holders in different disciplines, five undergraduates and an OND holder graduated recently amongst other vocational students as caterers at EL Royalithos, Catering Services and Training Centre, Ejigbo, Lagos.
Speaking at the 4th graduation, valedictory service, the Proprietors of the training centre, Mr and Mrs Idowu Oluboro have revealed that the passion to impact on others and to contribute their quota in reducing the rate of unemployment in the society, particularly among youths, was the propelling force for the establishment of the vocational centre.
Oluboro Idowu said that the unemployment rate in the country was so alarming that only those with vocational skills could make it without waiting for white collar jobs. He said El Royalithos has contributed in no small measure to reducing joblessness in the country.
"We have so many of our students in various parts of the country manning their own eateries and catering centres. We have been receiving positive stories from them. Their successful stories have really gingered us to do more. It implies that we are doing well because, if you are doing well, your work will speak for you"
He reiterated that due to his passion for catering and the desire to help unemployed people to be self-reliant, he resigned his job as a pharmacist in a company to join his wife in her catering business which led to the establishment of the centre about four years ago.
Commenting on the challenges encountered so far, Oluboro asserted that the major problem has been accommodation. "We started by using part of the rooms in our flat and when we started growing, we had moved out to a bigger place. It was quite challenging getting a bigger accommodation."
Also speaking, the co-founder and head teacher of the school, Mrs Kemi Oluboro maintained that the major aim of founding the training centre was to empower people so that they could establish and be on their own.
According to her, " we are not interested in awarding certificates to students, we are interested in what they can give to the society. I tested them practically to ensure  they are able to do it themselves when they graduated.
Mrs Oluboro disclosed that she has had the conviction that she would make it through cooking right from her secondary school days as her wining of Maggi National Cooking Competition in 1994 was a turning point in her life and career.
"I started my own catering services after wining the Maggi National Cooking Competition in 1994. When I got married, I discovered that my husband cooks very well and that he has passion for catering services. I encouraged him to go for Maggi cooking competition which he went and won it in 2003."
Mrs Akinbode Roseline, a B.Sc graduate of Geology Mining, 2005 at the University of Ado-Ekiti said that her passion for making cake made her enrolled as a caterer. "I do not regret quitting mining job for this vocational job as I plan to be  a great caterer of international standard in the nearest future, she said."
For Mrs Onikunle Oluwaseun, mother of two who holds a Higher National Diploma (HND) in Banking and Finance from the Osun State College of Technology, Esa-Oke expressed her delight in graduating as a caterer, stressing that she is fulfilled having completed the course. She said: I love cooking because I know it will benefit me in the future as I aspire to be a cook of an international standard.
A graduate of Philosophy at Ogun State University and mother of three, Mrs Aderonke Ojunkwu, who was one of the graduands, reiterated that cooking is her hobby, saying that she often finds herself cooking for people whenever she attends occasions.
"I once attended Lagos State Poverty Alleviation school where we were thought how to specialise on making cake. But I was not satisfied with the knowledge acquired there, hence I came here to perfect the job because my ambition is to see myself someday cooking in the government house, Aderonke said."
"I am an undergraduate of Business Administration, Lagos State Polytechnic (LASPOTECH), but I don't want to rest on my oars knowing that the future may not be guaranteed even as a graduate without a vocational job through which I can become a master of myself," said Ajayi Damilola, a 24 year old girl.
According to Damilola, she inherited the passion for cooking from her mother who is a good cook and as an undergraduate, though not easy she had to combined it with her lectures and today,  gladness and joy radiate her face to be an expert in catherine jobs. "I want to be a recognised caterer home and abroad, she added."
Subscribe for latest Videos