By Dayo Adesulu
The Deputy Director of Education (Ministry of Defense), Mrs Emilia Enebong has asserted that students' potential is the tool for setting their limit in life. She said this recently at the Command Day Secondary School, Ojo 10th valedictory service where a total of four hundred and seventy-seven (477) students graduated.
She noted that every student has untapped potential that has not been fully developed, adding that no individual can be the best in everything but by focusing intensely on specific area in order to achieve greatness. "Focus on what produces the most results and those activities you do brilliantly and rewards will follow," she said.
Enebong maintained that for a student to succeed in life, he must invest his time doing what he is best at, as he sets challenging but realistic goals.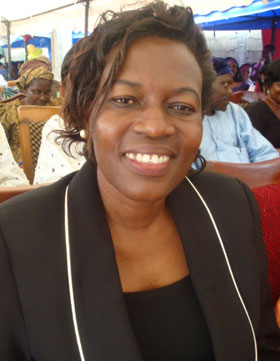 Sometimes, when we see or hear of somebody excelling in a particular thing, Enebong said, we are apt to think that God has given him exclusive rights and privileges, stressing that this is a misconception that has not only inhibited many from maximizing their potential but blinded their eyes from discovering opportunity.
The director reiterated that if a student potential is in the sciences, forging ahead with a tertiary education can enable him to become a medical doctor and eventually a surgeon, but if in the commercial subject area, he can be on his way to becoming not only an accountant but a chartered accountant.
If it is in Art, she continued, you will discovered that you could become a lawyer, then a senior advocate, then a judge and chief justice. Encouraging the actors amongst the students, she added that such can set their limit to becoming either local or international actors saying that if it is comedy then he can become a comedian with finesse like Baba Sala.
Enebong pointed out that, if your parents or friends have pushed you, or are pushing you into doing something you have no natural ability for, very soon, you will discovered that you are a square peg in a round role, you will fall out of the round hole to the bottom, and you will not reach your peak or limit. According to her, everything you do revolves around the person you really are inside as always demonstrated by your actions and  things you do and say.
Her words: "The essence of this talk is to encourage you to learn to maintain focus on your potential; this will allow you to accomplish the most in the least amount of time. When you focus your time and energy doing the important things, you will reap big rewards.
In the tertiary institutions, there are many activities – profitable and unprofitable ones that will call for your attention, you have to remember the reason why you are in that institution – which your desire to sharpen your potential which is the instrument or tool that you are encouraged to use to set a limit that is beyond the sky for yourself.
Go to your list of things you would like to do if you could. Ask yourself, "Why can't I do this, if I'd like to? Put your reasons on another list. Do not focus on the list of the things you feel you can't do and the reasons why you can't do them, instead, focus on what you can do – focus on your potential. Make it a habit to focus on your strengths. Don't forget to include your undeveloped potential, as well.
Train yourself to focus on your potential instead of your limitations. Do not ignore your list of reasons for not doing some of the things you would like to do, but look at them from the viewpoint of your strengths. Focusing on your limitations let those limitations make your decisions for you.
Focusing on your strengths lets you make the decision. Devote yourself to something you really like to do. Don't choose something just because you think you could make more money at it than you could by doing something else that you really rather work at."
Also speaking, the Commandant, Command Day Secondary School, Ojo, Lt Col UN Babangida said that going by the students' success in their internal examinations, they will performed excellently in the already concluded WAEC and NECO exams.
The Commandant was however unpleased with the recent behaviour of the final year students whom he alleged tore their school uniforms after their final examination. He noted that in spites of the discipline inculcated into them in the school, they could still behave like that. Based on that, he employed  parents to partner with the school in effort of molding their future.
Subscribe for latest Videos