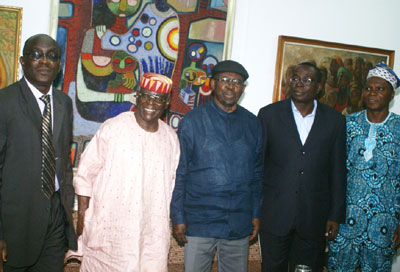 By Emmanuel Edukugho
PRESIDENT-GENERAL, Government College Ughelli Old Boys' Association (GCUOBA) World Wide, Mr. Godwin Adokpaye has called for a national, comprehensive policy on Information Technology (IT) that will cover all levels of the education system and the entire Nigerian society.
Leading a team of GCUOBA executives on a visit to the Corporate headquarters of Vanguard Media Limited, Kirikiri Canal, Apapa, Lagos in respect of a seminar on Information Technology taking place August 12, 2010 at Cinema Hall I, National Arts Theatre, Iganmu, Lagos as part of activities marking the 65th Anniversary of Government College, Ughelli, he described Information Technology as a tool for national development.
"We need a national policy to revolutionize Information Technology and all educational institutions, tertiary, secondary schools should have access to IT and be sustained. Not just to partake and then drop by the wayside as IT is too important to be neglected."
He said that the Old Boys Association of Government College Ughelli has spent a lot of money running into several millions of naira in the infrastructural development of the school.
"I am happy with what we've done. This seminar is aimed at raising the quality of teaching of IT in the country. Its theme is: "Nigeria's Educational System in the Internet Age'. We were told that the best institution for IT used to be University of Ife (OAU), now it is between Ife, Covenant University and University of Ilorin".
According to Adokpaye, Obafemi Awolowo University, Ife is ranked 7,752 in the world that is IT compliant, 68th in Africa.
"Today, the world is driven by IT. For Nigeria, the biggest black nation in the world, and want a permanent seat in the United Nations. How can we earn respect without IT? That is my concern. We are ringing the bell, remodel Nigerian education system around IT. Nigeria must change. Africa will never grow without comprehensive ICT Policy."
He noted that Information Communication Technology is not growing in Nigeria and so something must be done to change this situation.
"If other groups like us take up this challenge, then IT will be an addendum to Vision 2020. In my own time, there was no IT. We were using calculators. IT is stunted in Nigeria. While we excelled in other areas, the country dropped in IT," he affirmed.
The Guest Speaker at the seminar is Mr. Gerald Ilukwe, Managing Director/CEO, Galaxy Backbone Plc, Abuja and former Chief Executive, Microsoft Nigeria, one of Nigeria's well respected IT Practitioners.
The one day event starts with a pre-seminar exhibition where corporate organizations and institutions are expected to showcase their products and services.
Chairman will be Admiral Ndubuisi Kanu (rtd), while the target audience are leaders and policy makers as about 150 letters of invitation were sent out to persons in leadership positions in the country.
Senate President, David Mark, commended the initiative of GCUOBA on IT and directed the Association to meet with the Senate Committee on Education.
The President-General World Wide made reference to the Vice President Namadi Sambo who recognised IT as a fulcrum for development.
Expected at the seminar are Governors of Delta and Lagos states, Ministers of Education, Information and Communications, Science and Technology, Senate President, Speaker of the House of Representatives, State Commissioners and Legislators.
Others are chief executives of corporations, the Academia, Professionals, Students of tertiary institutions and secondary schools.
Adokpaye paid glowing tribute to late Mr. Vanghan Barcham Villiers Powell (OBE) an Australian who founded the College in 1945, the year USA dropped atomic bomb on Hiroshima, Japan in the Second World War.
"He was easily the most famous educationist of his time. He taught in most of the Government Colleges including Edo College, King's College, Government College, Ibadan, founded Government College Ughelli in 1945 with money from a Commonwealth grant. It moved from Warri to Ughelli in 1951 to the land donated by Chief Mukoro Mowoe, while the buildings were developed by PWD, predecessor of Ministry of Works."
Powell, a strict disciplinarian and given free hand to run the school, later retired, left Ughelli and died 37 years after on 28th February 1989 at the age of 85 years in England. He willed his ashes and other valuables to Government College Ughelli as his final resting place.
His ashes were spread around the College compound.Adokpaye recalled with nostalgia:
"Powell showed love and dedication to the College. Even his OBE medal, certificates and other valuables are personally with me."
Subscribe for latest Videos