By John Egbokhan
Chairman of the Nigeria Football Association (NFA) Technical Committee, Taiwo Ogunjobi yesterday said that the body was not in anyway resisting government's order to withdraw all national teams from the international football scene for the next two years. He also said that they were ready to resign their membership of the body.
He also admitted that since their tenure originally expired before the start of the World Cup, that it would be wrong for them to still be occupying their respective positions, adding that they were ready to give way for the caretaker committee, announced Thursday night, to organise credible elections into the next board.
Speaking in a telephone interview with Saturday Sports Vanguard, the former Secretary-General of the NFA, said that anybody defying government's order, is out of touch with reality.
"We are not dragging powers with anybody because we have done our term and are ready to hand over to whosoever gets duly elected in the next elections. We can never drag powers with government, which funds us, because we are responsible individuals who place the interest of the nation, above, ours.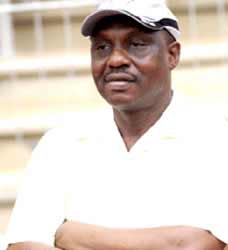 "The truth of the matter is that this country belongs to all of us and it is not proper for anyone to hold the nation to a ransom. After serving the country, it is time for us to give others the chance to contribute their quota to national growth.
"It is only a lunatic who would be fighting with the government of the day because after all, most of us, are beneficiaries of government's favour, as far as membership of the board is concerned. Government funds football and has every right to give inputs into how things should be done if it notices that the interest of the nation is being compromised.
"I have been part of the game for sometime now and I can tell you authoritatively that football would be dead in the country if government withdraws its funding because it is the biggest source of our funding and how can we now be seen to be disrespecting the same institution that is supporting us.
"I have advised the other members of the Executive Committee, to listen to the people's voice, which is that they need a change of leadership. It is only proper to bow out when the ovation is loudest because I believe that as far as one is alive, one can still come back and contribute to national growth, in the area of football administration", added Ogunjobi.
He continued that "our tenure has actually ended and we are ready to make way for the caretaker panel, which is what the Nigerians want. I think, it is only reasonable for us to respect the wishes of the people".