By Charles Kumolu
IMAGINE how safe life would be in Lagos if commercial bus drivers stop drinking ogogoro and segbe( locally distilled gin drinks). And imagine how safe the roads would be if drivers were educated enough to attend mandatory driving schools.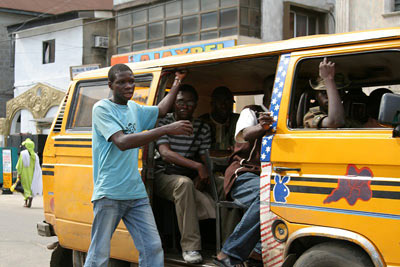 To a large extent, such situation would save thousands of Lagos residents from perishing with their dreams, especially from reckless commercial drivers. Without that, fears raised by a Federal Road Safety Commission, FRSC, report on the roads, would remain real.
While some have continuously linked road accidents to human error and drivers recklessness, Vanguard Metro gathered that the state of the roads is responsible for the constant loss of lives on the highways. It was discovered that Nigeria's highways rank among the most dangerous in the world, given that road infrastructure has suffered from decades of neglect.
But Lagos State Governor, Babatunde Fashola punctured the argument.
As far as he is concerned: "Road crashes statistics from the LASDRI for the half of this year indicated that 75 per cent were due to human error. As such, we have reached a critical stage of our traffic sector reform. With this system, we are breeding a new generation of professional drivers whose respect for law and order and road traffic regulations will be instinctive."
Fashola, who said this while commissioning the Lagos State Drivers Institute,LASDRI, said transportation is a critical element in any society.
The Chief Executive Officer of LASDRI, Mr. Ayodeji Oyedokun, agrees as he said it is a known fact that no driver in the country has gone through the proper driving test since 1973.
He added that the issuance of licenses has been basterdised, a development which may have contributed to the high level of casualties on the nation's highways.
"As such, many lives are lost daily in road traffic accidents in the country; school pupils and college undergraduates who are the hopes of many parents have been killed prematurely. The list is endless and the pains are deeply unforgettable," he said.
In response to this problem situation, the Lagos State government recently came up with the idea of setting up the Drivers Institute with a center in each of the five divisions of the state, namely: Ikorodu, Badagry, Ikeja, Lagos and Epe.
It was gathered that the institute is in place to ensure the following: Retraining of all professional drivers in the state, standardising the driving profession in the state, registering and creating a database for all professional drivers in the state, registration and accreditation of private driving schools in the state, assisting private driving schools in curriculum development and instructors training.
In effect, all professional drivers operating in Lagos State as employees of companies, government and other establishments are by law compelled to pass through the institute for re-certification and retraining once in a year.
At the commissioning of the Badagry centre of the institute, Oyedokun stated that competence and certification of drivers in Nigeria have become a source of concern to individuals, road safety experts, governments and vehicle fleet operators.
He believes that most drivers in the country never passed through any formal instruction before securing driver's licences, the resultant effect of which is obvious nationwide. He noted that sourcing for the right type of equipment that will be used for this category of professionals of whom about 75 per cent are illiterates and who have been engaged in driving and have imbibed the wrong attitudes was a very big challenge. Along the line, driving simulation was identified as a cost effective way to train and retrain drivers, and with the assistance of the Ministry of Science and Technology, it was able to settle for the model which was developed by Dorion Precision Systems Inc, United State of America.