By Emmanuel Elebeke
For little Nkamere Precious, Opayemi Toluwani, Ebuka Uba, Umoh Uwana and Miss Ngozi Ogudu, the  2010 Children's Day will ever be remembered for the impact it is going to make in their lives. It was the day they were rewarded for their outstanding performance and achievements for the year with a minimum of between 10 As and 14 As out of 12 to 16 subjects they sat for in their various schools.
The children were at the occasion honoured and presented with different prizes with Waliu Olatunji emerging as the most outstanding beneficiary in  the competition.
This was part of the  intervention strategies of Change-A-Life foundation  aimed at touching the lives of Nigerians, both children and older people, to  enable them  maximize their potentials in life.
The programme entitled: "It's Not About You", took place  at  the Change-A-Life office in Mende, Maryland, Lagos, with a large turn out of children and their guardians from all parts of the country in attendance. It was a programme set up by the Foundation to reward outstanding scholarship beneficiaries and their guardians and in the process spur them to hard-work and excellence.
Speaking at the occasion, the Executive Director, Change-A-Life Foundation, Mrs. Bridget Oyefeso-Odusami, said it was uncommon to see hard-work being acknowledged in Nigerian society, hence the move by Change-A-Life to take the lead by rewarding  some outstanding and hardworking Nigerian children  so that they will be able to maximize their full potentials in their future endeavour.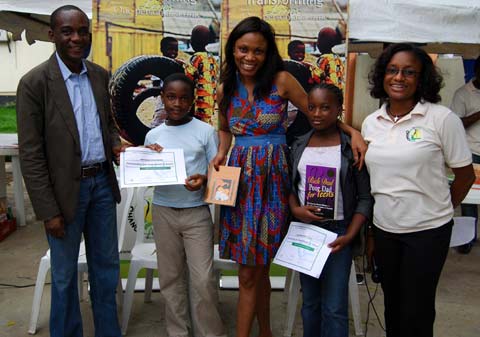 "Part of our objectives is to act as a bridge between the most needy people and the people with potentials, and meet with  agencies and organisations that have the capacity to help and are willing to help these people. That is why today, we want to show the children that Nigeria is a society where hard work and merit are still rewarded," she said.
The event which commenced with a captivating presentation from the popular R&B singer, Lami also saw a book reading session by the founder of Change-A-Life, Funmi Iyanda.
The occasion was put together with support from MTN Nigeria and  Dangote Group.
Change-A-Life is a  foundation that was founded in 2002 by Funmi Iyanda, a notable  television producer, to intervene in the lives of deserving people at  the of their utmost need help. The foundation has, since its inception, been giving out scholarships, healthcare, counseling and micro-finance support. A total of 98 children are said to have so far benefitted from its humanitarian gestures.