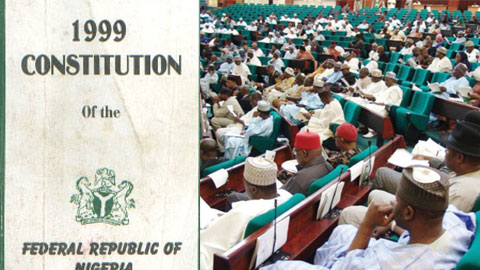 Mark meets Speakers soon
By Ben Agande & Inalegwu Shaibu
ABUJA— IN a vote of 85 to zero, the Senate, yesterday, unanimously passed the harmonized draft copy of the amendments made to the 1999 Constitution with a resolve by the leadership to meet with Speakers of the Houses of Assembly to expedite quick passage of the amendments by the state legislatures.
President of the Senate, Senator David Mark, who conducted the voting on the amendment on the floor of the Senate, said that the harmonized draft copy would be sent to the states in a few days time after meeting with the Speakers.
The vote to adopt the harmonized version of the constitution was done through the electronic voting machine of the Senate with 85 senators who were in yesterday's session voting yes to pass the harmonized draft copy.
Senator David Mark said: "I want to express my profound appreciation. Today is history because this is the first time that we have crossed this hurdle in the attempt to amend the 1999 Constitution. I am happy about the steps we have taken, it is truly democratic and it shows that democracy has come to stay."
Senator Mark said the  meeting with Speakers of the State Houses of Assembly would avail the Senate leadership the opportunity to fully brief them on the need to expedite action on the amended draft copy.
He said: "We are going to arrange to talk to the Speakers and then send to them so that they can return them as quickly as possible."
Harmonized version
There were two notable changes in the harmonized version passed yesterday. One was the complete deletion of sections 68 (1) and 109 (1) (g) of the principal act which was initially adopted by the Senate during the consideration of the draft copy.
The section allows for members of National Assembly to keep their seats after cross carpeting. The House of Representatives opted for the retention of section of the constitution on cross carpeting and the provisions disallowing independent candidates from joining political parties without losing their seats.
The Senate's amendment to section 66, which deleted provisions that prescribe disqualification for persons indicted for embezzlement of fraud by a judicial panel of inquiry from running for election to the Senate or the House of Representatives, was retained.
On the date for elections, the position of the House of Representatives, which recommended that the election shall be held on a date not earlier than 150 days and not later that 120 days before the expiration of the term of office of the last holder of that office was adopted in the harmonized version.
The new amendment also consolidated the independence of the Independent National Electoral Commission, through a new section that states that "provided that in the case of the Independent National Electoral Commission, its powers to make its own rules or otherwise regulate its own procedure shall not be subject to the approval or control of the President."