By Evelyn Usman
There was pandemonium last Friday at the popular Cele bus stop along Oshodi-Apapa expressway, Lagos, when two suspected armed robbers on a motorcycle snatched a bag from a woman waiting to board a bus to Ikotun area of the state.  This incident took place at the peak of commercial activities at the ever-busy bus stop. 
Crime Alert learnt that while passengers were busy struggling to board vehicles to their respective destinations and others engaged in exchange of  banters as they walked along,  the atmosphere suddenly took a different dimension.  First, some persons were sighted running helter- skelter without knowing what was chasing them. This was followed by shouts of thief! Thief, that rented the air. Then gun shots which threw the already panic- stricken commuters and road users into another round of fear.
After the dust settled, a man was sighted on the ground in the pool of his own blood, stone dead. The unidentified man was alleged to be a member of a two-man robbery gang that earlier snatched a bag from a woman at Cele bus-stop. The deceased said to have been in the company of his partner in crime, reportedly operated on a motorcycle.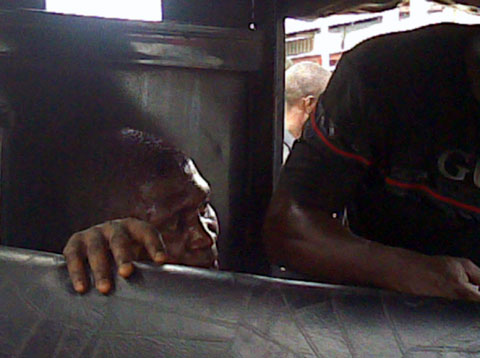 They were said to have been escaping from the scene when a plain clothed policeman attached to a new generation bank along the road, shot one of them dead. His partner was not spared either and he also was reportedly shot in the hand .
But for the presence of the policeman, commercial motorcyclists would have set him ablaze.
One of the commercial motorcyclists who did not hide his consternation over the use of motorcycles by robbers told Crime Alert, " if not for this policeman , we would have set this one ablaze because they are the ones that give us bad names.
Most of us are genuine operators.   We have families and other dependants whom we cater for, from proceed of  okada business. But because of these thieves, government have on several occasions, placed restrictions on our movements"
Recounting how a similar incident occurred at Pako end of Isolo  area recently, the motorcyclist who later gave his name as Charles Nkpokor, said , " About three weeks ago, a woman's handbag was snatched from her when she was going out, by some boys on Okada.
But unfortunately for them, one of them was caught and set ablaze while his partner managed to escape. We have resolved not to spare anyone using Okada to rob.
That way, we would, at least, be able to reduce the rate at which it occurs"
The injured suspect was later whisked away in a police van to an unknown destination, with on-lookers giving different versions of how it happened.