By Albert Akpor
THERE seem to be no end to methods used by Nigerians in drug trafficking business to outwit operatives of the National Drug Law Enforcement Agency (NDLEA) in their illicit drug deals. 
In the recent past, there have been reports of hard drugs being concealed in soles of shoes, hair scalp, roasted chickens, car shock absorbers and of course, swallowed; all in a bid to beat security operatives.
However, the recent concealment of drugs in a medical equipment did not only shock the Airport commander of the anti-drug agency, Alhaji Hamzar Umar, it equally forced him to describe some Nigerians as "die-hard drug pushers".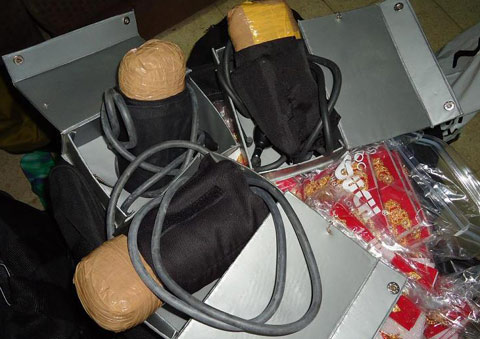 Though he commended his men for a job well done, the NDLEA airport command boss is enjoining well -meaning Nigerians to constantly volunteer information that will lead to total eradication of these unscrupulous elements in the society.
The recent discovery of 2kgs of heroine carefully concealed in packets containing stethoscopes lane just days after 10kg of cocaine was abandoned at the same Murtala Mohammed International Airport (MA), Lagos.   Two suspects who identified themselves as Messrs Igwilo Emma Mathias and Nwachukwu Chukwudi Williams have been arrested.
Whereas,  Mr. Mathias, the 54 -year-old Imo state- born Indian based factory worker, concealed the hard stuff in medical equipment and hid them in a pack containing jewelleries,  Mr. Williams, another 24-year-old Imo state- born job seeker threw caution to the dogs and swallowed 90 wraps of cocaine weighing 1. 494kgs.
How they were arrested.
Mr. Mathias had arrived the country from India where he had lived and worked for 10 years in a factory with the drugs apparently oblivious of the fact that there would be a rigorous scrutiny of luggages on arrival.
It was during screening that eagle-eyed narcotic agents discovered the drugs.  Aware that his games were up, he owned up to the crime blaming his involvement on poverty.
The father of six however, maintained that he would not have ventured into such criminality if not for the homelessness of his Lagos- based family.  He said he needed money to relocate his wife and six children after their landlord had sent them packing from his house.  According to him, "I have been living in India for the past ten years and had worked in the factory.
Though I may not be too comfortable, I was not complaining until I received a call from my wife that the landlord had sent them packing from his house.  I had to make arrangement to get them an alternative accommodation  since I did not have enough money at the time.   I had to accept to traffic the drug for US $3, 0000.   I cannot allow my wife and six children in Lagos to remain homeless."
On his part, Mr. Nwachukwu Williams was arrested on April 17,  2010 at the central screening area of the airport. He was to board an Iberia flight to Spain when scanning machine revealed that he had 90 wraps of narcotic in his stomach.
He too blamed his ordeal on joblessness and, of course, poverty.  He said if he were gainfully engaged, there was no way he could have gotten himself involved in such act of criminality. "I met my sponsor in a drinking bar in Lagos and when we got talking, I told him I was jobless and needed a job.
Later, he called me aside and muted the idea to me.  Because I do not have anything doing, I had no alternative than to embrace the deal.  I was promised Euros 2,500 if the deal was successfully executed.   That was why I accepted because to me, that money was big.  They now took me to an uncompleted building in Lagos Island where I swallowed the drugs".
Subscribe for latest Videos