By Emeka Aginam
Running in its 20th  series,  the United States of America's Computers, Telecommunications and Office equipment, CTO 2010 ended last week in Lagos, even as it continues to expose Nigerian ICT sector to the foreign vendors scrambling for the juicy  market.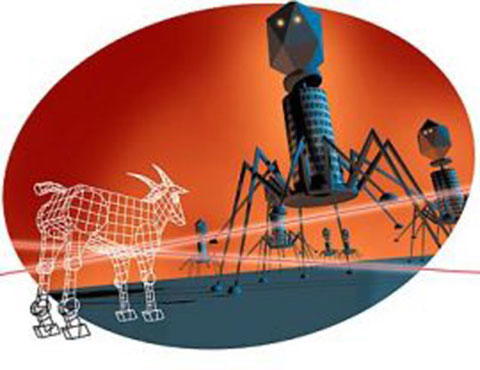 The CTOÂ  exhibition is a market development tool of the U.S. Embassy's Commercial Service in Nigeria that showcases the best technologies that U.S. companies and their Nigerian partners have to offer the region
With more e-security solutions including Eset Nod32 anti-virus 4, color code solution for preventing forgery, e-scan anti-virus content security, Troy-a document security solution , among other security solutions  available to the private sector and government to enhance the cyber and physical security of all Nigerians  on showcase, the annual trade exhibition which attracted no fewer than 36 exhibitors both from the local and the international market  was rated high by the participants both in content and relevance in the country's quest to fight cyber crime which has caused more harm than good  in the 21st century knowledge economy.
One thing unique about CTO 2010 trade exhibition  was  the showcase of the latest digital security solutions available in the technology market.
Focusing on how best to leverage technologies to secure Nigeria future as a theme,   the largest exhibition of its kind in West African sub region  featured  an all-day seminar on the opening day including how best to  leverage  technology to enhance the security of the public and private sector in all aspects of their operations, ranging from protecting business and customer information in the digital age, confirming the identity of individuals through the use of bio-metrics, to preventing customs evasion through the use of remote sensing at ports and border entry points.
Although the current economic recession and  the mourning mood of the nation over the death of President Umaru  Yar'Adua was a concern, the trade expo which attracted many American companies including SAIC, IBM, Microsoft, Motorola, Cisco, among others  afforded the participants and the exhibitors the opportunity for networking and exchange of ideas on the latest technologies, especially e-security that will secure the future of the country in the knowledge society. Interestingly, the  seminar series  provided  a unique platform for local and international experts to interact on critical issues, especially those related to technology diffusion, alliances and partnerships between firms, service delivery, and entrepreneurship.
With current and emerging security issues around the world and technology solutions for them, building a integrated world-class security network for Nigeria, digital security, not just a question of technology, enhancing bilateral trade through more secure financial transactions and services, providing secure solutions using common software platforms and tools , building and managing secured infrastructure for business and government information and data, as major  topics on discussion during the trade exhibition that attracted appreciable number of Nigerian youths mainly from secondary schools on the day Zenith bank had its youths forum,  speaker after speaker at the event noted that Nigeria must leverage on technologies to secure her future.
Earlier in her address, the Consul General, U.S. Embassy, Lagos, Donna Blair told the audience that this  year's theme, "Leveraging Technology to Secure Nigeria's Future," was chosen because of the  believe that a multi-faceted secure environment is essential to rapid economic growth.
"Attaining a more secure environment for Nigeria's citizens and businesses is more than a challenge to be overcome:  it is an opportunity for Nigeria's businesses and their U.S. partners to grow through providing security solutions that cultivate an environment conducive to Nigeria's future growth.
"While many U.S. companies have products on display, it is more often than not their Nigerian partners who are selling and supporting those products.  Motorola, who generously sponsored our printing costs for this year's CTO, provides just such an example with their business distributor.
"Today, this very partnership is on display.  While many U.S. companies have products on display, it is more often than not their Nigerian partners who are selling and supporting those products.
Motorola, who generously sponsored our printing costs for this year's CTO, provides just such an example with their business distributor, Total Telecoms, displaying side by side with them at the exhibition" she said.
For majority of the participants, CTO has come a long way in not only exposing the Nigerian IT market to the foreign vendors but has really created awareness of the latest technology products in the market.
"This is an interesting trade exhibition. We are happy to here this year even in the face of economic crisis.  We have many digital products including Troy on display. Troy is a document solution that enable you to prevent fruadsters from tampering with your document. It is used in banks, schools, printing o certificate and other confidential documents" the Business Development Manager, Jetlink Iwundu Mathew   told IT journalists that visited his stand during the trade expo.
In the pinion of Dayo Bello, Executive Director of Arit Africa Limited while talking on the features of Eset Nod32 anti-virus 4 on display in their stand at the just concluded CTO 2010 said that  the product is lean and mean typically using just 44 MB of memory, a fraction what other products consume.
"Because it is fast and light, upgrading your existing internet security to ESET NOD32 anti-virus can literally be like buying a faster computer. It is great way to realize extra from life from your PCs.
"CTO 2010 is worth while. We had many visitors to our stand. We showcased many of our products. It has ben an exciting week. We commend the Commercial Service of the American Embassy in Nigeria for organising such a good show," he said.
Beta Computers, Brian Systems, Omatek, Allied Computers, Fidelity bank, UBA, Ok Computers, Cisco, Chams, Palette, Coscharis Technologies, Jetlink, Redington Gulf, among others were among the exhibitors.