WITH a population of about 150 million people and a Police Force of about 357, 000 workforce, Nigeria seems  short of UN policing policy of one policeman to 400 civilians. Perhaps, this underpolicing may account for the weight of allegations against the Force, as it relates to highway policing. Added to this, are challenges of  harsh  working environment and inadequate working tools.  It would therefore not be wrong to say that the Police Force is faced with an enormous set back in the discharge of its responsibilities, which includes highway security. In the face of this, daredevil armed bandits have   found the highways very attractive, thereby making them a constant danger to Nigerians. Charles Kumolu reports
HE was travelling by road to his destination. In sane societies, travelling by road is not a preserve of  the poor , as all groups make use of this infrastructure. Inspite of the draw back  of this infrastructure in Nigeria, he had made several such of journeys before  and this was not different. But what he probably did not factor  is that the times are different. Not only are roads all across the country death traps, they have been taken over by men of the under world.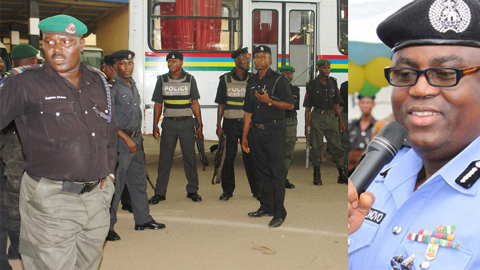 For a people, who are yet to come to terms with the recent Benin/Ore ExpressWay bus robbery that sent over 20 people to  their early graves, the death  of Second Republic governor of Kano State, Alhaji Abubakar Rimi was one death too many. The incident was a sad reminder  that the authorities are still handling the issue of highway security  with kids gloves. So bad is the situation that criminals have taken over (almost) all highways across the country. To add salt to injury these criminals carry out their vicious operations with impunity, in broad day light without fear of being confronted by security operatives.
Although the Nigeria Police survived the intrigues that trailed the Benin/Ore highway incident, the recent death of this frontline politican has yet raised a lot questions on the Force's ability to combat crime. Given this scenario, the police is seen not to have done much to protect the citizenry.  So terrible is the crime such that a law abiding citizen would quake in the presence  of a police officer, but not so with the criminals.
Some observers have linked the  insufficient policing to deficient funding by the Federal government, others think the Force is yet to justify huge federal attention to it lately.
For instance, it only took revelations from former Minister of Police Affairs, Dr. Ibrahim Lame, for Nigerians to know that the Force may not be underfunded afterall even as he described  the Force as a failure.
Lame regretted that despite  huge resources the government had spent on the Force, its members were yet to reciprocate this gesture with commitment.
He numerated areas where the government had been good to the police. He cited the increment of salary and increase in the capital budget as an instance of such gesture.
Instructively, before now, a Constable in the police was being paid N7, 000, which has now been increased to N21, 000 while in 2009, the Police had about N21bn as its capital budget. The budget was increased to about N30bn in 2010.
He said the crime rate and extra-judicial killings were too much and that government could no longer fold its arms while its citizens were dying as if there was no police in the country.
Lame said, "Regrettably, the Nigeria Police Force has not reciprocated the gesture of the government by way of commitment to duty and responsibility to this calling.
"The current  crime rate across the nation, rising cases of extra-judicial killings, human rights violation, robberies, high profile assassinations and deliberate failure to comply with government directives are testimonies to the sheer incapacity or wilful defiance of the police high command to these recommendations and assignments at hand," he noted.
What is really responsible for growing insecurity on the highways? Can it be linked with general alleged inefficiency of highway policing or collapsed system?
This was a hard sell  for a member of the Police Service Commission, PSC, DR. Otivie Igbuzor.
According to him, highway insecurity  has no general link with the manner of policing in Nigeria.
Igbuzor believes that the combination of high poverty rate and unemployment is largely responsible for the current spate of insecurity in the land.
"People should not say that the police is largely responsible for the insecurity of lives on the highways. In every society there are factors that bring about crime. It is established clearly that whenever there is a high level of poverty and unemployment, in the face of high level of affluence and wealth by a few individuals, crime would be high.
That is clearly why there is a high level of crime in Nigeria. I think that what needs to be done, which we are trying to in terms of our mandate in the Police Service Commission,PSC, is to reposition the police to be able to police Nigeria in a modern democracy," he authoritatively told Vanguard Features,VF.
For Mr. Mike Igini, Director of Centre for Leadership Values and Policy, Dr. Igbzor  was  economical with the truth. According to Igini,  the Force should prove Nigerians wrong, by displaying how best to provide security on the highways.
"The onus is, therefore, on the police and agents of government to prove people who have such perceptions wrong as numerous cases of indicted senior police and military officers have revealed in the past and recent times through investigation panel reports in places such as Jos, Kaduna and Bauchi states," he maintained.
This, Igini said can be achieved through quality use of checkpoints among other things, to police the roads.
"There appears to be a malignant culture of abuse of check points by some law enforcement officers who purport to be combating crime.When this happens, they themselves become a menace to society. We have seen the police services trying to fight this culture, then sometimes they relapse and we don't really know what goes on from there."
Regardless of that, some are of the view  that  government  collude with the Force to perpetuate and cover highway crimes.
"The society can be justified in having such perceptions, if we are to use a subjective evaluation of the amount of unsolved crimes that are not only pending but are still being perpetuated in many of our communities," Igini told VF.
But for Igbuzor, that perception seems wrong as far as highway policing is concerned.
"You live in Nigeria, what do you think the situation would look like if the Police is withdrawn from the Highways?" he asked.
Continuing he said, "I don't know why people would suggest that. Yes, we acknowledge that there are challenges, but then, we still need police on the highways. What needs to be done is to improve on equipment and communication. I hope you know the kind of vehicles that the Force uses to police high powered crime in Nigeria.
"If there is good communication the police can cover everywhere and that is part of our mandate at the PSC. We have to retrain and re-equip the Force for  better policing of the highways. We have to ensure that the perception and orientation of the police should change. This is where everybody must be involved. The community and the media has a lot of responsibility in this regard."
However, Mr. Emeka Ngige, a Senior Advocate of Nigeria, SAN,  stressed that highway security  deserves more than lip service that government is presently engaged in.
He said: "The authorities needs to organise refresher courses for them on this, so that they will understand the enormity of what they do. The orientation of the police needs to be worked on, because when they see someone passing by, they assume the person is a thief and would want that person to give them money. If the person is a commercial driver, it is mandatory, they would expect fifty naira. But if the person is not, they would expect big money because they are on the highway."
He observed that: "Once it is 7'oclock, you will hardly see police on the road because there is no proper provision on the road block, and with that situation they would not have any alternative, rather than to go back to their barracks when it is late. But if you go to other countries, the road blocks are properly built to provide some level of comfort for the officers, there are also equipments that makes them combat ready.
The policework is in a shift manner.
Continuing , he added: "The issue of having cameras on the highways cannot be over emphasised. Those cameras can be planted in places where people would not dictate, then at the end of the day, it can be used to dictate what goes on the roads. But here, any body can do anything on the highway and get away with it."
Efforts to get the view of  Force Public Relations Officer, Mr. Emma Ojukwu on the matter, was not successful, as calls to his mobile phone were not answered.