Erstwhile president of the Actors  Guild of Nigeria (AGN)), Mr. Ejike Asiegbu,  last Thursday evening at the celebrity hangout, O'Jez, in Surulere, put up a show that was not only belittling as far as his personality and career was concerned. Movie watchers at the venue said it was a deliberate show of shame to stardom.
Asiegbu, HVP gathered, decided to throw caution to the wind when he went wild, as he rained unprintable abuses on our Entertainment Editor, Mr Ogbonna Amadi that hateful evening for discharging his noble duties as a journalist of class.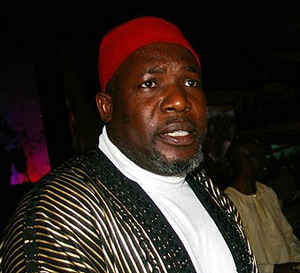 Ogbonna, after  the day's production, had driven down to the celebrity hangout to unwind. Insider source had it that no sooner than the repoter arrived the venue than he was confronted with the unexpected.
Sharing  the same table with Ogbonna were Segun Arinze, Ejike Asiegbu and a couple of their friends. Ogbonna was said to have exchanged pleasantries with Arinze and made to greet Asiegbu, following Arinze's insistence when  he, Asiegbu, like a wounded lion reacted negatively, cursing the very day he met  the journalist .  He was said to have altered uncomplimentary words in the cause of letting loose his indignation and vowed to deal with the Showtime crew.
Source said Asiegbu's unjustified reaction attracted attention from every corner of the hangout, even as he threatened to rain fire and brimstone. It was such a show of shame that one of the celebrities who witnessed the drama expressed disappointment  that a man of Asiegbu's calibre could throw caution to the wind and stoop so low  in the name of trying to get at somebody or  to attract undue attention to himself.
Few days back, Asiegbu had embarrassed one of our female colleagues, Bridget Amaraegbu at a movie producers' event, held at a hotel in Surulere, where he openly threatened to deal with all of us on the Entertainment Desk of Vanguard Newspapers for championing the cause of restoring peace and sanity in the troubled Actors Guild of Nigeria, which was formerly under his stronghold. His people, some journalists said, should call him to order.