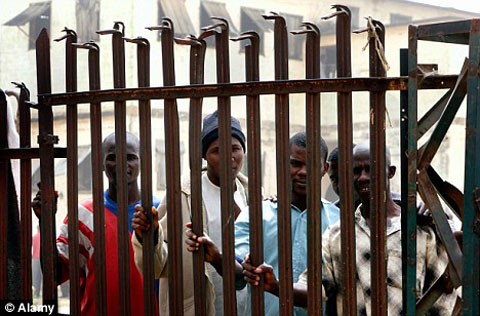 Longevity is the desire of most people and Tony is not an exception. He would have loved to have a long life, like any other person. But that wish and his dreams died with him in a horrible manner. If life after death was a reality, indeed, Tony would be handicapped among his fellow dead men.
Having a wife in that 'imaginary' land of the dead, is one thing he cant dare. Even if he does, who will perform his conjugal duties? Only his wife is alive to tell the story.
The way she snuffed life out of her husband seem most bizarre. Following quarrel with her husband over feeding money, she pulled Tony's scrotum. And the man died. Today, Tina is among those, who will no longer wait for the hang man, given approval by state governors for execution of all condemned prisoners in Nigeria. But can two wrongs make a right now? Charles Kumolu reports.
WHETHER some section of the society, sees them as  gullible followers or  not, does not matter. What counts is his ability to perform 'miracles and win converts'.
Although, he may not have the freedom to preside over his flock today, he is believed to  still command some followership.
This is the true picture of Reverend Chukwuemeka Ezeuko (aka Rev. King) who is waiting for hangman's noose. King was found guilty by a Lagos High Court  for the murder of Ann Uzor, a member of his church and also of an attempt on the life of five others whom he set ablaze on July 22, 2006.
Since then, he has remained in public consciousness, as claims of his activities behind bars have continued to make headlines.
The story about the condemned pastor today today,  is that the recent jailbreak in Kaduna Prisons is not unconnected with his growing fame behind bars.
The transfer of Reverend King out of the Kaduna central prison and alleged mishandling of inmates, have been identified as some of the immediate causes of the attempted jail break.
Nonetheless, this incident has  brought to the fore nagging issues about our prisons, especially the aspect of prison  congestion.
Perhaps, this informed the recent position of the thirty six state governors on prison congestion.
Hinging on the fact that condemned prisoners  contribute to the ever growing list of detainees, the governors  approved the execution of all convicted prisoners across the country.
"It was agreed that those people who have been condemned should be executed accordingly," said Theodore Orji, governor of Abia State.
Instructively, Nigeria's law empowers the governors to sign execution orders. This is why they see it as a way  of decongesting the prisons, but many think the issue is beyond the execution of condemned criminals.
Coming at a time when there is global outcry against capital punishment, has also robbed the decision of public sympathy.
Vanguard Features,VF, investgations however revealed that there is no evidence that death penalty is an effective way of  reducing crime and prison congestion.
"That is what I said earlier that it is within the ambit of the law to do that. As at today that is still the law, but Nigeria has to move away from death penalty, because taking one's life will not solve the problem of crime and prison congestion.
There is a general problem of unemployment and social disorder. And these are some of the problems that lead to capital offences. So if you solve the social angle, it would reduce the crime rate, even when such crimes are committed  killing someone because of one offence does not solve any problem. The issues that bring about high crime rate should be addressed," A Senior Advocate of Nigeria, SAN, Tayo Oyetibo, told VF.
However, an Amnesty International,AI, report, underscores the issue raised by Oyetibo.
According to the report, "death penalty is still on the statute books in Nigeria, Amnesty International is calling for the Nigerian government to abolish the death penalty, and pending abolition, immediately impose a moratorium on executions and commute all death sentences under Nigerian criminal law and new Sharia penal laws, ratify international human rights instruments, including the two Optional Protocols to the ICCPR, and the Protocol to the African Charter on Human and Peoples' Rights on the Rights of Women,  Respect and promote international standards of fair trial and due process."
Another AI report titled : 'Waiting for the hangman' said, "more than 720 men and 11 women are under sentence of death in Nigeria's prisons. They have one thing in common, beyond not knowing when they will be put to death. They are poor. From their first contact with the police, through the trial process, to seeking pardon, those with the fewest resources are at a serious disadvantage."
Thus, this issue of resources, is another source of worry for observers, who noted  that legal  aid assistance rarely come the way of indigent prisoners.
But a former chairman of Legal Aid Council, Kenneth Gbagi would not accept that, as he told VF that the organisation offered required legal assistance to indigent prisoners.
"I am particularly touched by the fact, as the chairman of the Legal Aid Council in Nigeria, I made frantic efforts to decongest the prisons in Nigeria. To that extent, we had to visit all the major prisons in Nigeria," Gbagi argued, adding that:"I disagree with the governors completely, because a lot of the cases that we have now, are the cases that should be reviewed.
There should be a panel to review the cases, put them on parole like it is done in civilised societies and find out there is genuine repentance. Some of the cases have come as a result of mistakes of the head and not of the mind. So, to that extent a panel should be set up to review all the cases of condemned prisoners with a view to finding out a more acceptable way of reintegrating them into the society."
Unlike calls for a panel to review all  convicted cases by Gbagi, another SAN,Mr. Ricky Tarfa is not comfortable with that idea.
For Tarfa, such demand amounts to a call for disobedience of the constitution.
"If the government can set up a panel, it may be on compassionate ground, because  under the law, there is no where a panel can be set-up to review court decisions or decided cases. There is no room  for a body to review a court decision, under the law.
But because it involves life, that may inform the call for a panel, but the law does not recognise that. That would be unconstitutional," he said.
Besides, unlike others, who generally dismissed the execution order by state governors, Tarfa was technical on this.
According to him, if such approval becomes necessary, "there is need for the Attorney General and various state Attorney Generals to confirm the status of these convicted prisoners, so that we can know where there are pending cases in respect of those ones. What they should do is to make sure that those cases are finally decided, at least reach the last stage of the appeal. All appeals in such cases should have been determined  before they can come out on what should be done.
"The state governors can only take that stand, when they confirm that these cases that they are recommending, are cases in which there are no standing appeal. But if they are cases that are pending, it would be wrong and because they can only come in when cases are finally decided. Due process must be followed."
Nonetheless, it was gathered that near absence of pro bono (free legal services)  lawyers, contribute to the traffic in the prisons, given that those facing  charges,  can either plead guilty and go straigth to serve prison sentence or plead not guilty and go to prison custody, especially the poor, who have nobody to put them on bail.
But Tarfa would not accept that, as he told VF that " it is not really a question of pro bono lawyers," suggesting that, " the Nigeria Bar Association, NBA, should sensitise its members, so that those, who are interested in pro bono cases, will indicate their interest. Then whenever the need arises, the NBA can come in.
"It depends on the category of cases. If person is on the waiting list to be executed for offences that involve life, even if they don't have lawyers, the state should be interested and make provisions for them to have a lawyer. The level of experience of the lawyers is also a thing of concern.
" But generally NBA and the state should work  together to ensure that those accused persons, have a counsel. It is the duty of the Bar association and the state to ensure accessibility to lawyers. Because of the sacrosanct nature of life, it is left for the state and the bar association to ensure that no stone is left unturned. The attorney general and all lawyers are expected to ensure that a person, who is standing trial for capital and other offences, is provided with a lawyer."
Further investigations also revealed that criminologists, who are supposed to help in rehabilitating prisoners, have done little or nothing in that aspect. This therefore, usually leaves condemned and convicted prisoners at the mercy of state governors, who periodically grant them pardon.
Corroborating this Gbagi, who is a Criminologist said: " It then falls on me as a criminologist other than being a lawyer. We have a duty to rehabilitate people into the society. You will be surprised that someone, who was a condemned prisoner will be a better person than some of the governors we have today. While the governors are pushing for capital punishment for some of the prisoners, one wonders if some of the governors should not face the same music because the entire problem of our society is a result of leadership failure.
" Man does not give life and has no power to take life. Some of these prisoners stole chicken. There was a child who threw another woman's child into a well, because that woman was quarreling with her mother, and so on. Do you now take their life because of  that"
Subscribe for latest Videos