Dangote has taken delivery of his new Bombadier Global Express XRS. The Aircraft would be the third in his fleet. We gathered the aircraft landed the Nigerian airspace from Canada last week just as he marked his 53rd birthday in Lagos.
Societywatch was hinted that the 8 seater- jet, which he bought for himself as a birthday gift is worth about N7billion. The journey from Canada to Nigeria was said to have taken about 9 hours.
"The Global Express XRS is an improved version of the original aircraft, offering higher cruise speed, increased range, improved cabin layout and lighting. The range increase is achieved by addition of a 1,486 lb (674 kg) fuel tank at the wing root. The Global Express XRS entered service in early 2006. The unit price is estimated to be $45.5 million (US).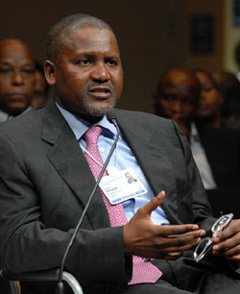 Bombardier claims it takes 15 minutes less to fuel the XRS than the original model thanks to improved computer systems and mechanical refinements"
Dangote, a Kano-born commodity merchant, was listed in Forbes Richest Billionaires in the world. He is the President of the Nigerian Stock Exchange, NSE, with investments in cement, sugar, oil, banking, properties and other areas
David Mark's son in auto crash
Tragedy was averted last week when one of the sons of the Senate President, David Mark was said to have been  involved in an accident.  The young man was said to be driving in his car while retuning from a party.
Sources disclosed that the party was organised by one of the aides of the Senate President whose son just clocked a year. The source disclosed that the little boy's birthday's party, whose name is David, drew the presence of personalities in the corridors of power. However, we gathered that although the car was badly damaged, no life was lost.
Gov Obi doles out money for Ojukwu's wife's burial
The death of late Njideka Ojukwu almost devastated the incumbent governor of Anambra state.  Not merely because the deceased was a one time commissioner in the state and party stalwart but because it came at a time when the Anambra election was to be held.
Consequently, we gathered that the death of Njideka was not announced to the public until after the election.  Last week, the burial was organised with Governor Peter Obi playing a significant role.  We gathered that the governor doled out large sum of money for the burial with provision for other form of logistics. The late Njideka Ojuwku was the first wife of the former Biafran leader.  She was aged 75 years.