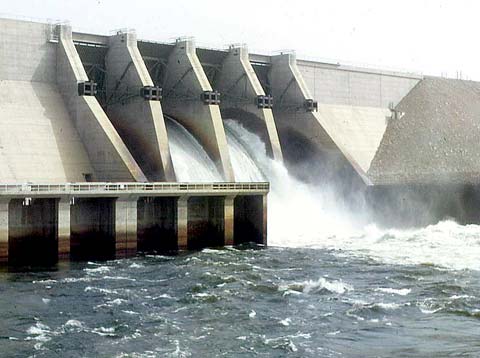 ALTHOUGH Nigeria did not attain the targeted 6000mw by December 2009,   power generation  last year showed that the highest generation of 3710MW was attained by  December, while installed capacity of 5,226.6MW was reached by December  2009.
As the nation nursed the bruises of  a failed target,  the Power Holding Company, PHCN, disclosed that power generation had dropped to 2700MW. This means that power generation has been declining since then.
And the nation is speedily being eclipsed by darkness. Indications from the presidency however  suggests that Acting President Goodluck Jonathan, is poised to redefine the sector.  But will post May 29, 2011 signal the end of nationwide darkness? Charles Kumolu writes
HE CLAIMED to have inherited 1,400 Megawatts,MW, of electricity in 1999 and  left it at 4,000MW, adding that the Nigeria Integrated Power Project,NIPP, plants which he started are yet to be completed by the present administration.
His sucessor promised an emergency, which would  have skyrocketed the inherited figure, but it literarily climaxed  to a total blackout. That is the sad summary of the power sector under ex- President Olusegun Obasanjo and ailing President Umar Musa Yar'Adua.
Till this moment, action and inactions in this sector, has been replete with  mysteries and controversies. Like a tale told by fools, it has been a story of promises made and broken, just as corruption and bad leadership has become its hallmark. While it would not be out of place to describe  the story of Nigeria's power sector as abysmal failure, many have described past and present efforts at  fixing it as a waste of time.
The magnitude of this failure, has made any action at lighting up Nigeria, look as difficult as the darkness that has enveloped the country.
However, with this  monstrous state, even those who may have good or bad  intention about  fixing the sector prefer to sit on the fence. This has been the lot of the power sector, as Nigerians no longer care whether the nation is in darkness or not.
Thus, the weight of failed emergency, drop of power generation to its lowest level ever and indications that the situation would get worse does not matter. In fact, people are more concerned with where to get fuel or diesel to power generating sets.
Therefore, saying that a lot of people have not lost sleep over promises of an efficient energy sector by Acting President Dr. Goodluck Jonathan, is as good as saying the obvious.
Although indications of a better energy sector emerged at the recent cabinet reshuffle, yet the nation did not  hold its breath.
Accordingly,  the Acting President recently said that an immediate remedy in the power sector "lies in the activation of its hydro electric potentials, for which World Bank's help is being requested."
Jonathan informed the World Bank's senior officials that for the assistance to be of maximum benefit, there would be "an immediate need for a comprehensive technical audit to identify critical areas of urgency."
According to him, the "bank is best placed to send its experts to undertake this audit."
The Acting President explained that currently, Nigeria's power comes from hydroelectric sources whose turbines requires urgent refurbishment and replacement due to age.
He added that Nigeria was considering generating electricity from coal and nuclear sources.
But Jonathan noted that generating power from nuclear-sources "may take between eight and 10 years due to the stringent requirement by the International Atomic Energy Agency."
He added that tapping energy from the nation's coal deposits could take a longer period.
While this appears to be an indication that by May 29, 2011, Nigeria may be taking bold steps out of  total darkness, a former Minister of Power and Steel, Professor Tam David-West, sees little or no promise in it.
He believes the acting president's attempt amounts to a risk that may not achieve any miracle.
"Jonathan cannot perform miracle. I have said this in so many interviews that he should choose few things, focus on them, accomplish them and live a mark.
But if power is part of the few things he choose, I am afraid, it would be a disaster," David-West told Vanguard Features,VF.
He stressed that "the issue of electoral reforms  needs to be implemented, Jonathan should work on that and other things. If he wants to do so many things, he would not achieve anything and he would leave a bad history which would hunt him.
Anyway, If I am advising him, I would say that he is taking a risk and he cannot make impact. I have been minister of Power and Steel before and I know what I am talking about."
Unlike  David-West, whose position suggests that Nigeria may remain in darkness, amid indications of will to address the crisis from the presidency, a former member of the House of Representatives, Dr. Usman Bugaje strongly believes that with political will, the nation might sing a new song soon on the power situation.
"If there is political will, I am sure he can achieve something. Essentially, he needs a good team. He should be able to bring people, who can perform on board.
Let him look for people, who do not have corrupt record and bring them on board," Bugaje noted.
Political will or not, is not the issue as far as the  General Secretary, National Union of Electricity Employees , NUEE, Joe Ajero is concerned
For him, time has a major role to play on the issue.
"Whether the Acting President could make meaningful impact is relative, because if he tries to consolidate on what is on ground now, yes he can. If he equally tries to lay foundation for people to build on, yes he can," Ajero noted.
But like David-West, Ajero cautioned thus: " If he decides to turn stone into bread, that  would not be possible. Don't forget that the then Vice President was the chairman of National Council on Privatisation. And if he  thinks that reforms is all about improving the power situation in the country, then he is getting it  wrong.
One is still trying to find out how he wants to go about it."
Instructively, efforts at solving the power question is gradually unfolding, as the acting president had constituted a special committee to tackle challenges in that sector.
But, Ajero has no faith in this group.
He said: "I would say that the first step he took by setting up a committee made up of the Minister of Finance, Accountant General of the Federation, Central Bank  Governor, and Director of Bureau of Public Entreprises BPE, is not on the right track.
If you look at these people, you will find that they are not knowledgeable on power sector issues. The power question has never been an issue of inadequate funds.
I understand that one Barth Nnaji is supposed to head the sub-committee, I would say  that it is a wrong choice. In advanced countries, we don't bring people who have conflict of interest to head such public utility."
Mr. Peter Esele  seems to be the only one who believes Dr. Jonathan is doing what is expected of him in this circumstance.
Esele, who is the President -General of Trade Union Congress,TUC, said, "It is better to start something than not do anything at all. So, I will say that it is wrong for anybody to dismiss the prospects of some improvements. Even if we have like 100mw somewhere, 200mw in another place and so on, it is an improvement.
It may not necessarily translate to total fixing but it is something to cheer about. If the pipelines are no longer vandalised, I think he can improve the power situation in the country within the limited time he has.
"In the last couple of years, we have had policy reversals in that sector. He should look at the strength and the weaknesses in Obasanjo's plans for the power sector and ride on with it. I think is achievable. But he may not be able to have 10,000mw, but he can make a difference. It would have effects on the economy, thereby creating employment."
VF's investigations however  revealed that not a few are comfortable with Jonathan's position as head of the Power ministry.
When the view of a South-South member of the National Assembly was sought, his outburst said a lot  about this displeasure.
But that was not Ajero's position.
He said: " What Jonathan did by making himself the head of the ministry, has happened in other countries. It happened in Brazil where the president has direct control of that sector. My fear is that he should be ready to accept the good, the bad and the ugly.
" But I believe he can make an impact within one year, he can initiate some moves. If he decides to set up three plants that are coal dependent, he would go far and the next government can come in.
If new power stations are not being built, within the next five years there will be nothing to commission. I think he should start something, even if he doesn't complete it".