By Jemi Ekunkunbor
For those wondering what former Miss World, Agbani Darego has been about, it can now be revealed that the lanky model and face of L'Oreal has been busy cooking up a project that will soon hit TV screens across the continent. Known as Stylogenic, the consumer engagement programme will be hosted by the first black Miss world, Agbani Darego.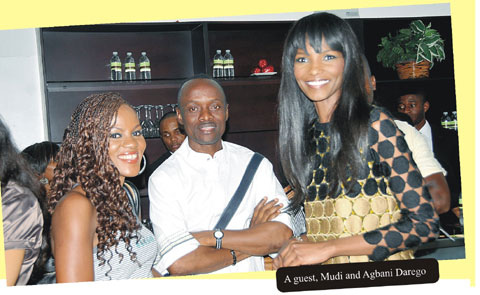 Designed to be arguably Africa's biggest television reality show, the new show will be focusing on fashion and style, a show the producers say will be a must-watch item that will keep the audience glued to their TV screens.
Set to debut in July after the World cup, the show according to the organisers will be different from other reality shows in more ways than one.
Unlike most other reality shows which promote individualism, the show is based around the concept of a style team, made up of a designer, photographer, stylist, model, make_over artist and hair_stylist. Six teams will be competing against one another for mouth_watering prizes including a showing at Fashion and Design Weeks in London and Cape Town, said Solomon Ikhioda, Head, Sponsorship, Insight Communications Ltd, one of the show''s executive co-producers.
Ikhioda who was speaking recently during a presentation to the media held at the luxurious Clear Essence California Spa & Wellness Resort, Ikoyi, pointed out that the show will be unique, in the sense that it is not a duplication of previous reality TV shows. He expressed his conviction that Stylogenic will usher in the next wave of reality TV by fusing education and entertainment into reality television and also contribute immensely to the growth of The Nigerian Fashion Industry.
He then urged corporate organizations to tap into the show to promote their value added proposition to the African public, saying that they couldn't have a better opportunity than this medium to connect with their markets.
He disclosed that entries for contestants will open in a few weeks, adding that it will be open to all Africans with casting calls to be held in Lagos, Johannesburg, Nairobi, London and New York.
In his contribution, Mr Remi Ogunpitan, managing Director IBST Media Limited, one of the co-producers, said Agbani was picked as host not just because she is a style icon but also because she is an iconic Nigerian ambassador. Agbani, he said, embodies the aspirations of many in the style and fashion industry today, and as such, the producers hope to use her star appeal to make the show a huge success.
On her part, Agbani expressed excitement at being chosen to host the show, saying that she is looking forward to it. She described Stylogenic as an exciting concept that is sure to be a hit not only in Nigeria, but across Africa.
The 13 episodes show has the following criteria for winning, craftsmanship, creativity, innovative use of materials, finish quality/finesse, as well as the economic and social impact of the work.
The event attracted stakeholders in the fashion and beauty industry including designers Adebayo Jones, Frank Osodi, Modela and Mudi. Also present were Tara Fela Durotoye and Isio of Beth Models amongst others.