By Emmanuel Edukugho
A lot of University Vice Chancellors seemed not to lack the strategic vision of their institutions getting to the top globally. Mission and Vision statements of most tertiary schools point to this direction of international excellence.
Professor Tolu Odugbemi, immediate past Vice Chancellor, University of Lagos (UNILAG), dropped some hints on how Nigerian universities can find their way to top global ranking through re-orientation and the need to do positive things that would impact profoundly on quality higher education delivery.
No Nigerian university was mentioned in the top 200 colleges and universities world-wide by web ranking in 2010. Massachusetts Institute of Technology (MIT), United States of America, led the pack, with Stanford University and Harvard University, also in United States of America (USA) following in that order, while Universal Nacional Autonoma de Mexico, in Mexico placed fourth in the world.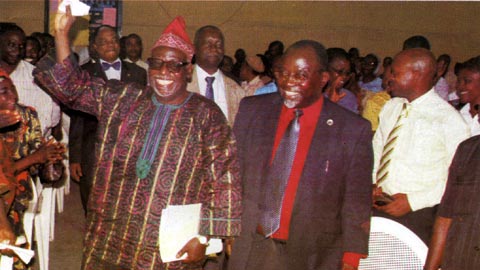 In the 2010 World University Rankings, about 72 were universities in the United States, nine in Britain, ten in China, nine in Spain, six in Italy, ten in Canada, five in Brazil, four in Turkey, five in India, four in Sweden, two in Japan, seven in Germany, three in Switzerland, two in Mexico, one in Russia, one in Egypt (Cairo University), five in Australia, while Thailand, Korea, Netherlands, Hong Kong, Peru, Austria, Taiwan, Belgium, Chile, Portugal, Hungary, Singapore, Finland, Indonesia, Argentina, Czech Republic, France had a university each listed in the 200.
Responding after the grand reception organised by the College of Medicine, University of Lagos, in the old Great Hall, CMUL, Idi-Araba, in recognition of his unique and excellent tenure as the Vice Chancellor, UNILAG, he declared: "Let us pay more attention to our talents and do positive things. Nigeria is a great nation, it is only when there is no fairness, then there will be rebellion. When poverty is severe, poor salary paid and workers are hungry, how can they perform?
We should pay attention to simple things, provide best and conducive environment and attention for people to perform optimally."
He drew attention to the Nigerian University system and world ranking of universities, saying, "It's quite a misunderstood concept". Odugbemi recalled.
"When Nigeria was good, people from Ghana, Pakistan, America, Britain, Canada, came here. But gradually things were dwindling.
It was not only that Ghana must go, when Britons left, Americans, Pakistanis, Indian, left the Africans also left."
In respect of the webometric ranking of universities, he explained the rationale behind the ranking.
"A university should have international students, international staff and provide good service. When Nigeria was good, people from United Kingdom, Canada, United States, were coming here. Let us try to re-orientate the people.
Functions of a university are teaching, research and service. No discrimination, no racial bias. University management should be like a model as University of Lagos was under me. People will learn from us."
He pointed out that when things are good, countries such as UK, USA, Canada, will come and be identified with our universities and become part of our university system.
Global ranking is not easy to attain without getting involved in the best practices in university management, teaching, research and student admission which should have international mix.
Forging International Exchange programme could be part of the efforts towards a perk at the top.
He stated that the University of Lagos entered into partnership arrangements with many universities and research institutes abroad including the University of South Africa (UNISA), Central Michigan University (USA), Hogskolan Dalarma University (Sweden), DUN Group De Recherche International (France), University Charles – Louise De Montesquieu D'Abidjan (Cote D'Ivoire), Virginia State University (USA), University of Bedfordshire (UK), Confucius Institute (China) and Beijing Institute of Technology.
Apparently referring to accountability and transparency in university affairs, he said that voting in the Senate should be free and fair.
"As to voting in Senate, there should be no rigging. In developing countries, there is ballot swapping. Let's respect each other, be just, be fair and try to carry others along."
He said that his administration established an office known as office of International Relations, Partnerships and Prospect to open up more international windows.
"The establishment of this office has yielded greater results in terms of international linkages, partnerships as well as providing greater international visibility for the university."
The former VC attributed his achievements in office to his faith in God, teamwork and divine intervention, drawing attention to the "Green Book" entitled Actualising University of Lagos of our Dream which documented step by step what his administration planned to accomplish at the end of his tenure when he assumed office in April 2007.
"I recommend that this document should be read by all to know more about how God is Great and Manifests in human endeavours. Many organisations and individuals partnered with us by donating projects and endowments."