By Benjamin Njoku
Dr Timothy Ayam is the National Support Co-ordinator of the Leprosy Mission in Nigeria, an NGO that was established as far back as 1920, to  provide adequate medical treatment to people affected by leprosy.
He was in Lagos, last week, where he received a cheque of N550,000,00 from the Redeemed Christian Church of God (RCCG, )Jubilee Christian Centre Parish 15 , Surulere as disbursement of  proceeds to charities  from their last year's edition of the Worship for Change concert, held at  the MUSON centre, Lagos.
He speaks on his ordeals, stigma and the challenge associated with living with  people who are infected with leprosy.
What does it mean to be infected with leprosy?
For  people who are infected with leprosy, stigma is still an issue to deal with. And we are calling on Nigerians to learn to accept  these people.Most of  these people have been  stigmatized either in their offices or the places where they live.
For one thing, Government does not provide facilities for these people. And secondly, you discover that when these people attempt  to socialise with other people, they are avoided like a plague.
We are saying that leprosy is curable and it's not a disease that is seriously infectious. Though, it's infectious per se, it is not seriously infectious. We are calling on the members of the public to embrace, accept and encourage them in whatever form they can. The public shouldn't  be afraid  of contacting the disease; corporate bodies are implored to visit the various leprosy centres across the country and provide the victims with social amenities that they may be in need of . Some of the victims' children are denied the right to basic education.
Let me quickly share my experience with one of the northern governors.
I visited the governor in his office, and he would not allow me to come near his table as he preferred to have me discuss with him from a distance.
He insisted that I should speak to him from the doorpost because he was afraid that if I come near him,I might infect him with the bacteria that causes leprosy. In order to allow peace to reign, I stood on the doorpost and spoke with him.
But unfortunately for the governor, there was a state function where I was ushered right beside him, and after the function, I asked him if  he did recognize me. He replied in the contrary. I then  told him I was the man who works with the Leprosy Mission. He was full of apologies. These are some of the challenges we face while carrying out our responsibilities to the people.
How long have you been coordinating the activities of the  centre?
We have been working with people infected with leprosy in Nigeria since 1920. We started out in Adamawa state, principally focusing on  the North-West part of the country, including the FCT, Sokoto, Zamfara, Niger State and Kwara State.
What's the level of infection of the disease in the North-West and generally in  the country?
The incidence of leprosy has fallen drastically nationwide, because of the drug that's called multi- drug therapy(MDT).So, that wonder drug has brought down the incidence of leprosy in the country. But there are still new cases of leprosy that is being reported. In 2008, for instance, I think we had over 6000 people who were infected with leprosy, not just with the "PB", but infected with "MB".  'MB" is the multi-bacteria that causes leprosy.
I must state here that Nigeria has attained a low leprosy endemic status mainly through operational and policy influences. The challenges that remain include reducing the relatively high leprosy burden in the South Eastern States and evolving effective case detection interventions that will make an observable impact on the incidence of leprosy.
When was the centre officially established as a mission in Nigeria?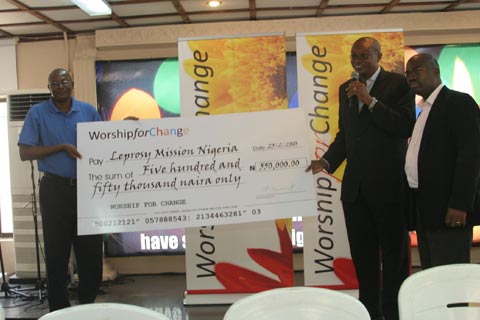 We have been working in Nigeria as an organization since 1920, but we were officially invited by the federal government in 1989, and since then, you can notice that we have been working in places like Kogi, Adamawa and other North-West states.
Do you have any reservation associating yourself with people infected  with leprosy?
I don't basically have any problem with them. But the only problem I think I  have with them is the fact  that most of the people infected by this disease hardly come out on time for treatment. They report their cases very late and because they delayed in seeking  treatment, the bacteria would have affected a reasonable parts of their bodies. And by then, signs of deformities would have  begun to set in. That's the problem  we usually have with them. As a result,we carry out corrective surgeries on them, in addition to applying special vaccine on their legs to enable them regain sensibility once again and begin to live a normal life.
What are the early signs of the disease?
Leprosy is a disease of the skin and nerves. It is basically caused by a bacteria similar to the tuberculosis bacteria. It affects the skin and nerves which show the signs and symptoms of the disease. But the unfortunate thing is that, most people infected with this disease do not take notice of it early enough to tackle it. From the investigation carried out, some of the victims treat eczema, because the disease appear like skin patches. Early signs of leprosy come  like  patches that show up on the skin which is different from the rest of the skin in colour.
There can be some deformities like clawing of fingers, wrist drop, foot drop, etc. Due to nerve damage, there can be loss of pain sensation in the foot or on the hands leading to wounds.These are the common signs of leprosy. There are many other smaller signs that can be examined and recorded only by medical professionals.
Upon discovering that they are affected by the disease, some people would flee  the immediate environment  because of the stigma that is attached to the disease. So, in these places they fled to,we have referral hospitals.Those referral hospitals attend to them there.They prefer to relocate to places that are very far from their communities, where they inter-marry themselves. This has been the case with leprosy victims in Nigeria.