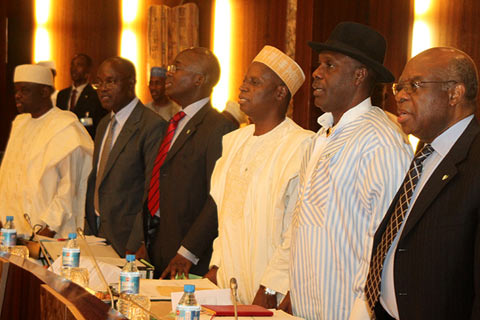 *Presidential aides also affected
*Sacked ministers abandon exit routes at FEC meeting
By Daniel Idonor
ABUJA—ACTING President Goodluck Jonathan, yesterday became more decisive in running the affairs of government when he ordered the immediate dissolution of the Federal Executive Council, FEC, bringing to an end lingering speculations on the existence of the former cabinet as constituted by the ailing President, Umaru Yar'Adua.
Minister of Information and Communication, Professor Dora Akunyili, sacked along with others, took State House Correspondents through a very long briefing session. She outlined so many contract memos that were approved by the dissolved council, saying "the Acting President Goodluck Jonathan has dissolved the Federal Executive Council."
According to the minister who could barely take few questions "the Acting President did not give reason for dissolving the cabinet," even as she added that "all ministers including myself are to handover to their respective permanent secretaries by tomorrow (today)."
She, however, explained that the dissolution of the cabinet also affected all presidential aides including special advisers, assistants and others stressing that "if they form part of the cabinet it means they are also removed."
The action came as a surprise to many ministers who had engaged in the exchange of banters upon arrival at the Council Chambers.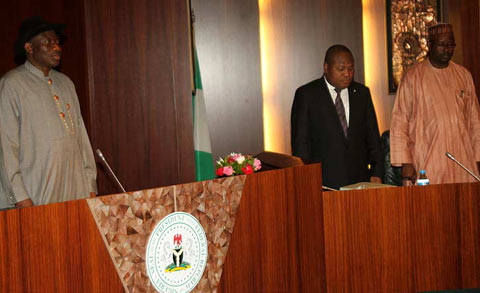 They never expected that yesterday was going to be their last in the service under Yar'Adua cum Jonathan led government.
Many of the ministers, against all protocol, abandoned their usual exit point from the Council Chambers, as they were seen taking different unconventional routes out of the premises. Some were observed to have openly discussed how they intended to move swiftly to their offices to collect their personal effects.
But as the meeting ended, several ministers, particularly those loyal to Yar'Adua were observed to be frowning as they refused to take questions from reporters. Only the Minister of Labour, Alhaji Ibrahim
Kazaure, agreed to talk.
He thanked both Yar'Adua and Jonathan for giving him the opportunity to serve, adding: "I use to be the Minister of Labour but now I am no more."
On what he intends to do after being a minister he said "I am a politician and I will continue to be one until I die."
It was not, however, clear whether a chunk of the outgoing ministers and other cabinet members would be re-appointed by the Acting President; even as it was being speculated that some of them including those loyal to Yar'Adua were likely to come back.
A school of thought has it that new cabinet may be made up of former deputy governors who were colleagues of Jonathan when he was a deputy governor in Bayelsa State.
Key members of the Deputy Governors Forum from each of the six geo-political zones, during his days were seen last Friday in Aso Rock where they had gone to meet with Jonathan on his invitation.
Acting President Jonathan had allowed the ministers to fully participate in the discussion of memos while the meeting lasted, as several contracts worth over N50 billion were also approved for execution by various ministries, departments and agencies, MDAs, at yesterday's meeting.