BUT for the acute shortage of food stuff in Lagos and the Jos killings, the deceit that Nigeria is not a hungry nation would  remain. This is inspite of the 2009 global hunger index which rated Nigerians among the worst hungry people. Consider this: Amid plenty, the country is rated as the world's 154th poorest. In addition, about 40 million people are believe to be hungry, while the average life span  of  nearly one-third of the population is believed to be about 45. In the face of these alarming challenges, Nigeria's Federal Government is far from delivering effective measures to defeat hunger in line with the Millennium Development Goals, MDGs. Charles Kumolu reports
PERHAPS, those whose actions or inaction triggered the recent hunger in most parts of Nigeria, did not bargain for what has ensued.  For these alleged illegal task collectors in Lagos State and others, who have developed a lust for bloodbath  in the Plateau, what matter and maybe still matters, is fat bank accounts and timeless slaughter of women and children.
Unknown to those who may have unleashed hunger on Lagosians, their proceeds was not able to purchase much, even as people could not travel to Jos to buy food stuff, thereby preventing perpetrators of the Jos massacres from selling  their cattle.
Since the killing began, most of the food items imported into  from  Jos and other northern parts of the country have become scarce. Consequently, traders now hike the few available items which has  led to increase in the prices of  substitutes.The combination of these is believed to be responsible for increasing hunger in the land.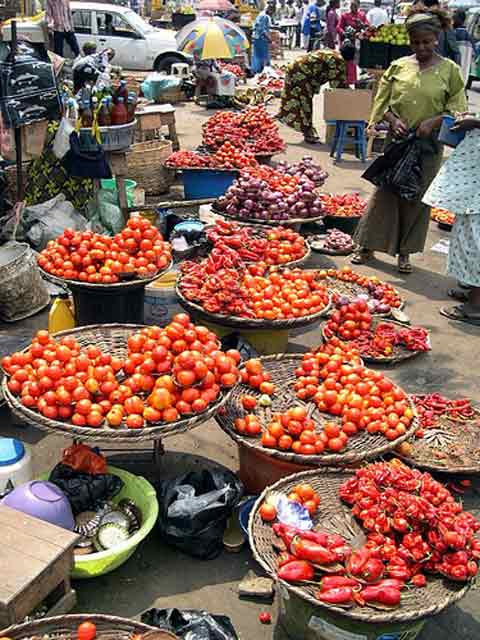 Although, there might be solution to these artificial scarcity,  the threat of a growing unusual weather pattern is more worrisome. Hence  the fear of limited quantity of products  this year.
From experts, who still foresee more changes in weather pattern, to those, who argue that Jos may boil again, the story is the same.
For instance, Agriculture is believed to be vulnerable to climate change, given that unhealthy temperatures causes crop failure. Therefore, the overall impact of climate change on agriculture is expected to be negative and intimidating to food security.
This may have informed the suggestion  by the Ministry of Agriculture and Water resources to the National Economic Council recently that the country needs to undertake huge investments in the agricultural sector over the next four years in order to ensure food security. What this means is that Nigeria is currently facing immense challenges in the area of food security.
According to reports, Nigeria  ranked 20th in the 2006 Global Hunger Index. Considering the huge availability of arable land, many find this position alarming. It was also discovered  that a large percentage of Nigeria's population  lack access to adequate food.  Malnutrition is also widespread in the country, with about 40 per cent of children under five years stunted and  nine per cent wasted.
However,  Mr. Osaro Odemwingie, who is the National Coordinator of  Voices for Food Security,VFS, believes that Nigeria can quit being a member of the inglorious club of hungry nations within a short time.
When confronted with the fact that the present unusual weather might not speed up any efforts at attaining some level of food security, he told Vanguard Features,VF that  government needs to properly educate farmers on why the weather is changing, so that  they can accept alternatives to unusual climate.
"We need adaptations for farmers, especially small scale farmers. The question is how do we pass this information them. They constitute the largest population of farmers in the country, so that their farming methodology will adapt to the changes in weather, especially the rainfall that is yet to come in most parts.
That is one key way because, the current information that is being given by metrologists is being put in a way that small scale farmers will not understand it. Lack of properly information would not be meaningful to them. The reason why we are particular about small scale farmers is that over 90 percent of our farming population are small scale farmers. They are  the ones who feed this nation. Government should also remove user fee on access to irrigation water," he noted.
But that argument was punctured by Mr. Hananiya Bonat, who is the Chairman of Bohan Agro Allied Services.
He argues that though small scale farmers are many in Nigeria, their produce is usually a little above subsistence level.
Therefore, he suggested that owners of big farms should be encouraged to produce more at this period of growing food scarcity.
"When the big farmers are compelled or encouraged to produce more to meet the current challenges, then the smaller farmers can now come in. I don't think that small scale farming would largely help in the interim. Owners of large farms should produce more along global practice of managing food crises.
Then whatever the small scale farmer in Taraba produces, should complement that. President Obasanjo's administration came to defeat poverty with poverty alleviation but, he failed. Today, the poverty programme is under probe. We need to get every body involved. The government should also start making provision for irrigation farming, to serve as an alternative in the event that the rains don't come much as predicted this year," he maintained.
Nonetheless, Odemwingie still stressed the need for greater investment to encourage farmers, who do not have access to modern technology.
According to him,"Therefore if anything adversely affect them, it affects the wealth of the nation. That is why there is current food insecurity. The other thing that needs to be done is greater investment in the agricultural sector. It is a shame that Nigerian farmers still rely on hoes and cutlasses in this age. That shouldn't  be the situation. Government should invest massively on development of low cost technology which small scale farmers can have access to.
"There should also be an agency for small scale agricultural development, in order to take care of the small scale farmers, as it relates to where they are, who they are, etc. That would help the government to know the kind of support services that they will require. Again there is need to rethink the importation of rice. You that Nigeria spends about three billion dollars on  importation of rice annually and we can actually grow rice successfully in many parts of Nigeria.
"The Voices for Food Security had actually been campaigning for an urgent approach to the looming hunger in Nigeria. Nigeria is in a position to feed itself and import rice, but because of lack of commitment from the government, we spend more on importation of rice. Government should also initiate a system that enables farmers to farm twice a year, because in most cases people cultivate once and wait for the next rainy season.
However, Mr. Emmanuel Ijewere, Chairman of  Agriculture and Food Security Commission of Nigeria Economic Summit Group, NESG. seems to disagree with VFS's on changing weather pattern and the 2010 farming season.
He sees the unusual weather as a global phenomenon that is not peculiar to Nigeria.
"Changing  weather pattern is a world wide phenomenon. There is therefore nothing unique about Nigeria. What is however unique is that only few States in Nigeria have adopted policies that show that they understand modern attitude to agriculture," Ijewere told VF.
Ijewere wants government to adopt policies that carry all farmers along by, "getting local governments to identify their farmers, form Co-operatives and link them up with Microfinance banks in their area. Privatise or Concession all 12 River Basin Authorities and Strategic Reserve Silos in the Country."
Besides the aspect of small scale farming, is where government's conscience was largely pricked.
VF findings revealed that small scale farmers, have received little or no government attention in the past and present.
"We would want the government to invest massively on this. There should actually be an agency for a small scale agricultural development, like the agency for small scale industries. It would also help the authorities to know the kind of produce that farmers in Adamawa has and the kind of storage facilities they use to store the products. And in the absence of that, the authorities would know how to evacuate the produce, because one of the challenge we have is that most produce in Nigeria get bad before they reach the final consumer,"Odemwingie noted.
Continuing, he said, "That would guarantee easy evacuation method from the villages and hinterland where the farm products are produced. In the interim, we may not be able to get achieve some of these things that we have recommended, but we can go far. For instance, the information dissemination about weather pattern. I know that a number of farmers are already out there in the bush, expecting that the rains will start falling. In fact, it is supposed to have started falling."