•It's only for serious consultations- Ambassador
•Nigeria over reacted – Adegbite
•Ghadafi was above board –  Jibril Aminu
By Chioma Gabriel, Deputy Editor; Emma Aziken, Sam Eyoboka ,Chinyere Amalu & Bridget Amaraegbu
The Federal Government yesterday clarified that the decision to recall Nigeria's Ambassador to Libya, Isa Mohammed, over the comment by Libyan leader Muammar Ghadafi's suggestion that Nigeria be split into two along religious lines did not mean it has severed diplomatic ties with that country.
Also yesterday, the Chairman of the senate committee on Foreign Affairs, Senator Jubril Aminu and the Secretary General, Supreme Council of Islamic Affairs, Dr Lateef Adegbite took turns to comment on the effect of Nigeria pulling out from Libya. Spokesperson of the Ministry of Foreign Affairs, Mr. Ozo Nwobu told Saturday Vanguard in Abuja that the recall was only for "serious consultations".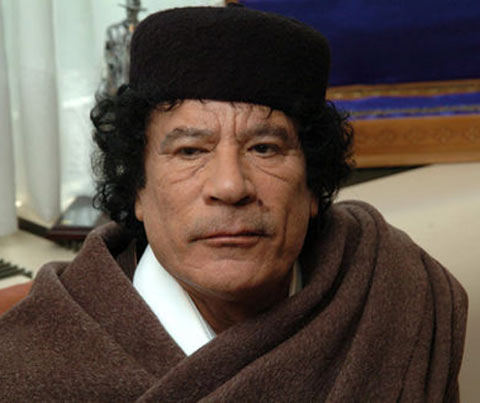 According to him, " in the statement we issued,  we made it clear why we are recalling him. It is for consultations. When you recall somebody, that doesn't mean you are replacing him or that  you have broken the diplomatic ties with the country he is being recalled from.. When we recalled our ambassador, it is purely for serious consultations, to know exactly what happened. And consultation means we want to know what happened and how to follow up. The idea is to come home and give account of what happened, because we can't be in Nigeria and know what is going on over there. It is the ambassador that will give us the true picture.
" Besides, when you recall an ambassador, they know that something is really wrong. So he is coming down to give us details.  Libya did have a mission in Nigeria sometime ago. They have a representative. Physical presence doesn't mean that we don't have diplomatic ties. It does not also mean that we have severed our relations with the country"
Senator Jibril Aminu, Chairman of the Senate Committee on Foreign Affairs has endorsed the recall of Nigeria's ambassador to Libya saying Libyan leader Muammar Ghadafi's call for the break up of the country went above board even as Dr Lateef Adegbite, Secretary General of Supreme Council of Islamic Affairs says it's an overkill.
Senator Aminu in a reaction to the unfolding diplomatic row between the two countries said that the row could have been avoided had the Libyan leader restrained himself.
Earlier, the President of the Senate, Senator David Mark in a side remark during a Senate debate simply described the Libyan leader as a mad man.
"That to me looks like the minimum type of action that could have been taken arising from the deterioration of relations," Prof. Aminu, told Saturday Vanguard when asked of his comments on the recall of the Nigerian envoy.
"It could have been avoided if President Ghadafi did not make the sort of remarks he made and it is not a question of whether you endorse or not, there is no alternative, you must show displeasure in this kind of action, it is very, very sad," Aminu, himself a former Nigerian ambassador to the United States said.
Affirming that the Libyan leader went above board in his utterance, Senator Aminu said:
"There is no reason for President Ghadafi to have behaved like that."
However, Secretary General, Supreme Council of Islamic Affairs, Dr Lateef Adegbite has differed in his reaction describing  Nigeria's reaction to the comment of Libyan President Muammar Ghadafi as an overkill.Speaking with Saturday Vanguard, Dr Adegbite said Nigeria shouldn't have recalled the ambassador because of the statement of the Libyan President.
" Recalling the ambassador is an overkill. We all know Ghadafi and should have just ignored him and make it clear that his comment is unacceptable rather than going too far to recall the Nigerian  ambassador to Libya.
" We ought to know that shouldn't solve the problem because we have Nigerians living in Libya and students studying over there .What about them? I think we went too far. This reaction is an overkill."
Also reacting, the  PFN President, Pastor Oritsejafor asked if what Ghadafi said is what our Muslim leaders want and if  they're just using Ghadafi to speak their mind.
He said that Plateau State has confirmed that there's an international connection and what Ghadafi said is just a confirmation.
"Christians have been praying for one united nation but if that's what they want, so be it. I would have dismissed the report but the reality in the country is that today it's Jos, tomorrow it's Bauchi and the next it's Jigawa. If that's what they want, then so be it but why are they denying that the crisis in Jos is not religious?
"The amalgamation of 1914 was done by the colonial masters to the advantage of segmentation of the nation. We believe in one Nigeria and it's not as if we're fighting that we must be together but the question is what do they want?
This again brings us to the fore that we need a sovereign national confab to determine a veritable pathway for Nigeria politically. We just cannot continue to watch people being slaughtered daily.
" Have people wondered what happened to persons who were arrested and taken to Abuja after previous violence in the north? Where are those who confessed that they were sponsored to kill over 500 persons in Jos villages? Nigeria must not joke with Ghadafi's suggestion because I have a feeling that he's speaking the minds of certain people".
For Reverend Father  Gabriel Osu, "I think Nigeria is too great a nation for such nonsense talks and that also shows his poor understanding of the country called Nigeria.
Besides, this is not the first time he's saying something like this. It's the third time. He should mind his business and respect himself. I also believe it's a wake up call for we Nigerians to check ourselves. If we can stop fighting ourselves and begin to live peacefully, we won't have outsiders putting their mouths in our matter."