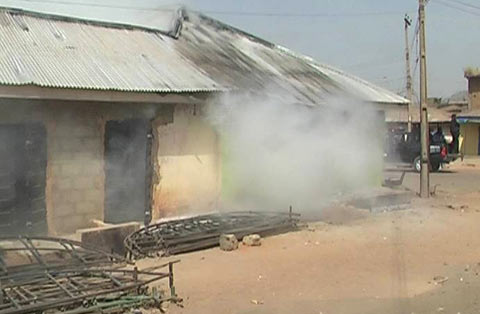 By Taye Obateru
Over 200 people mostly women and children were today massacred at three villages near Shen in Du District of Jos South Local Government Area of Plateau State by suspected Fulani herdsmen on reprisal attacks.  At least 45 children including toddlers were among those hacked to death, gunned down or roasted as their abodes  were torched by the marauders at about 2.30 am.
Most hit was Dogon Na Hauwa village where most of the killings were done and over 75 houses were razed but nearby Ratsat and Jeji villages were not spared.
A victim, Musa Gyang who spoke to journalists where he is receiving treatment at Plateau Specialist Hospital said they were woken up by gun shots in the middle of the night and before they knew what was happening they saw their houses torched and as they ran out they were attacked with gun shots or machete.
Journalists could not help but break down in tears as they saw piles of corpses mostly women and children some of them with heads severed.
The Commissioner for Information Mr. Gregory Yenlong who briefed journalists later said about 500 corpses would be given a mass burial adding that security has been beefed up to contains the situation .
He described the attack on the Berom villages as a kind of ethnic cleansing saying some families were completely wiped out.
He confirmed that the attackers were suspected to be Fulanis who came on foot from elsewhere to beat security but call for calm as government intensifies efforts to track down the attackers.
The Gbong Gwom Jos, Da Gyang Buba who visited the area  also lamented the gruesome murder of innocent people describing it as man's inhumanity to man.
He said he received information of planned attacks on villages and informed the security agencies appropriately wondering why the attacks still happened.
Addressing the survivors, he appealed for calm warning against any form of reprisals.
"I am deeply sad. We can't continue like this; we are not animals. We'll go back and discuss with government even up to Abuja and make our case. Let's Have patience. There is no alternative to patience and don't let us take laws into our hands. Do not do anything that would aggravate the situation", he told them.
Ends.