By Olubusuyi Adenipekun
Ten resource centres for the use of public schools in Akwa Ibom State have been put in place by MultiChoice, bringing the total number of beneficiary schools in 19 States of the federation to 161.
The launch, which took place at Cornelia Connelly College, Afaha Oku, Uyo brings to conclusion the sixth phase of the project.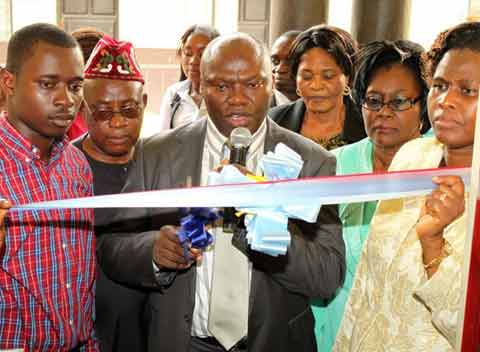 Mrs Ronke Bello, the Assistant National Coordinator for SchoolNet Nigeria, the implementing partners of the project said the launch of the project in Akwa Ibom State came about as a result of the unpreparedness of the state for which it was originally meant, adding that Akwa Ibom State  government was more prepared to collaborate with MultiChoice and SchoolNet.
She added that "the project is aimed at introducing a platform for Information and Communication Technologies (ICTs) in which audio-visual facilities are used to bring abstract ideas into real life in our learning environment, not only by installing these facilities but also by organizing trainings for teachers on the use of such facilities to improve on their teaching skills and techniques".
The audio-visual learning aid comes with a TV set, a DVD recorder, a DStv decoder, a power generating set, tables and chairs, a special DStv education bouquet with seven channels, which include Animal Planet, SABC Africa, Discovery, History, National Geography, BBC and Mindset Learn, for each of the benefitting schools.
Dr Nseabasi Akpan, the state  Commissioner of Education said the state government was delighted with MultiChoice Nigeria for choosing Akwa Ibom as a beneficiary of the leading pay-TV corporate social investment programme. He thanked both organizations for the project and the training of the resource centre coordinators, promising  that the resource centres will be utilized as intended by the donors.
"The use of television and video machines to enhance teaching and learning would no doubt expose our children beyond the frontiers of classroom teaching methods," said Dr. Akpan.
He added that the selection of Akwa Ibom State as a beneficiary of MultiChoice corporate social investment programme will encourage the government to continue to provide the students with state-of-the-art facilities to enable them explore the world around them, study in a favourable environment so as to become globally competitive.
He assured that the project will not suffer a setback arising from power failure, as government had already embarked on an Independent Power Plant (IPP) that would guarantee constant power supply in the state.