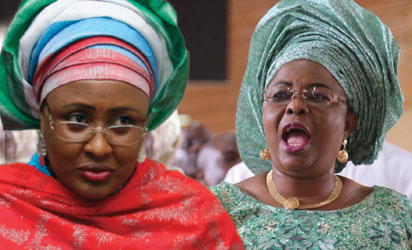 Aisha Buhari and Patience Jonathan
Aisha Buhari and Patience Jonathan
By Josef Omorotionmwan
Since the days of Military President, Ibrahim Babangida, when his late wife, Maryan, brought flamboyance and lots of glamour to the office of First Lady with her pet project, "Better Life for Rural Women", Nigeria has had First Ladies who attempted to complement the efforts of their husbands, sometimes to the point of absurdity and national embarrassment.
We remember Stella Obasanjo. With a diploma in English from Obafemi Awolowo University, OAU, Stella later proceeded to Pitman Institute, London, where she trained as Secretary. She was the First Lady from 1999 until her death in 2005.
She quickly realised that the problem of each State was unique. She, therefore, had to her credit, the decentralisation of the First Lady's pet projects when she encouraged each Governor's wife and the wife of the Vice-President to develop their own pet projects.
Stella Obasanjo first came into limelight during the Sani Abacha regime when she vigorously pursued the release of her husband who was charged for treason and jailed. At the height of it all, she took the campaign to the United Nations, New York. On her husband's release, she eventually became the chief campaigner in his election bid.
Her pet project was the Child Care Trust, CCT, intended to ameliorate the plight of handicapped children and their mothers.
Enter Turai Yar'Adua: Turai attended Government Secondary School, Kankai, in the present Katsina State before proceeding to Katsina College of Arts, Science and Technology. She had a short sojourn in the teaching profession before retiring to full-time house wife.
She was Nigeria's First Lady from May 29, 2007 to May 5, 2010, when her husband died. This was one First Lady who wielded enormous influence in governance. She was the brain-box behind her husband, Musa Yar'Adua, first in Katsina, when he was the State Governor; and later, when he became the nation's President.
Mrs. Yar'Adua was a smooth and quiet operator who generally looked like she couldn't hurt a fly. But just beneath her gentle mien, was a woman who was in-charge of all the political manipulations and intrigues that went on behind the scene at the Villa. She was her husband's closest ally and adviser. During the period of his incapacitation, when he could not perform the functions of his office, Turai took effective control.
President Yar'Adua travelled abroad for medical treatment without handing-over to the Vice-President, Goodluck Jonathan. While the presidential aides maintained that the President could perform his duties on his sick-bed from anywhere in the world, Madam was quietly running the country before the National Assembly finally invoked the "Doctrine of Necessity", which made Jonathan the Acting President.
Her pet project, which revolved around cancer eradication, was virtually put on hold with her total immersion in the affairs of State.
Two First Ladies will be remembered as inordinately ambitious – Hajia Turai and Dame Patience – but their modus operandi were at variance: while Hajia's approach was subterranean, Dame threw herself around like an elected political office holder, the best Minister of propaganda Nigeria never had?
As First Lady, Dame Patience Jonathan was a strong crusader for women. With her pet project, Women for Change Initiative, she sought to make life better for women and to restore the dignity of womanhood.
She fought relentlessly to empower Nigerian women through numerous enlightenment and sensitisation programmes. She took her husband's re-election campaign to all nooks and crannies of the country, trying to whip up support of the womenfolk. It is to her credit that women got many blue-chip appointments in the administration.
On the debit side, though, she was a meddlesome interloper in government and that's putting it mildly. It is widely believed that her meddlesomeness and overbearing attitude were largely responsible for her husband's loss at the last poll. She interfered in the affairs of the PDP in many states, which created problems for her husband and the party.
The genesis of Jonathan's problem with Amaechi dates back to that fateful day when Dame got to her native Okrika place and met Governor Amaechi already addressing the people. She grabbed the microphone from him and asked him to stop talking rubbish. Dame is also the author and finisher of the crisis rocking the Bayelsa State Chapter of the PDP till date.
She serially inflamed passion with her hate campaigns on Buhari. Nigerians also derived a lot of comic relief from jokes built around her grammatical blunders – "Fellow widows…" and "I have tasted Wike and found him very sweet. You must vote for him".
Mrs. Aisha Buhari: Equipped with a good degree in Public Administration from ABU, this daughter of Nigeria's first Minister of Defence, Alhaji Muhammadu Ribadu, subsequently trained as a beauty therapist at the Carlton Institute, London and the Academy Esthetique Beauty Institute of France. She is currently a graduate student of International Affairs and Strategic Planning.
As morning shows the day, it is perhaps not too early to begin to congratulate ourselves on having a real "game changer" in Mrs. Buhari. Perhaps in the spirit of the new change, she plans to adopt a different style. Meanwhile, she has rejected the appellation of First Lady, preferring to be called wife of the President.
We have travelled this great length to show that the office of the First Lady has become too conspicuous to be approached through the back door and left at the whims and caprices of the occupants, a bulk of whom have not been screened for character.
Some have suggested that, ab initio, the First Lady should be included on the presidential ballot so that the electorate will know the three people they are voting for.
Again, as a way of avoiding national embarrassment from that office, we must tame the occupants by tying them inextricably to the apron strings of their husbands. It may be unethical to ask a man to divorce his wife – although this is perfectly normal in some African tradition – we can, by superior legislation, hold a man at least vicariously liable for his wife's actions. Only then will both sit up.