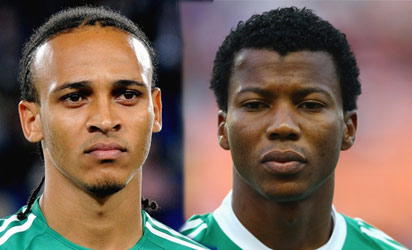 Osaze Odewengie and Ike Uche
By Onochie Anibeze
When calls for the invitation of Mikel Obi to the national team became loud and pressure on Keshi was evident I was compelled to reveal, in this column, why Keshi left out Mikel at that time.
Keshi has always said that he would only invite those who are hungry to play for Nigeria. This makes sense going by the behavioural problems of some players.
I supported Keshi on Mikel because I was privy to what happened before he took that action.
Immediately Keshi was engaged he faced Botswana and Zambia in two friendly matches already packaged before he was signed. Botswana was in Benin and Zambia in Kaduna.
Keshi had a plan to improve Mikel's game. He wanted Mikel to be more adventurous and make attempts at goal. He didn't believe what some fans said about Jose Mourinho destroying his attacking qualities. We were in the same school of thought as I had maintained same position for long.
Will a coach tell a player never to score goals even if he wants the player to be defensive? Defenders, midfielders and, even in few cases, goal keepers have scored goals. How can a player play as a midfielder for over five years as at that time and never scored or even given one assist? You don't sit back, play over 60 per cent of your passes backward or diagonally and expect to contribute to goal scoring which matters in football.
Who has seen Mikel take on two or three defenders, hit a shot at goal and be running back to cover his area like many footballers do? Michael Essien and a host of other defensive midfielders do so and score goals, not our Mikel.
And that's why some people say he is very lucky to be playing for a big club like Chelsea. However, Mikel has some qualities that you can't take away from him. And his back passes have reduced.   He has even scored for Chelsea.
Keshi wanted more from this man when he came on board. In a chat two or three days before the Botswana match Keshi bared his heart to Mikel and told him that he would offer him a free role in Eagles so that he could express himself – defend, create and attack at his will – and enjoy his game in Eagles. Keshi told him he could do better than he was doing.
Mikel thanked him for his great words but the following day he complained that he had pains and left the camp for England where he played for Chelsea few days later. He simply lacked the confidence to accept Keshi's challenge.
Uche must convince Keshi that his team spirit is now high and that he is ready for team work
My dear readers, how would you feel if you were in Keshi's position? Many did not know about this and were mounting pressure on Keshi to invite Mikel. Invite a player who wasn't hungry to play for the country? The man simply left him out and said that he would only call him when he needed him. Keshi was diplomatic.
He never announced any ban or suspension but that was actually what he did. It paid off because when he gave Mikel chance to return to Eagles the Chelsea man became more serious. It wasn't the Mikel we saw under Samson Siasia who was another good coach but who made some mistakes about the management of players.
Some of them eventually sabotaged him and according Kashimawo Laloko one of them played a vengeance game in the match that resulted in Siasia's sack. And do you know that when Keshi played his first competitive match in Rwanda in a Nations Cup qualifier and substituted some players who didn't play well those players took offence and one in particular audibly grumbled that what happened to Siasia could happen to him.
Do we remember that, in spite that, Keshi wanted to recall one of those players months after.
We are all witnesses to what happened between Osaze and Keshi too.  The coach called him on phone to discuss to discuss his return to Eagles. Osaze told Keshi he would like to return to the team but that he would not like a repeat of what happened in Rwanda.
Indirectly, he was giving conditions under which he could return to the national team. Keshi closed the chapter on him although he has never said so. It was typical of him. He would invite him when he needs him.
I have given this background because of the recent clamour for the return of Ike Uche to the Eagles.
Keshi appears adamant on this. I think that he has his reasons. If he, however, finds out that Ike Uche has changed and ready to adopt the team spirit in the Eagles under his care he would invite him. Whether this will happen before the World Cup in Brazil this summer is what I don't know.
But on the grounds of my privileged information Ike Uche needs to call Keshi, discuss and convince the coach that he would abide not only by camp conditions but also exhibit great team spirit. Team spirit is about team work. You will understand better shortly.
The Segun Adeniyi Panel that investigated the bonus crisis in Eagles came out with a Code Of Conduct for national teams because of the findings that bordered on indiscipline in camp. I served in that panel. The Code Of Conduct which will be introduced before the World Cup will help the general conduct of the entire team from the administrators to the players and coaches.
Bonuses were not even the major issues. However, to avoid further crisis the Code Of Conduct states that the football federation should determine and inform the team officially what their entitlements will be for every competition. And this will be communicated formally to the team on or before commencing camping for competitions.
The Code Of Conduct is against players discussing technical matters with administrative officials. It rather wants them to discuss such matters with their coaches and make suggestions if necessary.
Ike Uche, I gathered, was always advocating the adoption of the tactics of his club and would easily make remarks about "how things are done in my club and how they should be done here."
Sylvanus Okpala, then with the Eagles, reportedly once asked Uche that if all players in a national team insist on adopting their club tactics what will the confusion be like? Okpala advised him to stick to the game plans of the team and that he needed to respect the national team too.
I also gathered that Ike always did things his own way. But there were times his goals covered up tremendously for his tactical indiscipline or idiosyncrasies as the case may be. At the last Nations Cup in South Africa, Ike Uche didn't have a good tournament.
His matter, I gathered, was compounded by the fact that he bluntly refused to obey instructions especially the one that had to do with marking. As a second striker, Uche was always asked to fall deep to mark. But he was always failing to do so after repeated warnings and opponents were exploiting the space he was creating by his action. It was so bad that even his fellow players complained, I gathered.
And this was why Keshi somehow believed that Uche was working against the team. You don't go to the media to tell such a coach to invite such a player like some top federation members have done lately. Uche must convince Keshi that his team spirit is now high and that he is ready for team work. I think this is the only way Keshi may consider Ike Uche whose club performance lately has been encouraging although the national team may be a different ball game.
But Uche has been there before. Again, invitation to camping does not guarantee final selection for the World Cup. Every player must fight it out and justify his place. I think we still have time to make amends in all areas. God be with us in Brazil, I pray although I know that God is never partial.
He will be with all teams. We, therefore, need to work hard and earn good results, noting that  GOD IS FOR ALL. This is for those who will not do the right thing but who will always call for prayers in sporting events. Let me tell them now that God is for all.