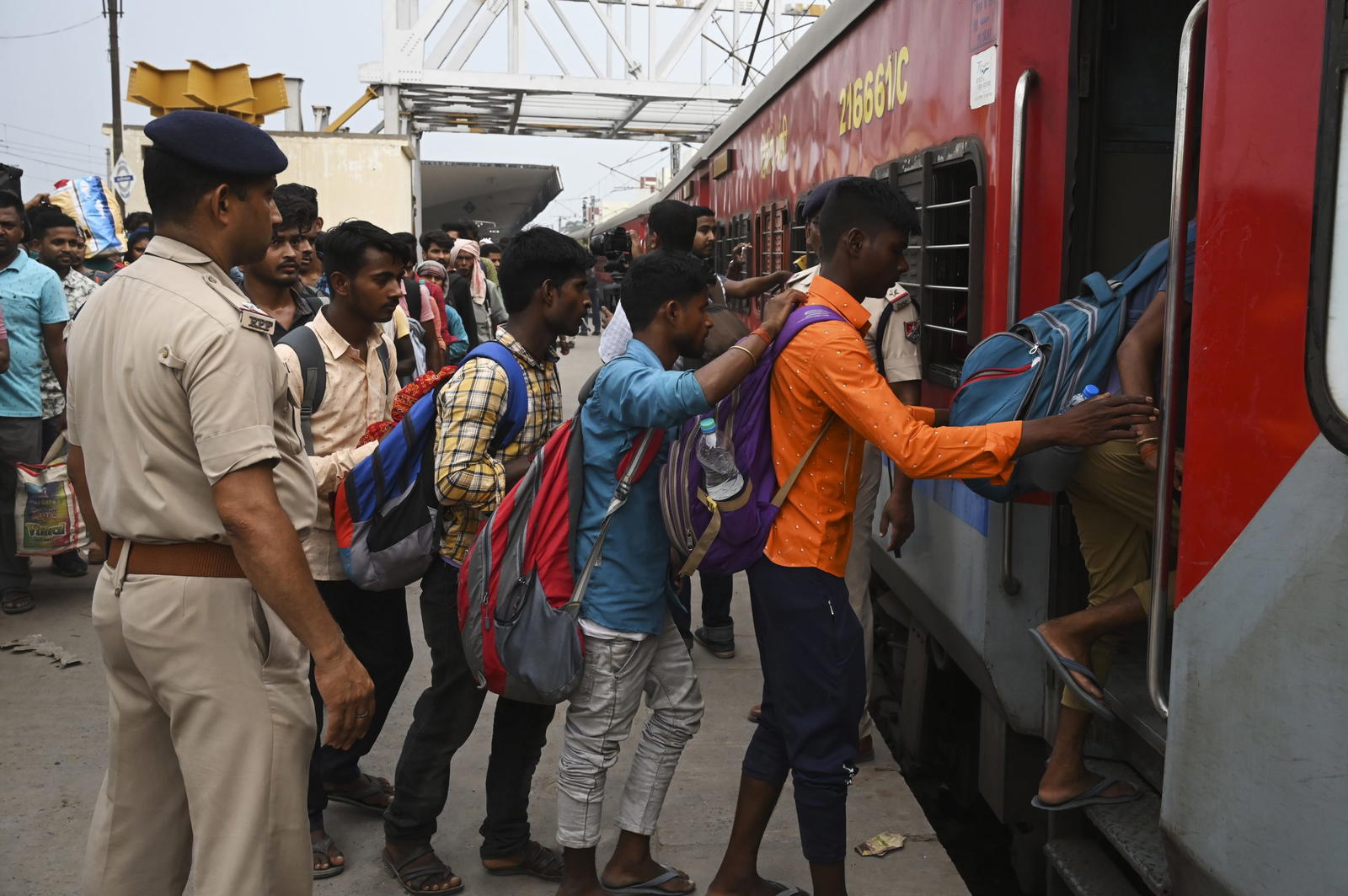 Passengers board the Chennai bound Coromandel Express at Shalimar station near Kolkata on June 7, 2023. – One of the train services involved in a triple collision in India's deadliest railway disaster in decades resumed journeys on June 7, as officials revised the death toll up to 288. (Photo by DIBYANGSHU SARKAR / AFP)
One of the train services involved in a triple collision in India's deadliest railway disaster for decades resumed journeys on Wednesday, as officials revised the death toll up to 288.
"The Coromandal Express is back on track," railway spokesman Aditya Kumar Chaudhary said, with a train departing Shalimar station near Kolkata on Wednesday afternoon on a 25-hour journey south to Chennai.
The train, which was full, chugged out of the station five minutes behind the scheduled time as scores of people looked on.
The service was one of three trains involved in the crash near Balasore in the eastern state of Odisha on Friday.
As usual, long and winding queues formed for the train's unreserved section.
"Four friends who were travelling on the ill-fated train went missing after the accident on Friday," said Samaresh Mondal, 30, a migrant worker in the line.
"I am ready to accept my destiny. I am forced to go to Chennai to earn bread for me and my family."
Pradeep Jena, Odisha's top civil servant, said late on Tuesday that the official death toll had risen to 288.
At least 1,175 people were injured, with many of them in critical condition and still being treated in hospital.
Jena said the revised toll came after deaths were tallied from both hospitals and mortuaries and noted that 83 bodies remain unidentified.
Medical centres were overwhelmed by the number of casualties and there are fears the death toll could rise further.
– 'No alternative' –
The Coromandal Express was diverted onto a loop line before it slammed into a stationary goods train.
The collision flipped the carriages of the Coromandal Express onto another track.
The derailed compartments were then struck by the rear carriages of another train, the Howrah Superfast Express from India's tech hub Bengaluru, which was passing in the opposite direction.
While trains began operating late Sunday past the crash site, Wednesday's journey is the first service of the Coromandal Express to resume the route.
"We are very much worried after Friday's devastating accident," said Pinki Bhuniya, 36, travelling with her husband and daughter.
"We have no alternative but to travel in trains because air tickets are too expensive for us."
Ashwini Vaishnaw, India's railway minister, has said the crash happened due to the "change that occurred during electronic interlocking", a technical term for a complex signal system designed to stop trains colliding.
A six-member team from India's Central Bureau of Investigation examined the crash site on Tuesday.
Prime Minister Narendra Modi has said "no one responsible" would be spared.
India has one of the world's largest rail networks and has seen several disasters over the years, the worst in 1981 when a train derailed while crossing a bridge in Bihar and plunged into a river below, killing 800 people.
The Balasore crash is India's third worst and the deadliest since 1995, when more than 300 people died as trains collided in Firozabad near Agra.
"We have no faith in the railways' safety and security," Mondal added before boarding Wednesday's train. "We believe that only God can save us."