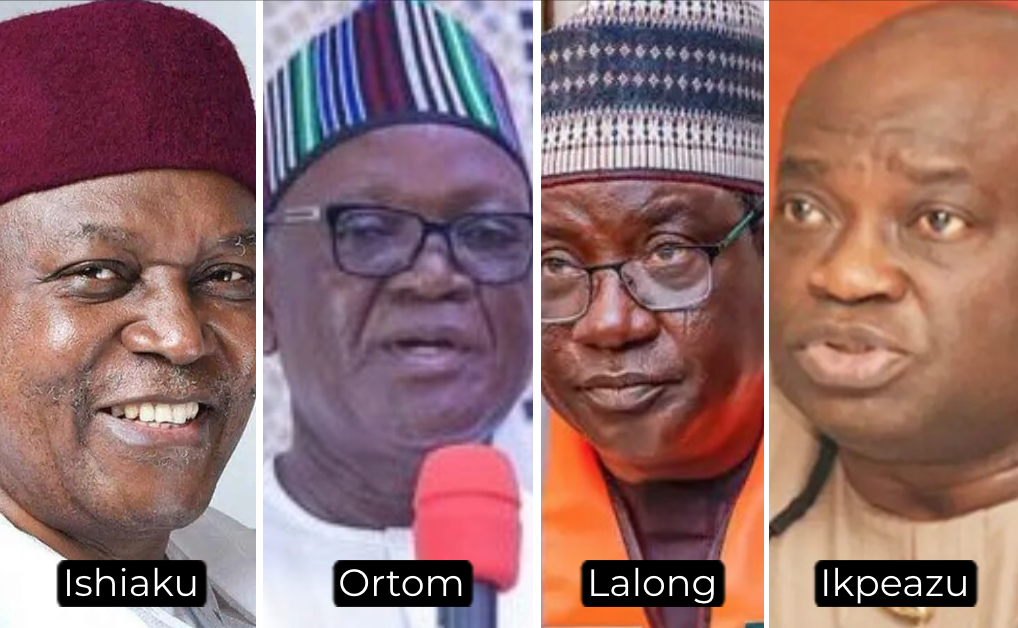 By Dickson Omobola, Marie-Therese Nanlong, Peter Duru & Steve Oko
Few days after the inauguration of 28 new and returning governors across the nation's six geo-political zones, a flurry of backlash greeted the exit of four former governors. This commenced after four of the 18 new governors triggered moves to undo their predecessors' blueprints.
The former governors are Dr Okezie Ikpeazu (Abia), Simon Lalong (Plateau), Samuel Ortom (Benue) and Darius Ishaku (Taraba).
In separate developments, their successors have ordered that state's bank accounts and its agencies' be frozen. There have also been immediate suspensions of local government chairmen, dissolution of parastatals and agencies' Governing Boards among others.
Bank accounts
In Abia, Governor Alex Otti ordered the immediate freezing of all bank accounts of the state government and those of its agencies domiciled in every bank and financial institution across the state and the federation.
Otti also ordered the immediate dissolution of all boards of Abia State government agencies and parastatals.
Otti, in a statement by his Media Adviser, Ferdinand Ekeoma, ordered the Chief Executive Officers, CEOs, of the organisations to hand over to their successors.
He stated: "With this notice, all banks and other financial institutions in the country are directed to immediately cease from honouring any cheque, document, instrument or directive of any kind not expressly approved by or emanating from him."
Otti added that the new Government House built by his predecessor, Ikpeazu, was commissioned without being completed.
Disclosing this in Umuahia, Otti told newsmen that he would assess the quality of work done at the building "to determine what is needed to complete it."
Reacting to the question on where his base of operations would be, Otti said the Old Government House was a rented apartment, adding that rather than continue in a rented apartment, he would put the new Government House in proper shape.
He said: "I do know that the Old Government House was on a rented property. So, if we have one that we own, we shouldn't be paying rent. But I'm also aware that the New Government House that was commissioned the other day was commissioned without it being completed. So, when we assess it, we will know what is required to complete it. We will complete it and begin to operate from there. But for now, we will operate from anywhere."
Speaking on Ikpeazu's absence from his inauguration, Otti said: "I wouldn't know why he was not there. But whether or not he was there; the important thing is that I have been sworn in. We don't need the predecessor to swear in the successor. It would have been nice if he came but since he didn't come we are not going to make any issue out of that."
LGAs dissolution
In Plateau State, Governor Caleb Mutfwang approved the immediate suspension of the 17 Local Government Areas structures to pave the way for the investigation being carried out by the State House of Assembly.
Mutfwang, in a statement by his Special Assistant on Media, Gyang Bere, said: "The Executive Governor of Plateau State, Caleb Mutfwang receives a correspondent from the Plateau State House of Assembly vide letter Ref No S/PLHA/ADM/124/ VOL.VI/XXX dated 1st June 2023 recommending the suspension of the 17 Local Government Areas Chairmen.
"The recommendation for the suspension was based on their inability to make available records of their income and expenditure to the house. In the light of the foregoing, His Excellency hereby approved with immediate effect the suspension of the 17 Local Government Areas structures to pave way for the investigation being carried out by the House. Furthermore, all property belonging to the Local Government Areas should be immediately handed over to the Directors of Personnel Management, please."
Sack
In Benue State, Governor Hycinth Alia ordered the immediate dissolution of the Governing Boards of all parastatals and agencies of government in the state and removal of their CEOs.
He also directed the sacked chief executive officers to handover all government property in their possession to the most senior officer in their respective establishments.
Alia, in a statement issued in Makurdi by his Chief Press Secretary, Mr. Tersoo Kula, explained that the decision to sack the boards and their CEOs was reached during an emergency stakeholders meeting held at Government House and presided over by him (Alia).
He said: "Briefs were received from key officers from finance and security, even though the full State Excecutive Council is yet to be constituted, five key appointments including Secretary to the State Government, Head of Service and Chief of Staff have been made."
In Taraba State, Governor Agbu Kefas directed the dissolution of boards and parastatals, disengaged advisers, and Senior Special Assistants of former Governor Darius Ishaku.
He also asked former Commissioners and SAs to leave behind their utility vehicles.