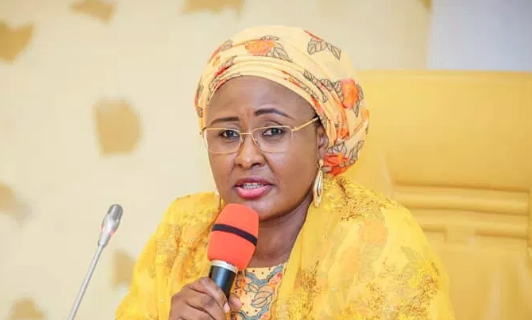 Aisha Buhari
…as Buhari, Osinbajo, govs, ministers, others go home with billions
•OUTRAGED NIGERIANS: Those engaged for four or eight years going with more than 200 years earnings of civil servants who oil the wheel of governance
By Charles Kumolu, Deputy Editor & Kingsley Omonobi
Upon leaving office tomorrow, President Muhammadu Buhari, Vice President Yemi Osinbajo and ministers, among others, would go home with billions of naira as a severance package.
The development happening in a struggling economy has sparked an outcry.
The funds represent their total disengagement benefits as prescribed by the Revenue Mobilisation and Fiscal Allocation Commission, RMAFC.
Meanwhile, the wife of the President, Aisha Buhari, has emphatically made a case for some entitlements for former First Ladies like former Presidents.
Aisha explained that wives of former leaders deserve special provisions while in office and when they leave.
According to her, the entitlements include vehicles, sponsored medical treatments and provision of stipends.
She said when pressure comes, nobody wants to know whether you are out of the (Aso Rock) Villa or not.
The First Lady spoke at the launching of a book in Abuja, titled: 'The Journey of a Military Wife', authored by the President of Defence and Police Officers' Wives Association, DEPOWA, Mrs. Vickie Irabor.
She said: "I married my husband as the wife of a former President. I am going in a few days as a wife of a former President a second time.
"They should consider us as former First Ladies. They should incorporate the First Ladies, give us some privileges that we deserve as First Ladies, not just former Presidents."
Commending Irabor for the book, Buhari's wife noted: "It is a factual, emotional book that will help officers' wives navigate their lives.
"It underscores women as agents of stability for the nation as the nation battled insurgency and other security challenges.
"It's a guide and reference for military wives and the need for better support for military widows.
"Insights from the book will help readers appreciate the challenges of the military family"
RMAFAC, which has reducing cost of governance as part of its mandate, is saddled with the responsibility of prescribing salaries, allowances and benefits for political office holders.
Section 32 (d)
Since its establishment by Decree 49 of 1989, the Commission has been proposing salaries and allowances for this category of public office holders.
Specifically, Section 32 (d) of Part 1 of Third Schedule of the 1999 Constitution empowers the Commission to propose the revenue formula fitting for public office holders.
The last time the salaries of political office holders and other designated officials were reviewed in 2008, it was stipulated that political office holders would earn 300 percent of their annual basic salary upon disengagement.
The President, upon relinquishing power, according to the Remuneration Act of 2008 documents seen by Sunday Vanguard, would receive N10.54 million, representing 300 percent of his annual basic salary. His total package, basic salary and allowances, is N1.2 million monthly.
Vice President Yemi Osinbajo, who has N1.1 million monthly pay, which translates to N12. 1 million yearly is entitled to 300 percent of his basic salary. Going by RMAFAC formula, he would go home with N9.09 million.
44 ministers
Similarly, 27 ministers and 17 ministers of state in the Buhari administration would benefit from the package.
A breakdown as seen by Sunday Vanguard showed that each of the senior ministers gets N6.08 million while junior ministers are entitled to N5.87 million each. There are currently 44 ministers.
When put together, the total amount for the outgoing ministers is N258.08 million.
This is outside of the severance pay of the several Special Advisers in the Presidency who, also like ministers, are members of the Federal Executive Council (FEC) as well as the Senior Special Assistants (SSA) and Special Assistants.
Analysts could not put a finger on the exact amount the severance package for the federal officials would cost Nigerian tax payers in an austere economy but, nonetheless, said it would run into billions of naira.
Sunday Vanguard learnt that the entitlements have been built into the 2023 Budget but might not be paid by the outgoing administration.
Aso Rock sources said the incoming administration will be the one to pay as there is a process to follow.
Additional take-home
For state governors, while their severance entitlements are also covered by the RMAFAC provision, which also prescribes 300 percent of their annual basic salary, they would earn additional take-home.
This was made possible by the approval of what is widely regarded as jumbo pension by many state legislatures over the years.
Each of the 36 state governors earns N2.2 million as annual basic salary, according to RMAFAC. This doesn't include several allowances.
However, relying on constitutional provisions, state Houses of Assembly enacted pension laws that mostly provided luxury take-home packages for former governors.
Notwithstanding the RMAFC provision, outgoing governors are entitled to life pension, vehicles, domestic aides, mansions in their state capitals and Abuja, and other allowances among others.
Outrageous
The perks are not the same across the states as some, especially in the South, are deemed in many quarters to be outrageous,
In line with these provisions, 18 outgoing governors are entitled to these in addition to the 300 percent of their annual basic salary as earmarked by RMAFAC.
They include Simon Lalong, Plateau State, Darius Ishaku, Taraba State, Aminu Masari, Katsina State, Abubakar Bello, Niger State, Abubakar Bagudu, Kebbi State, Nasir El-Rufai, Kaduna State, and Aminu Tambuwal, Sokoto State.
Others are Okezie Ikpeazu, Abia State, Dave Umahi, Ebonyi State, Ben Ayade, Cross River State, Nyesom Wike, Rivers State, Badaru Abubakar, Jigawa State, Bello Matawalle, Zamfara State, Ifeanyi Okowa, Delta State, Udom Emmanuel, Akwa Ibom State, Abdullahi Ganduje, Kano State, Ifeanyi Ugwuanyi, Enugu State, and Samuel Ortom, Benue State.
Majority of the helmsmen were found not to have initiated the jumbo pension laws as they mainly inherited them from their predecessors.
But multiple sources close to the concerned officials said the entitlements would be paid after their exit.
"It is their entitlement as stated by the law. I can tell you that oga isn't worried because it takes a process. No one should deny them their entitlements. They worked for it. People shouldn't see a problem where there is none," one of the sources said.
However, Nigerians are outraged that amid the poor economic situation in the country occasioned by alarming inflation and huge debt burden, the outgoing public officers' packages would cost a fortune.
In separate chats with Sunday Vanguard, activists berated Buhari and other political office holders for not rejecting the package given the current hardship in the land.
Their anger was further accentuated by the popular verdict that Buhari is leaving Nigerians poorer while the governors' successors would contend with unpaid salaries, pension and debts.
Jumbo pension, an affront to Nigerians – SERAP
Deputy Executive Director, Socio-Economic Rights and Accountability Project, SERAP, Mr. Kolawole Oluwadare, said any outrageous amount would be regarded as an affront to Nigerians.
"The law is clear. For the President, he is entitled to pension by the provision of the constitution but the quantum of the pension, which is a severance package, is what will now be considered appropriate or not. In the face of Nigeria's growing public debt and growing poverty in the land, any amount that is considered too much will be an affront to the good people of Nigeria", Oluwadare said
This nonsense must stop – Odumakin
Expressing her disgust, President of Women Arise for Change Initiative and the Campaign for Democracy, Dr Joe Okei-Odumakin, said: "There are multiple viewpoints to this sick culture. First, there is the angle of those who were not voted into offices. For instance, appointees should not get a kobo. Second, of those voted into office, the President and Vice President should be protected and granted a level of comfort after office because they must have taken decisions that might expose them to danger in their post-office life.
"The cost should be debated before approval. It is so obscene that people who had retired and collected benefits are again retiring as public office holders and yet collecting jumbo packages for lacklustre performances in high office.
"In the meantime, regular people who didn't steal, kill or destroy are dropping dead in pension queues. And the pension is miserable. Yet they worked for 35 years or till they hit retirement age. But here comes someone who has been here for eight years. He gets rewarded afterwards till death. This nonsense must stop."
NLC, TUC shouldn't be silent – Bamigboye
On his part, acting National Chairperson, Socialist Party of Nigeria, SPN, and Oyo State Coordinator of Campaign for Democratic and Workers Rights, CDWR, Mr. Abiodun Bamigboye, urged Nigerians to rise against it.
Bamigboye said: "It is not only wrong, it is condemnable. I think every well-meaning Nigerian must speak against it to ensure they drop such an anti-people plan. None of the political office holders deserve to earn a single Kobo after vacating their respective offices. These are the set of Nigerians who live in opulence.
"They receive huge salaries and allowances while in office. It is not like a normal civil servant that survives on poor pay, which is the minimum wage of N30, 000. If there are Nigerians who deserve a fat pension after leaving office, it should be the Nigerian workers who earn N30, 000 as minimum wage and not political office holders who are entitled to millions as salaries and allowances while in office.
"The huge amount of money further underscores that the interest of the poor working people is always the least on the priority list of Nigeria's pro-capitalist government. If not, given all the crises people are facing in the country, it should be the last thing. As we speak, the Academic Staff Union of Nigeria, ASUU, demand has not been attended to. A few days ago, resident doctors just suspended their strike. Our refinery is comatose. All of these continue to happen because government claims it has insufficient funds to meet the needs of the people. This is condemnable and every Nigerian must speak against this kind of anti-people policy. It is on this basis that we are calling on the leadership of the Nigeria Labour Congress and Trade Union Congress not to keep silent in the face of this kind of criminality that is to be perpetrated against the mass of the Nigerian people."
They don't deserve it – Adeniran
Chairman, Centre for Anti-corruption and Open Leadership, CACOL, Mr. Debo Adeniran, said: "They are living a life of opulence even as poverty is ravaging Nigerians. They seem not to bother about the degenerating state of families and individuals. They do not look in the direction of things that would make life convenient for an average Nigerian, they make life more difficult.
"Generally, the leaders have pillaged the resources of this country too much for them to go away with it. They are supposed to return some of their earnings to the coffers of the federation instead of going away with a huge sum of money at the end of their lacklustre tenure. Unfortunately, the constitution provides them the power to exploit the weakness of the mass of the Nigerian people. "It is a lopsided distribution of this country's wealth that widens the gap between the rich and the poor.
Basically, they don't deserve it at all. It is obscene and immoral. Even if the law gives them the opportunity, they should have been moralistic in their thinking and empathise with the average Nigerian to say that they have been impoverished while we were in office, we should not impoverish them further even after we exit office.
"They don't deserve it because they have not done anything to enhance the livelihood of the poor. Only some of the politicians seem to have conscience but none of them have protested the obscene award of severance allowances that they are making for themselves.
"They don't deserve it because their performances do not earn it. Those who have worked for 30 or 35 years do not have access to their gratuity and pension and many of them die in poverty. "Those who were engaged in four or eight years have to go with more than 200 years earnings of some of the civil servants who oil the wheel of progress of governance."