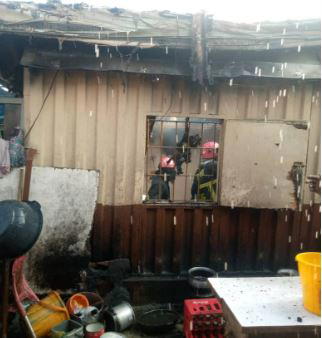 By Olasunkanmi Akoni
Inferno on Wednesday gutted shops around Lagos State University Teaching Hospital, LASUTH, on Wednesday.
The fire was said to have destroyed properties worth millions of naira.
According to eyewitness, Mr. Kamal Abdullahi, the fire started around 4pm, but fortunately, no life was lost in the incident.
The fire was later extinguished by the Lagos State Fire and Rescue Service. Director, Lagos Fire Service, Magaret Adeseye, explained that the incident which affected three container shops of varying sizes started from a fast food and drinks, situated behind the Engineering Department.
"The fire, which emanated from one of the severely affected shops travels through the ceiling to partially involved an office in the adjoining Engineering Department before it was eventually put out," Adeseye stated
While preliminary findings showed mishandling of a 6 kilogram gas cylinder as the cause of the fire by one of the shops operative before the quick intervention of the nearby Ikeja Fire Station with the backup of Alausa fire crew to stem the incident.