.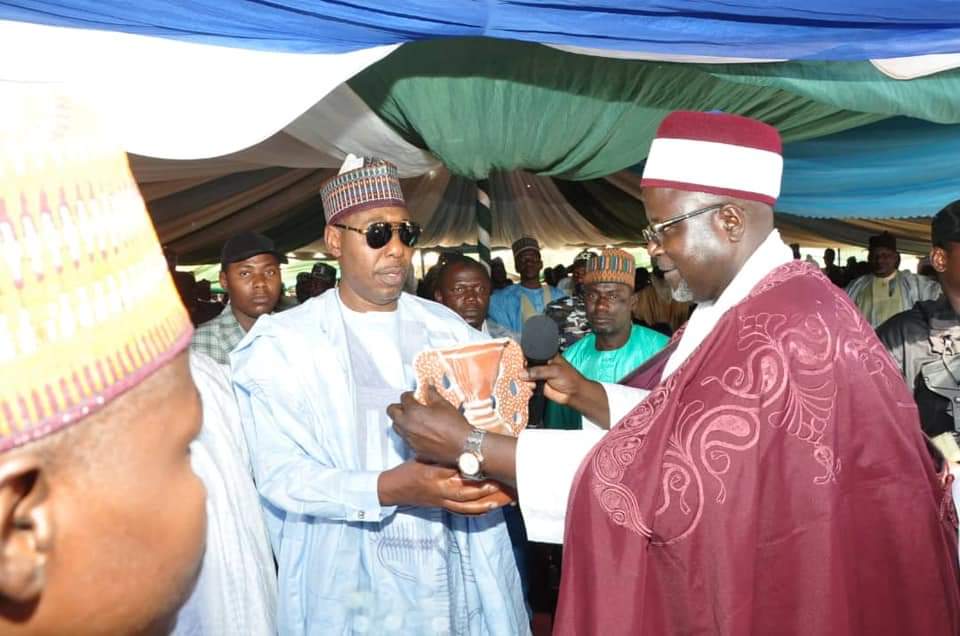 By Ndahi Marama, Maiduguri 
Borno State Governor, Babagana Zulum has directed the Ministry of Home Affairs, Information and Culture to design programmes that could promote, protect and sustain the culture and traditions of the people.
Zulum gave the directives at the weekend during the three-day Menwara Annual Cultural Festival (MCUF) in Shani town.
The Menwara culture emanated from three ethnic groups of Kanakuru, Bura and Fulani in Shani Local Government Area; while the three-day pre-harvest festival was to promote unity and the settlement of disputes among ethnic groups.
According to him, the cultural festival was suspended in the last three years because of the 12-year Boko Haram insurgency that claimed many lives and property.
He said: "This event will preserve our culture and traditions. Nowadays; our culture is being eroded for many decades.
"I see no reason why we're allowing foreign culture and tradition to be adopted in Nigeria.
"This administration under my leadership will promote our culture and traditions," adding that there is the need for the youths to inculcate their culture and traditions.  
He noted that proactive measures are necessary to preserve the rich cultural heritage, norms and customs of the people.
While lauding the promotion of culture in Shani, he said that the Ministry of Education will also initiate and implement cultural programmes for youths to appreciate their rich cultural diversity.
According to him; "Government will continue to accord priority to security, education, agriculture, health and the empowerment youths and women in the state.
Responding, the Emir of Shani, Alhaji Nasiru Mailafiya said the festival was to create awareness to promote unity and peaceful coexistence in Shani communities.
He applauded the Federal and State Governments for the execution of projects in the education, health and roads sectors in Shani.
The monarch, however; called for more interventions in the agriculture and infrastructural facilities sectors of the local economy.
"Parents and guardians are to enrol their children and wards into schools and actively participate in the annual cultural festival," he said, warning that there should be no burning of bushes, wastes dumping, social vices and open defecation that could fuel the spread of diseases like cholera.
Adamu Gasi, the Council Chairman, disclosed that various projects were also executed, including the distribution of 100 canoes for riverine communities.
"The completed projects are to facilitate socio-economic activities and welfare of the people," he said.