By Udeme Akpan, Sebastine Obasi & Elizabeth Adegbesan
WITH the making of a commercial oil find in 1956, there were strong indications that the International Oil Companies, IOCs would dominate Nigeria's oil and gas industry for some reasons. First, the IOCs had the technology and other resources to invest in exploration and production of oil and gas. Second, their indigenous counterparts were not visible then.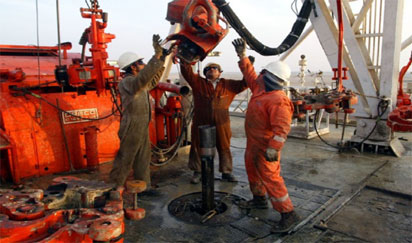 But a lot have changed for good in the past 62 years, especially after the enactment of the Nigerian Oil and Gas Industry Content Development (NOGICD) Act in 2010, which gives much support to the development of local content and capacity building of indigenous oil and gas companies.
Consider Total as an example. The company's $16 billion Egina Floating Production Storage Offloading, FPSO, project is expected to boost Nigeria's oil production by 200,000 barrels of oil per day (approximately 10 per cent of the country's total oil production).
Egina, which had a successful sail away, left the quayside at LADOL fabrication yard, for a three-day journey to the Egina Field in Oil Mining Lease (OML) 130, located about 150km offshore the Niger Delta. It is designed for 25 years of operations, and reputed as the deepest offshore development carried out so far in Nigeria, in water depths of over 1,500 meters.
On arrival, the mooring and hook-up operations will commence to connect the FPSO to the subsea facilities, before the start-up of production planned at the end of the year.
"With the integration of the six locally fabricated modules at the SHI-MCI Yard, Total has changed how deep offshore oil and gas projects are executed in the country and set new records for Nigerian content," a statement from Total stated.
Being the first project to be launched after the enactment of the Nigerian Oil and Gas Industry Content Development Act in 2010, Egina is also reputed as the highest Nigerian Content ever completed in an oil and gas project.
The project was said to have generated significant activities for local contractors, in various sectors and provided avenues for training and development of Nigerians in various domains. Seven months ago, Egina made history as the first FPSO unit to berth at an integration quay in Africa, for the installation of six topside modules that were fabricated in Nigeria.
Speaking on the project, the Country Chair and Managing Director, Total Exploration and Production Nigeria Limited, Mr.
Nicolas Terraz, said, "The sail away of the Egina FPSO to its final location offshore is a major milestone towards the completion of the project. With this achievement, we are on track for a start-up of the production by the end of this year."
Besides, Chevron Nigeria Limited (CNL), with its affiliates in the country, is one of the IOCs that had a pre-NOGICD policy in place and has in the post-NOGICD era remained committed to Nigerian Content Development (NCD) by partnering with the NCDMB to significantly grow Nigerian Content in the oil and gas industry. In its 2017 Corporate Responsibility Report, CNL stated that the company's investment in NC was approximately US$2 billion while procurement of materials through Local Community Contractors (LCC) and cost of services provided by indigenous companies were $74 million and $284 million respectively. CNL's four-prong approach to NCD includes: selection of qualified local contractors; facilitation of partnerships and alliances between indigenous companies and foreign firms; capacity building; and development of local competencies.
Chairman/Managing Director, CNL, Jeff Ewing, explained, "At Chevron Nigeria Limited, we demonstrate our commitment to the socio-economic development of Nigeria by building mutually-beneficial partnerships, and supporting the policies of government on Nigerian Content Development. We have helped in building the capacities of several Nigerian businesses by allocating substantial scopes of our major capital projects to Nigerian companies. Chevron is also helping to grow the Nigerian economy by contributing to the development of communities in the areas of our operation. We do all this, not just because it is required by the law, but because it is the right thing to do."
The company stated, "The various areas in which Chevron implements the NOGICD Act in Nigeria include human capacity development, facility fabrication, construction and installation. Others include support for facility acquisition, facilitation of partnerships between local and foreign contractors, and provision of opportunities for local community contractors through work scope allocation in Chevron's major capital projects in Nigeria. Some of the highlights of CNL's Nigerian Content success stories include the patronage of Oando Energy Services (OES) Limited and SOWSCO Well Services Nigeria Limited for cementing and pumping services for well drilling contracts. The company also supported Jemtech Global Engineering Services Limited, a local community contractor to fabricate the wellhead jacket for the Abiteye Non-Associated Gas (NAG) Development Project and procured locally assembled desktops and laptops worth millions of Naira from Task Systems Ltd and Zinox Systems.
"On human capacity development, the company in partnership with the Nigerian Content Human Capacity Development Initiative (NCHCDI) has continued to train and equip Nigerians to deliver value through executive and management training, technical and professional skills training, and on-the-job training during project execution. CNL in partnership with NCDMB and Idmon Engineering Services Ltd trained 26 Nigerians on its Sonam – Okan Pipeline Pig Receiver Fabrication Project. The 12-month classroom and on-the-job training covered Health, Environment and Safety (HES); Information and Communication Technology; Project Management; Quality Management; Fabrication and Assembly processes; Fabrication Engineering;
Welding/Fitting/Rigging/Scaffolding processes; Entrepreneurship; and Material Management. In addition, CNL awarded a contract to local consulting firm, Lonadek, to develop and pilot a Human Capacity Development Initiative training plan for CNL's Drilling and Completions Unit."
It added, "Chevron supported Marine Platforms Limited (MPL), to become a major player in the Subsea industry, an area previously dominated by international companies. MPL handled the Subsea Installation of flowlines, umbilical's and jumpers on Agbami Phase 3 project. On fabrication, construction and installation, Chevron facilitated the delivery by FMC Technologies of the first assembled-in-Nigeria Subsea Horizontal Xmas Tree, and the fabrication in Nigeria of Agbami production manifolds for the Agbami Phase 3 Project by FMC Technologies/Aveon Offshore Nigeria Limited. Chevron also facilitated the safe, timely and successful installation of subsea equipment such as flexible flowlines, umbilicals and jumpers on the Agbami Phase 3 project by a Nigerian Contractor Marine Platforms Limited.
"CNL also facilitated the fabrication and load out of the Offshore Platform Topsides and Bridge Connection for the Sonam Non-Associated Gas Well Platform (NWP) by Nigerdock Plc; the fabrication and load-out of the Okan PRP Topsides; Bridge Fabrication of Okan PRP jacket by Globestar in partnership with Idmon Engineering and Construction Co. Limited; Installation of the 32km and 24" Sonam to Okan NWP pipeline by West African Ventures Limited; and the coating of the pipes used for the Sonam Development Project and Escravos Export System Project (EESP) by Pipe Coaters Nigeria Limited."
"Also, the Escravos Gas-to-Liquids (EGTL) project provided employment to more than 15,000 Nigerians during the construction phase of the project. In addition, the project awarded huge sub-contracts to local community contractors, sent 234 Nigerians on a 30-month training program in South Africa at the Synthetic Fuel Facilities of Sasol and trained over 7,000 Nigerians in Technical Skill Crafts, Plant Operation and Maintenance, Business and Project Management, Logistics and Supply Chain Management and Gas Tungsten Arc Welding (GTAW) processes.
"Also, the Chairman, ExxonMobil, Mr Paul McGrath had stated, "ExxonMobil gives first consideration to local produced companies in Nigeria. We have been at the forefront of local content development in Nigeria. Nigeria local content is a moral obligation and is good for business because in Nigeria we have highly and semi-skilled workforce which we give total support to at all categories. When we talk about practical Nigeria content and implementation of local content, ExxonMobil has been at the vanguard."
McGrath had said that the company was one of the country's highest producers of crude oil, accounting for almost 600,000 barrels per day of crude, condensate and natural gas liquids, which joint venture operation is over 90 offshore platforms from its Qua Iboe terminal operations area in Akwa Ibom State, comprising about 300 producing wells.
Problems
Maxi Bank Anthony-Okoroafor, Chairman, Petroleum Technology Association of Nigeria, PETAN, disclosed that, "The major problems in the nation's oil and gas industry are many. For instance, there are very limited activities or jobs to keep service companies actively engaged. This is mainly as a result of the delay in passing PIB into law. There is insecurity.
There is also corruption and lack of transparency which need to be addressed."
Strategy
Meanwhile, stakeholders in the oil and gas industry have called for a strategy that would deepen local content to achieve a sustainable socio-economic transformation in the country.
Speaking on the issue, Dr. Ibilola Amao, Principal Consultant, Lonadek Incorporated said that the pursuit of local content should be strategic to observe what other countries were doing in the sector and carving a niche for Nigerians in the space.
Amao said that the oil and gas industry was a multi-billion dollars zero tolerance industry, where the highest technology was deployed and highest levels of capabilities and competencies required in very few numbers.
She explained that there was need to bridge the gap between industry and academia, while taking cognisance of the position and role that Nigeria would play in the next 20 or 50 years when the country might have run out of oil.
Also, a coalition of Rights groups and organisations has called for increased protection of Nigeria's oil and gas companies. The coalition disclosed that the measure was necessary to protect them against what it referred to as 'unlawful activities of expatriates'.
Making the call at a press conference to address the suspicious liquidation of Sea Trucks Group (STG) and takeover of Jascon fleet of vessels, in Lagos, the Coordinator, Campaign against Impunity, Mr. Sina Loremikan explained that there has been an unlawful neglect of court orders by expatriates who were brought on board in 2002 by Jacques Roomans, a Nigerian citizen of Dutch heritage and founder of West African Ventures (WAV), adding that a neglect of this act would not encourage investors patronage in the country.
Capital market
However, the Executive Secretary, Nigerian Content Development and Monitoring Board (NCDMB), Engr. Simbi Wabote has called on indigenous companies in the industry to get their companies quoted in the stock market in order to attract adequate funds for expansion.
He said listing on the stock market would change the operating model of the oil and gas industry and enable the pooling of funds for growth, empowerment and inclusion of Nigerians in the activities of the sector .