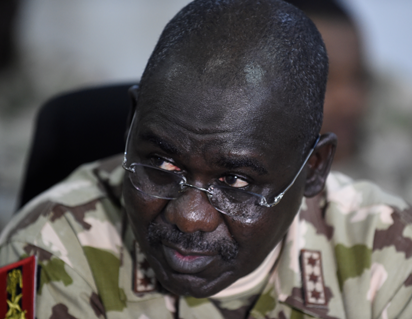 Chief of Army Staff Lieutenant General Tukur Buratai
Chief of Army Staff Lieutenant General Tukur Buratai
Chief of Army Staff (COAS), Lieutnant General TY Buratai, has continued to receive commendations for his transparent handling of the war against terrorism in the country.
The most recent of these commendations came from a researcher in conflict prevention and management, Dr. Ifure Ifure who has acknowleged that the transparency of the COAS is responsible for the recent turn of the tide against Boko Haram in their campaign against the Nigerian state.
Dr. Ifure who is also the Secretary General of the Centre for International and Strategic Studies Abuja, made this known to newsmen against the backdrop of publications by some cyber terrorists alleging corruption in the military.
According to him, such persons behind the publication usually sit in the comfort of their homes to make spurious allegations against the military and must be seen by Nigerians as enemies of humanity even as such persons do not mean well for the country.
"this kind of propaganda is the handiwork of anarchist who have continued to benefit from the crisis around the nation and have vowed to ensure the terror continues. Their comments are aimed at discrediting the army and further causing disaffection for their own pecuniary reasons", he said.
He noted that the fight against terrorism in Nigeria and other armed conflicts took a totally new dimension when Lieutenant General Buratai came on board as Chief of Army Staff, acknowledging that the COAS was able to totally overhaul the entire Nigerian Army in its operations and approach to the war against terrorism.
The conflict resolution expert said it took the Buhari administration less than one year to achieve the necessary milestones and begin to post the positive results because of the Army chief's transparency and how critical the management of financial resources is to the operation of the military anywhere in the world.
Speaking further he said, LT Gen Buratai therefore saw the need to usher in key reforms in terms of financial management and control, civil-military relations and boosting the morale of troops through very robust welfare for soldiers and officers embarking on operations.
Ifure while commending the military command, also hinted that all the service Chiefs have demonstrated enough zeal and capacity to help President Buhari see to the fulfillment of his campaign promises to Nigerians and deserve to be supported especially at a time that it looks like the sponsors of terrorism in Nigeria have modified their operations.
"We definitely need to support the military and the service Chiefs because a lot of evil is being perpetuated in the land and only a collective action would save the nation from collapse", he added.