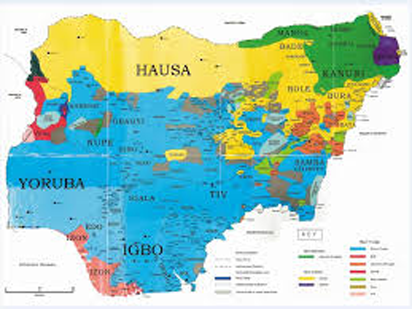 By Donu Kogbara
LAST week, I focused on Fulanis who feel that their tribe is being unfairly vilified because of the herdsmen issue.
To illustrate the page, we published a map that gave the erroneous impression that the North is exclusively Hausa-Fulani. And Elijah Malgwi (elijahsmalgwi@yahoo.com), a Vanguard reader who happens to be a Christian lawyer from Borno State, quite rightly objected!
Madame, I appreciate your writing. But there is a mistake that you and many Southerners often make that is unfair to people like myself. The map that accompanied your article on "The Fulani Question" wrongly implies that people like myself do not exist. Northern Nigeria is not occupied by only the Hausa Fulani. Making it look so gives them the right to ride rough-shod over the rest of us.
As a matter of fact, there are states in the North where not a single Hausa or Fulani man can claim to be indigenous. There are also states where, although they are indigenous, they are in the minority. States like Benue, Plateau, Taraba, Kogi, Nassarawa, Borno, Yobe, Gombe, Adamawa, Niger are predominantly or even totally non-Hausa/Fulani, while states like Kaduna, Kebbi, Bauchi, Kwara contain substantial numbers of non-Hausa, non-Fulani indigenous peoples.
Not acknowledging these facts is a denial of our existence and is part of what complicates the Nigeria problem. So please take note.
Thank you.
I wrote to Mr Malgwi to apologise for appearing to have forgotten about Northerners who are not Hausa-Fulani; and, to prove that I am not insensitive to the problems faced by people like Mr Malgwi, I sent him a column I wrote two years ago. It was titled, "Chronic Injustices" and appeared on this page on August 4, 2016.  Excerpts:-
"We often simplistically refer to 'The North', as if it is a monolithic unit. It is easy to forget that there are actually many different types of Northerners and that a significant number are not Hausa Fulanis or members of the Sunni Muslim majority.
"This complex diversity – and the tensions it generates – was highlighted during a bloody clash between the army and a Shiite Muslim group in Kaduna…and in a sad, thought-provoking letter I received from a Christian engineer from a minority tribe in Borno."
I then quoted the engineer, who made the following points:
"Christians in Borno State comprise 45 per cent of the population but are, 'like Christians all over the North, treated like a conquered people' and are at the back of the queue when political appointments, professional jobs, school admissions, etc, are being dished out.
"Many Borno Christians have converted to Islam out of desperation, in the hope of advancing their careers and protecting themselves from discrimination. Many are afraid that they will be further persecuted if they speak out about the oppression they suffer."
Mr Malgwi responded thus:
"The person who wrote you that letter must be a soul brother of mine…and captured the issues rightly. I may add only one other issue – Christian girls who are daily forcefully converted to Islam and married off sometimes to men older than their fathers.
"I am personally of the view that neither silence nor fear are viable options and more and more of our people are buying into that mindset. We can be very strong if we unite, speak with a single voice and seek the cooperation of like minds from other parts of the country. And you could help by publishing a map that shows that there are also Tiv, Jukun, Berom, Bachama, Higgi, Angas, Tangale, Mandara, Karekare, Gwi, etc. people in the North and most of them are not Muslims. An accurate map might make a difference.
  "I schooled in the South West (Lagos) and have met many Yorubas, Igbos, Ijaws etc, who are shocked that I am a Christian from Borno State. And I always patiently try to educate them and explain that the North is neither predominantly Hausa-Fulani nor Muslim. In my humble view, if you put the rest of us together, the Hausa-Fulani people are actually in the minority in the North."
POSTSCRIPT
From Umar Abubakar Ibrahim (umaruibrahim80@gmail.com):
"Let me start this piece by saying there is nothing like Hausa-Fulani. It is either you are Hausa or Fulani of which I am the latter. The Fulani have been living with their host communities for donkey years and nothing like herders/farmers clash until after the advent of democracy in 1999. The political class used the media to sow the seed of hatred among the locals to score cheap political points or win easy elections.
"A typical Fulani man takes pride in his herds and any form of threat or aggression to his economic well-being would be resisted by any means, the least of which is war. The elite or political class, especially in Christian-dominated areas in the North, told their locals that the Fulanis are coming to dominate them and take over their ancestral lands. This contributed to recent and past clashes between Fulanis and other tribes.
"Notwithstanding, the locals have soon forgotten that they have been living with the Fulani for ages and nothing of such happened. The locals, especially in minority areas in the North, believe that Fulanis are using their resources – e.g land – to advance their economic well-being to their detriment, which led to envy and bitterness among the local tribes, which led to many recent clashes like the Mambila ethnic cleansing of the Fulani and their resources.
 Brave and hardworking
 "They forgot that life only rewards the brave and hardworking. The PDP and some disgruntled politicians are using the media to get at Buhari because of the bitterness of losing the 2015 elections, simply because he is a Fulani man. However, these clashes predate APC and Buhari and nobody is crying foul.
"A Fulani man will fight for generations when he is threatened economically. By that I mean threat to his cows. Their grouse against the tribes and some of the state governments is forceful takeover of their lands and blockade of the grazing routes.
"Finally, the solution to this problem lies with the media and politicians. The media should henceforth stop subjective and one-sided reporting about herders/farmers clashes. While the politicians should stop using their uninformed locals against the Fulani to score cheap political points or win easy elections."
Responses to: donzol2002@yahoo.co.uk or to 0802 747 6458 OR 0811 675 9752 (texts only). PLEASE KINDLY NOTE THAT UNLESS YOU REQUEST ANONYMITY, YOUR COMMENTS MAY BE PUBLISHED, WITH YOUR NAMES AND CONTACT DETAILS ATTACHED.