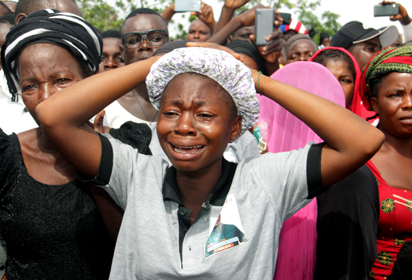 By Peter Duru, Makurdi
Benue State has been in the eye of the storm since the beginning of the year following the New Year's Day murder of over 73 persons in Guma and Logo local government areas (LGAs) of the state by suspected militant herdsmen.
Since then, hardly has a day passed without the state recording attacks, killings and sacking of communities in a manner that has left more questions than answers especially in localities where the people are known for their prowess in agricultural production.
The attacks have also left in their wake a huge humanitarian crisis with close to 500,000 local farmers in Internally Displaced Persons, IDP, camps created by the state government in eight locations in Guma and Logo LGAs.
Curiously, while the state government cried for help from the Federal Government to halt the killings, the marauders got emboldened and unleashed further mayhem on the people.
The attacks have left over 500 dead, many unaccounted for and scores with life-threatening injuries.
Before Benue turned into a parlour of bloodbath which though dates back to 2010, the state government, after much agitation from the people, had enacted a law proscribing open grazing in Benue but nonetheless prescribed ranching as panacea to the recurrent alleged herdsmen attacks in the rural communities.
Meanwhile, before the law came into effect on November 1, 2017, Miyetti Allah Kautal Hore Cultural Association had registered its opposition to the law on the grounds that it was intended to frustrate the trade of herdsmen in the state.
The group was alleged to have threatened to resist the law and invade the state with its members from across the nation to express their resentment and even went as far as dragging the state government to court over the matter.
Responding to the threat, the Benue government appealed to the Federal Government to arrest the leadership of the group for prosecution.
Till date, the appeal seemed to have fallen on deaf ears while top Federal Government functionaries sang discordant tunes on the root cause of the killings.
While the Inspector General of Police, IGP, Idris Abubakar, blamed the killings on communal clashes, the Minister of Defence Mansur Dan-Ali, on his part, said they were a reaction to the enactment of the open grazing prohibition law.
Meanwhile, similar killings were going on in several parts of the country where such law did not exist.
The people were left to bear the brunt of suspected well-armed militant herdsmen and rivers of blood flowed freely in the rural communities of Benue.
A timeline of the killings shows that on January 5, while the outcry that greeted the New Year's Day was yet to die down, five persons in Ukemberagya/Tswarev ward of Gaambe-Tiev in Logo LGA of the state were murdered in cold blood by marauders.
Then came the January 6 attack on Tse Akombo, Tse Vii and Tse Agule communities in same Logo LGA where a community head and 15 others were reportedly killed by suspected herdsmen in a two-day attack.
On January 8, members of the Police Mobile Force deployed to protect lives and property in Gaambe-Tiev Logo LGA came under heavy attack from suspected militant herdsmen in Awashua village in Tombo Council Ward. The incident left four of the cops dead and many others injured.
January 13 was the turn of Tswarev axis at Tse Orabum village in Ukemberagya/Tswarev of Gaambe-Tiev, Logo LGA where one person was killed along Anyiin-Wukari Road.
Ado and Logo LGAs were again visited on January 14 where a middle aged man was killed at Tswarev axis in Tse Orabum village in Ukemberagya/Tswarev of Gaambe-Tiev.
This was followed by attacks on Logo Guma and Okpokwu LGAs on January 16 where at least five persons were reportedly killed.
Tse Mtsor, Tse Dugeri and villages in Uvir Council Ward of Guma LGA where four persons were killed on January 24 was the next port of call.
A day later, a police officer and a farmer were reportedly murdered by suspected herdsmen in Uvir Council Ward of Guma LGA.
On January 29, marauders attacked and killed a Nigerian National Petroleum Corporation, NNPC, official who, alongside his colleagues, had been busy working on the petroleum pipeline at Tse Torkula, a border community between Nasarawa and Benue states in Guma LGA.
And on January 31, seven persons, suspected to be of Fulani extraction, were reportedly murdered in what appeared to be a reprisal attack by aggrieved Tiv youths in Gboko Motor Park.
February 3 was another black day for security operatives in Benue following the murder of two police officers and four others in a gun battle between suspected herdsmen and the police at Yogbo community in Guma LGA.
On February 5, Governor Samuel Ortom tasted the bitter pill of the recurring attacks when marauders attacked Waku village and a part of Gbajimba town also in Guma LGA, killing two and destroying Ortom's farm house in the area.
72 hours after, three persons were reportedly shot dead by assailants at Anyiin in Logo LGA and several farmlands razed.
On February 10, the police again lost two men in a gun battle with attackers who also burnt a patrol vehicle at Adzege village, Ayilamo in Logo LGA. In that incident, one of the victims had his eyes and noses removed by the invaders.
The following day was the turn of the operatives of the Nigeria Security and Civil Defence Corps, NSCDC, when two of its men were reportedly ambushed and killed by suspected armed herdsmen at Korakga Uvir in Guma LGA.
The Chief of Army Staff, Lieutenant General Tukur Buratai, on February 20, announced a military intervention in Benue to halt the killings, code named "Exercise Ayem A' Kpatuma".
Regrettably, that exercise failed to bring peace to the besieged people as the attacks and killings went unabated.
On February 27, suspected herdsmen reportedly sacked Mbatoho Chile community, an island close to Benue State Government House, at Mbalagh Council Ward of Makurdi LGA.
The invaders also rendered over 5,000 Tiv inhabitants of the community homeless after destroying several houses, farmlands and food barns of their victims.
Sadly, after escaping the attacks, three children housed at the Abagena IDP camp on the outskirts of Makurdi, the state capital, were reportedly crushed by a truck on Makurdi-Lafia Road.
On March 5, suspected herdsmen stormed and razed Tse Sumaka and Tse Atorough Vishigh in Mbadwem Council Ward of Guma LGA.
This was immediately followed by an attack on Umenge village in Guma LGA where no fewer than five persons were killed by suspected militant herdsmen.
The following day, an attack on Omusu village in Ojigo Ward, Edumoga, Okpokwu LGA killed 26 persons.
Two persons were slain in an attack on Mbagber Ward of Logo LGA and farmlands razed by invaders the next day.
March 11 saw the cold blooded murder of police sergeants Ibrahim Shehu and Mohammed Sanni from the Special Forces Unit of the Mobile Police Force posted to the state to check incursions of alleged herdsmen.
Same day, President Muhammadu Buhari came visiting Benue during which he appealed to Benue farmers and herders to learn to live together even as he lamented that he was not aware that the IGP failed to relocate to the state after he gave a directive to that effect.
Two days after, a Catechist of the Catholic Church, Christopher Unenger, and two others, Aondowase Uma and Ahanbee Uma, were reportedly murdered in separate attacks by suspected herdsmen at Tse-Oragbo Nyiev Council Ward and Yelwata in Guma LGA in what appeared to be an ambush.
On March 22, two persons were reportedly killed in their farms at Branch Umenger and Tse-Samaka in Guma LGA when suspected herdsmen stormed the community. Security personnel were said to have fled with the villagers after being overpowered by the invaders.
Five persons were also reportedly killed in two separate attacks on Tse-Semaka and Olegobiudu villages in Guma and Agatu LGAs respectively by suspected herdsmen, including a herdsman at the Lower Benue area of Makurdi town on March 26.
On March 29, Benue State Police Commissioner, Mr. Fatai Owoseni, confirmed the killing of two herdsmen and I5 cows in Agatu and Gwer West LGAs following clashes between youths and herdsmen.
Same day, at least 30 persons were killed in an early morning attack by suspected herdsmen on Mbakyondo, Mbakpa and Sengaev communities in Agagbe area of Gwer West LGA.
April 7, Andrew Atabo and his son, Benjamin, were butchered by suspected herdsmen who invaded Onahe Ocholonya in Agatu from neighbouring Nasarawa State.
Same day, 10 persons, alleged to be of Fulani extraction, were reportedly murdered by an irate mob at Yelwata in Guma LGA in what appeared to be a reprisal attack. Yelwata is a border town between Benue and Nasarawa states along Lafia-Makurdi Road.
28 of the suspects alleged to be involvement in that attack were apprehended by the police and arraigned before a Makurdi Magistrate Court on April 9.
Also on April 7, a soldier deployed to the state to maintain the peace was murdered by suspected herdsmen in Guma LGA.
Bothered by the spate of killings despite the presence of the military in the state, Ortom, who was on a condolence visit to the people of Gwer West, implored Benue youths to rise and defend themselves even if they had to do so with stones.
On April 10, marauders struck again killing a 75-year-old man and 14 others in what appeared like coordinated attacks on Gbeji in Ukum LGA and Ukemberagya/Tswarev Ward, Channel One community, Orveren and Ajura villages and Tombo community in Logo LGA.
Less than 48 hours later, precisely on April 12, some gunmen struck, killing at least 55 persons and injuring scores in Igbougher Mbavuur and Tse-Wadr communities in Logo LGA.
Among the injured victims of that attack was 70-year-old Mama Uhaen Ndiisaa, mother of a former Peoples Democratic Party, PDP, Chairman in Logo LGA, Mr. Terhemen Ndiisaa. The attackers also razed several communities in the area.
Same day, Agboughul village in Makurdi was visited by marauders, leading to the death of two persons and several others injured.
Again, four police personnel deployed to Logo LGA to maintain the peace were killed at Anyibe village in Logo LGA in an attack by suspected herdsmen that lasted between April 15 and 16.
Also on April 16, four suspected herdsmen were gunned down by troops of the 707 Special Forces Brigade, Makurdi after they reportedly invaded Yogbo village in Guma LGA.
The following day, a village Head, Chief Iyongovihi Ninge, was reportedly killed by suspected militant herdsmen who attacked Chembe settlement in Ukemberagya/Tswarev Ward of Gaambe-Tiev, Logo LGA.
Then came a case of mistaken identity on April 18, when a soldier attached to the troops of 707 Special Forces Brigade and deployed to Naka in Gwer West LGA, Private   Danlami Gambo, was taken for a militant herdsmen and murdered by some youths.
April 21 was a black day in the state as 25 persons, mostly women and children, were killed by marauders in Guma LGA and over 82 houses razed in two days of coordinated attacks on Tse-Abi, Tse-Ginde, Tse-Peviv, Tse-Ikyo, Agenke and Gbenke communities of Unzughul, Saghev Council Ward.
In the evening, one Mr. Mtserikyaa Hiimo was shot dead between Iorza and Jootar along Anyiin-Gbeji Road in Logo LGA by invaders.
On April 22, a Nigerian Army personnel posted to Logo LGA on special duty was reportedly waylaid and shot dead by suspected herdsmen along Anyiin-Gbeji Road while on a commercial motorbike.
Two days later, gunmen stormed a church at Ayar-Mbalom community in Gwer East LGA, killing two Catholic priests and 17 worshippers.
Less than 48 hours after the Mbalon massacre, assailants launched coordinated attacks on three communities in Guma LGA, killing no fewer than 39 persons, injuring scores and razing over 160 houses, huts and farmlands in the communities.
The affected communities in the April 24 and 25 attacks were Tse-Umenge, Mbadwen council ward, Mbakpase, Saghev Council Ward and Tse-Ali, Mbawa Council Ward.
The Africa Church, Mbamondo clan in Ukemberagya Gaambe-Tiev in Logo LGA came under heavy attack of suspected militant herdsmen on April 26, leading to the death of seven persons taking refuge in the church.
On April 28, eight persons were killed in an attack on Agagbe community, Sengev, Gwer West LGA after an invasion by suspected herdsmen.
Gunmen stormed Tse-Iyortyer, Yelwata in Guma LGA on May 1, killing six persons and injuring scores.
Despite the claim by President Muhammadu Buhari in the US that herdsmen in Nigeria only wield sticks and machetes while herding their cattle, the Nigerian Army, on May 2, paraded a herdsman, one Idi Gemu, with an AK47 rifle in connection with killings in Benue.
Reasonable success seemed to have been achieved through this latest spike operation, given a lull subsequently in the spate of killings.
However the attacks resumed on May 17 when marauders launched a deadly assault on Ukemberagya community, Gaambe-Tiev in Logo LGA killing three persons while several others were declared missing in Tse-Mue, Torkaa, Mgbakpa, Torjem and Ifer villages.
Then came the May 18 attack which claimed six lives including those of a Makurdi Primary School Head Teacher, Mr. Stephen Tavaku, and his Junior Secondary School counterpart, Mr. Christian Anankpa, who were reportedly waylaid by suspected militant herdsmen at Mbatonbo community in Gwer LGA.
May 20 recorded another dastardly attack when two personnel of the Operation Whirl Stroke were reportedly ambushed and killed by suspected herdsmen at Tseke village, a border community between Benue and Taraba states in Logo LGA.
On May 21, at least five persons were reportedly killed by attackers at Mchia village in Logo LGA.
Meanwhile, troops of Operation Whirl Stroke reported that one of its personnel was killed and another missing after they killed 35 suspected militant herdsmen in gun battles in Benue, one in Nasararwa and recovered cache of arms.
May 22 was another sad day for Benue when three mourners were reportedly ambushed and murdered on Makurdi-Naka Road by suspected herdsmen while returning from Ayati-Ikpayongo in Gwer East LGA where they attended the mass burial of the two Catholic priests and 17 parishioners killed in April.
A couple and one other were murdered on May 26 in separate incidents in Logo and Guma LGAs.
Same day, gunmen struck at Tse Shitenger in Uvir Council Ward of Guma LGA, killing one person and taking another captive.
The killing spree continued on May 31 when suspected militant herdsmen reportedly ambushed and killed two travellers on a motorbike close to Mbazar community between Anyiin and Akwana in Logo LGA.
It was the turn of Kwande LGA on June 3 when gunmen invaded Tseadough village in Mbachom, Yaav Ward, killing eight persons. That community was also razed.
On June 6, coordinated attacks were launched on communities in Logo and Guma LGAs where 15 persons, including two National Examination Council, NECO, examination candidates, were killed.
Majority of the victims of the attacks were mourners attending a wake keep for a deceased relation but didn't live to bury their dead.
June 8, Adai village in Totyough Mbaye Yandev Council Ward in Guma LGA was raided, 45 year Godwin Tarfa killed and several others injured.
Two brothers and three others were killed between June 11 and 13 at Mobile barracks – Tombo Ward, Tse Audu Amo-Tombo Ward, Tse Akombo, Mbaniange Mbagber Ward and Tse Audu Amo all in Logo LGA.
On June 15, two persons were reportedly killed and another taken captive at Wankya settlement in Zaki-Biam town of Ukum LGA by unknown armed men suspected to be linked to the wanted Terwase Akwaza, also known as 'Gana.'
On June 26, two soldiers attached to Operation Whirl Stroke were shot dead by suspected militant herdsmen in an ambush along Bakin-Korta, Mbadwem Council Ward of Guma LGA and Keana in Nasarawa State.
Three persons were in the early hours of July 5 shot dead following an ambush by suspected militant herdsmen at Tse Tyogbihi village, along Tsokwa -Tiza Road in Tombo Ward of Logo LGA. The attack left some of the victims with bullet wounds.
The Head of the Benue State Livestock Guards, Alhaji Aliyu Teshaku, on July 4, dragged the Director General of the Department of State Service, DSS, the Chief of Army Staff and the Attorney General of the Federation to a Makurdi Federal Hight Court for the enforcement of his fundamental human right over his alleged unlawful detention.
Teshaku had been whisked away from Makurdi on April 2 by security operatives for yet undisclosed reasons and not arraigned in court.
An application for the enforcement of his fundamental right was brought before the court presided over by Justice Hassan Dikko by his counsel, Mr. Emmanuel Agbako.
Agbako, who hinged his application on the provisions of Section 35(4)(5) of the Nigerian Constitution, urged the court to order the release of the applicant.
"We ask the court to release him on bail or, in the alternative, the authorities should produce him in court", he said.
Dikko adjourned the matter to September 27 for hearing.
Reacting to the arrest without trial of Teshaku, the Convener of the Middle Belt Movement for Justice and Peace, MBMJP, Comrade Joe Bukka, lamented that it was against the cause of justice to detain a Nigerian for more than 24 hours without trial.
According to Bukka, "we expect that he should be tried or released on bail.
"We also hope that the arrest is not an attempt to change the narrative of Benue killings.
"We are waiting for his appearance in court and the charges against him made known to be able to make a definite statement on the matter."
Bukka noted that the arrests made so far in connection with the killings in the state were not encouraging compared to the magnitude of killings.
Reacting to the killings, the Chairman of Logo LGA, Mr. Richard Nyajo, and his counterpart from Guma, Anthony Shawon, lamented that the situation had become almost a daily affair, adding that murderous attacks in the LGAs may have been underreported due to the terrain of where they happened.
On his part, the Chairman of leaders of the ethnic nationalities in the state, Chief Edward Ujege, urged the Federal Government to purge itself of bias by ensuring the arrest and prosecution of the leaders of herdsmen groups who had allegedly come out to claim responsibility for the killings.
"It is when these people who go about boasting that they are responsible for the killings of our people are arrested and prosecuted that the world will know that justice has been done in this matter", Ujege said.
"Anything short of that is unacceptable to Benue people given the magnitude of killings and destruction of property recorded in the state over a short period of time."