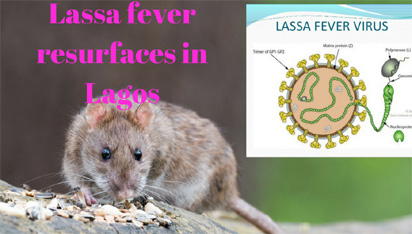 Lassa Fever
A public health official, Dr Taofeekat Ali, on Tuesday urged medical professionals and health workers in the country to take universal precaution of infection control to check the spread of Lassa fever.
Ali, who is the Public Health Officer at the Institute of Human Virology Nigeria (IHVN), gave the advice in an interview with newsmen in Abuja.
She explained that at this period where many doctors and other health workers providing healthcare services have been infected with Lassa fever, they must take the use of Personal Protective Equipment (PPE) seriously.
According to her, medical doctors and nurses must adhere to the use of PPE such as globes, goggles and protective jackets, among others.
Newsmen report that Lassa fever has been reported in Ebonyi, Kogi, Nasarawa and Ondo States where some doctors and nurses have been infected and died of the virus.
Lassa fever is an acute viral hemorrhagic illness of two to 21 days duration that occurs in West Africa.
The Lassa virus is transmitted to humans via contact with food or household items contaminated with rodent urine or faeces and contact with body fluid of infected persons.
Ali said that government and owners of private hospitals must ensure adequate supply and correct use of PPE in their facilities.
She stated that government should intensify or increase in awareness creation in health education through the media, to sensitise the health workers and general public.
The expert lamented that the media campaign to educate people on Lassa fever was only in urban areas, suggesting that such must be carried out in rural areas and with use of local languages.
She said that people must increase in the levels of personal and environmental hygiene to prevent Lassa fever and other infectious diseases.
Ali added that waste bins should not be kept around the houses carelessly.
"As far as I am concerned, the message to sensitise people about Lassa fever only concentrated in the cities and urban centres and has not reached the people at the rural areas.
"And such information must be passed in local languages where a lot of Nigerians that live in the villages will understand.
"Washing of hands is very important for health workers and non-health workers alike, doctors and nurses should wash their hands before and after contact with every patient,'' she said.
The public health officer said that the feat recorded during the outbreak of Ebola in the country should be sustained.
He recommended that wash hand basins with soap and water should be around in public places like hospitals, schools, market places and offices to disinfect.
NAN