She is one promising and dazzling talent that any good producer in search of an actress who acts with boundless passion would want to have on set. Her name is Damilola Adegbite, and she is one of the cast of the popular soap, "Tinsel",M-Net's first multi camera production, which is currently being shot in Lagos.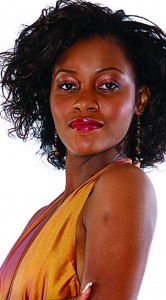 In "Tinsel", Dami is known as Telema Duke. That damsel who has caught the admiration of many viewers following her sweet and charming disposition.
The rising actress said, she grew up with the character and hardly was confronted with any challenges fitting into the role.
Talking about Telema Duke, Dami described her as " a damsel who was in the last year of her teens," adding that she was a shy, sweet and very kind hearted girl. Telema Duke reluctantly entered a beauty contest but didn't expect the abrupt turn of events winning the contest would have on her life.
" I didn't face much challenges fitting into the role, because I had to work to get myself acquainted with the character." she said.
Today, Dami can rarely be separated from the character, having excellently interpreted the role for the past four years. Viewers believe that her enviable role in that popular soap is responsible for the growing attention she is enjoying on screen at the moment.
Only last year, Dami made her debut in the movie industry, starring in a Ghanaian movie titled "6 Hours to Christmas.' The movie directed by renowned director, Shirley Frimpong-Manso also starred Chris Attoh and many other notable Ghanaian actors.
Before now, she had played lead and supporting roles in a series of stage performances, including "The Vagina Monologues", which dwelled on gender inequality as well as addressed sensitive issues such as female genital mutilation and wife battery.
And that was shortly after she veered into Television, where she worked as a host for the Chartroom and Global Countdown Show on Sound City Television in Lagos. She also played a lead role in a Television commercial for Brilliance Motors in March, 2009 as well as a calendar job for Nestle, in December 2008 amongst others.
As a rising actress, Damilola believes in her ability to rule her world. Her dream is to reach a new heights in her chosen career. "I want to live a fulfilled life, and to be happy in whatever decision I take in life" , she tells HVP during a recent encounter with her.
Adding, the Business Administration graduate of Bowen University, Iwo, Osun State, said, " the only way I can be happy is to do the things I love to do; things that I would never get tried of doing. That's why I have chosen despite the erroneous impression people tend to have about the acting. I have chosen to follow my passion, which is television."
The actress reaffirmed her desire to make a world of difference in her chosen career. She said as an actress, she is not crazy about starring in every movie that comes her way. For her, she has a mental picture of how she wants to be perceived in the industry.
Damilola made it her goal to pursue her first love which is acting. Today, not only has she achieved fame beyond her imagination, but also, she has continued to perfect her craft.
The actress said, she has no time for frivolities, adding that at the moment, she is concentrating on her acting career. "I'm not thinking of dating for now. I'm focusing on my career, before branching out to other areas of life. I don't need any formal distraction at the moment.