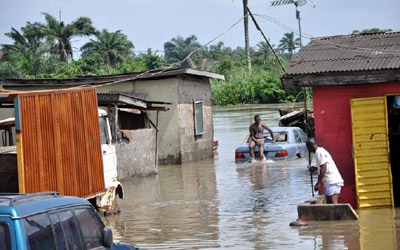 For  residents of Lagos and most Nigerian towns and villages, the rainy season is undoubtedly not the best time of the year.
This period comes with the perennial problems of flooding which leaves many homes swamped with the resultant loss of property and sometimes human lives. From Jigawa to Kogi, Imo to Anambra, Lagos and Ogun, Sokoto to Bayelsa, people now live in fear.
Every cloudy weather elicits trepidation of a possible flood. The flooding has left a lot of people with tales of woe. What has climate change to do with this deluge of floods? Jude NJOKU, Kingsley ADEGBOYE & Charles KUMOLU investigate.
LIKE every other farmer, Awalu Danasabe looks forward to the rainy season with great expectations because it affords him the opportunity of planting his crops.
But the Sokoto- born peasant farmer is singing a different song today.
He is one of the over 100,000 farmers forced to leave their homes due to flooding.
The flood led to the loss of thousands of houses and farmlands in 11 local government areas of the state.
Other areas affected by the disaster include Isa, Kebbe, Sokoto-North, Sokoto-South, Rabah, Binji, Goronyo, Silame, Shagari, Binji and Kware local government councils. Unconfirmed reports put the death toll at 49 while about 50 villages were submerged and more than 130,000 people displaced.
While Sokoto residents were still bemoaning their fate, the fury of flooding is spreading swiftly across other parts of  the country.
For instance, flood recently sacked over 5000 people in two communities in Sagbama and Kolokuma/Opokuma Local Government Areas of Bayelsa State.
The flood which occurred as a result of the overflow of River Nun affected Okorozi community in Sagbama and Odi in Kolokuma/Opokuma LGs. In Okorozi, many homes were affected, forcing them to paddle their canoes to neighbouring communities in search of refuge.
Also affected were the Community Secondary School and the Corps members' lodge which were completely submerged. Checks indicated that most of the Corps members serving in the community have since abandoned their primary assignment and relocated to Yenagoa, the state capital.
Lagos and neigbouring Ogun State had their own share of flooding recently. Thousands of people were rendered homeless and  property estimated at several millions of Naira destroyed in many communities in the Ikorodu axis. It was gathered that the persistent overflow of  River Ogun caused the disaster in the state.
In what seems like  wildfire, Kogi state became the next casualty. About 90 communities particularly, in Lokoja, Ibaji and Kogi local government areas of the state were sacked by the raging flood which displaced over 500,000 people. In some areas, only farmlands were affected while in others, both homes and farmlands were all swept away.
In Lokoja local government, Edo , Taji, Tsofo, Lambata, Yashim, Sale , Eko and Taraba villlages, all in Kakanda district were submerged by the water.
The people of Kogi local government were the worst hit as 46 communities were affected. Some of the areas are: Akpaku, Edeha, Edegaki, Odama, Okasemia, Adamogu, Ogbangede, Onumaye, Kelebe, Okpozogi, Edimose, Onwari, Irenedu, Kpakpazi and Panda among others.
While Nigerians are still mourning the outcome of these disasters, fears are rife that more disasters are in the offing. This is premised on the expected overflow of lake Nyos in Cameroun and its adverse implications on six Northern states.
States vulnerable to the impending disaster according to the Director General of the National Emergency Management Agency (NEMA), Alhaji Muhammad Sani Sidi include Taraba, Benue, Kogi, Adamawa, Akwa-Ibom, Cross River and Anambra.
He  revealed that the biggest loser will be Taraba State where it is feared that over 200 communities, located in five local government areas, face the danger of being swept off completely by the over 132 million cubic metres of flood water to be released as a result of the sudden Lake Nyos breakage any moment from now.
No fewer than 7,000 families with an estimated population of 1.4 million persons are expected to be affected in Taraba State. About 132 million cubic metres of water would flow downhill, flooding the North-West Province of Cameroun; six frontline states in Nigeria – Taraba, Benue, Kogi, Adamawa, Akwa-Ibom, Cross River and Anambra States; and some other states in the Niger Delta.