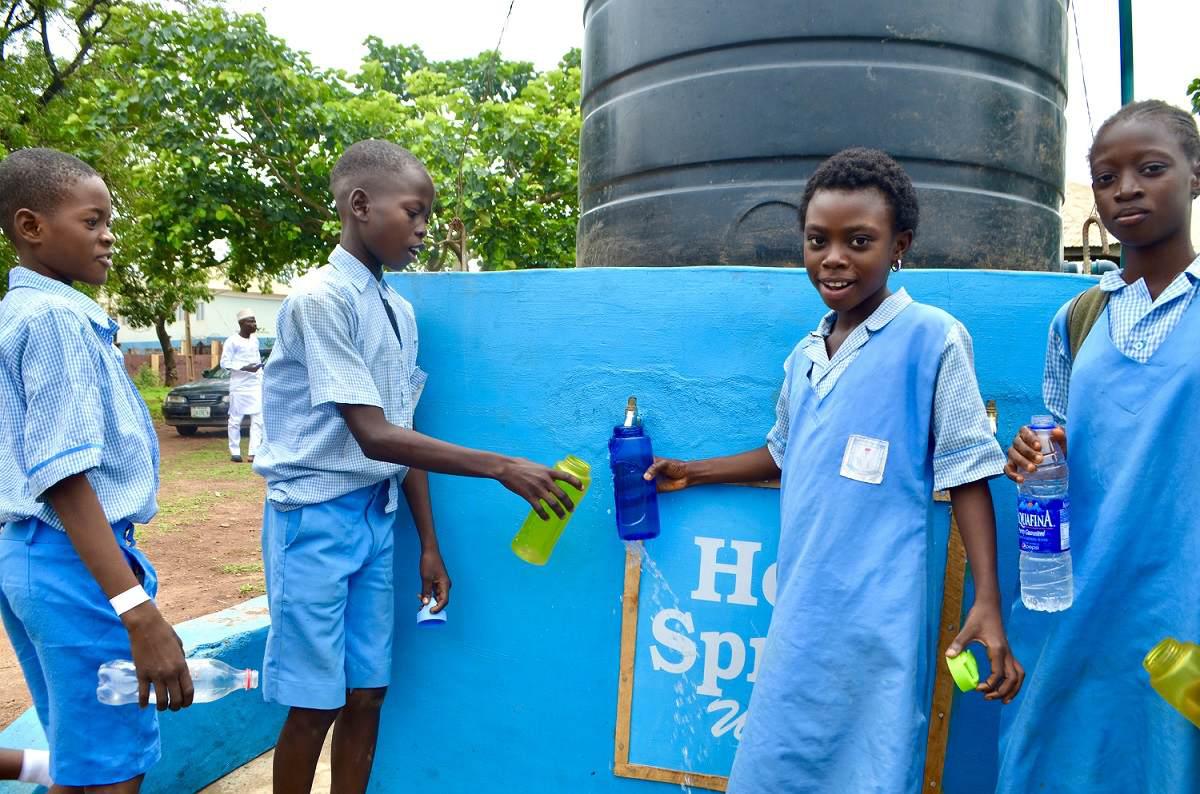 Hope spring charity is a transformational beacon in the vast canvas of Nigeria where stories are told with colours of resilience and mutual vision. Their mission is clear and profound: a ripple effect with each life being touched regardless of age and sex for creating clean water access to water-poor communities.
Stories That Resonate:
The story behind Hope Spring Charity is spun around a multitude of people who have known to endure the suffering brought about by lack of clean drinking water for many years now. Their lives and experiences have stories that resonate with the soul of Africa, Nigeria in particular.
Picture  Aisha, a young girl of  Atobaje community in Agege, Lagos state. Before the arrival of Hope Spring Charity, Aisha spent her days trudging miles to fetch water, her dreams stifled by the weight of a water container. Today, with a clean water source at her fingertips, Aisha can now attend school regularly, a dream that water scarcity had once deemed impossible.
Think about many mothers who now have to worry less about their children contracting waterborne diseases due to sustainable water solutions from Hope Spring Charity, with help from its fundraising platform UK Charity eCards. The children and women are much healthier  and have more time to dedicate to their businesses thereby improving the society's economy.
Such stories go beyond gender and age reflecting the diverse reach of Hope Spring Charity's initiatives.
Water: Catalyst for Inclusive Change:
For Hope Spring Charity, water does more than supply in communities they serve – it brings about change that leaves no one out. In addition to fighting water scarcity, the organisation realises that having access to clean water gives all people a chance for dreaming, aspiration and contribution toward society's prosperity.
Empowering Lives:
The founder of Hope Spring Charity believes no stone should be left unturned in bringing out the strength in each member of the community because a healthy community thrives on unitedness. The water shortage affects whether its men, women, or even children but lifts it off their shoulders, giving them a more precious gift of all which is time.
In most cases, women are the strong pillars holding the whole community together. By providing women with dependable water sources, they become free to discover education, create businesses, and add to their general quality of life in a society. It is not merely a matter of hoisting water buckets but of hoisting aspirations.
In a similar manner, children are relieved from undertaking this important task and thus can enjoy their childhoods. The focus on education enables young minds to visualise future lives without constraints arising from water challenges and ultimately breaks the cycle of poverty.
Hope Spring eCards: An Invitation to Make a Difference:
Through exploring the human tales associated with Hope Spring Charity we also stumble upon a novel way of partaking in this mission – Hope Spring eCards. Electronic cards encourage one to become part of something big to become that little glimmer of hope for those who badly need it.

A Hope Spring ecard is much more than a virtual expression of goodwill, it is an actual hand in many lives in local areas. By giving on behalf of someone you cherish, your aid turns into an umbilical line to countless people who receive much more than pure water supply.
As the festive season approaches, Hope Spring Charity introduces a special collection of Christmas eCards. The spirits of these cards signify giving and hope of a better tomorrow. When you choose a Christmas eCard from Hope Spring Charity, you're not just spreading holiday cheer; you're contributing to the joy of communities in need.
In the giving season, ensure that your greeting cards have substance beyond their face value. Choose a Christmas eCard from Hope Spring Charity and bring the glow of transformation into the season.
Conclusion:
Hope Spring Charity, in its pursuit of providing clean water,  doesn't only install wells and systems, but also cultivates dreams, hopes for better life, and future prospects. The organisation acknowledges that in each drop of water is the potential of a new life transformed.
Your support, whether through traditional donations and the Hope Spring business  eCards are worthwhile investments to an improved life where each person flourishes in Nigeria. Together, let's be the architects of change  together and create such a landscape, where dreams flow without being weighed down by the burden of water shortage. Hope never fades away, and with your compassionate support, such a hope would forever live on from the hearts and souls of those whose lives have been transformed by the humanitarian efforts of Hope Spring Charity.   You can connect with  Hope Spring on most popular social media platforms including Facebook .