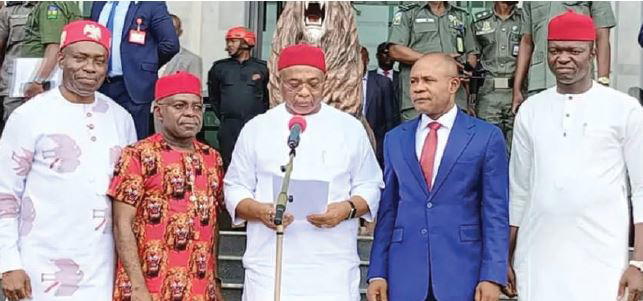 •As govs, other leaders brainstorm on way forward
•Nnamdi Kanu's release is vital for peace in the region—Igbo leaders
•S-East govs resolve to work together to tackle insecurity
•We must stop attacking, undermining each other— Okonjo-Iweala
•No devt without security
•The greatest existential threat for the zone is insecurity —Obi of Onitsha
•We've nothing to do with Biafra Liberation Army or govt in exile; they are Ekpa's men —IPoB
By Anayo Okoli, Steve Oko, Chinonso Alozie & Emmanuel Iheaka
In spite of the appreciable efforts of security operatives to tackle the devastating insecurity crisis in the South-East region, the criminals terrorizing the zone are still on the prowl, attacking, killing and kidnapping the people. Residents of the region continue to live in fear of the ugly bloodletting going on in the area, being perpetrated by criminals who on daily basis rampage the entire region to frustrate social and economic life of the people.
Although the illegal Monday sit-at-home orchestrated by Finland- based Simon Ekpa is being deflected, killing and kidnapping and other criminal acts still go on regularly. In Enugu State, sanity is yet to return to the busy Enugu-Opi-Nsukka road as kidnappers still operate with impunity on the Ugwoko-Opi stretch of the road. Even when the people thought that calm had returned on the Enugu-Port Harcourt/Udi Ozalla route, tragedy struck recently when two Mobile policemen were murdered in an ambush while on security patrol. One of them was lucky as he survived with bullet injuries during the attack. The slain officers were identified as Danjuma Joseph, an Assistant Superintendent of Police, ASP, and Inspector Abu Elamaje while Udeme Udomeng sustained injuries.
Penultimate week in Abia State, three members of the Biafran National Guard, were killed when soldiers from the 14 Brigade Nigeria Army Ohafia, raided their camp in a forest located between Ohafia and Arochukwu, saying they acted based on credible intelligence that the group had operational base in the forest. A vehicle bearing the inscriptions of their name and some dangerous weapons said to have been recovered from them were displayed by soldiers.
Providing details of what transpired, the 14 Brigade Nigeria Army in a statement said that weapons including AK-47 and locally-made rocket launcher were recovered.
"Troops of the Nigerian Army have made major successes in an operation that was carried out at Igboro forest, a boundary between Ohafia and Arochukwu in Abia State.
"The operation was conducted by 14 Brigade Nigerian Army in the early hours of Monday, 18th September, 2023. On arrival at the general area based on credible, timely and reliable information, troops made contact with the Biafran National Guard, an affiliate of the Indigenous People of Biafra and they bowed to troops' superior and heavy fire power hence, three of their members were neutralised while unconfirmed number escaped with varying degrees of gunshot wounds.
"The gun battle lasted for some minutes with the self acclaimed Biafran National Guard. The gallant Nigerian Army troops recovered the following items: a locally constructed improvised Multi-Barrel Rocket Launcher with sixteen (16) barrels mounted on the vehicle; one locally constructed twelve-barrel launcher, one locally constructed four-barrel launcher with tripod, six locally constructed rocket launcher, one AK-47 rifle, one locally made dane gun and four locally made improvised explosive devices.
"Others include one Baofeng radio, two cutlasses, one jack knife, five fragmental jackets, military uniforms and boots, one vehicle jack, code of conducts, an android phone and assorted charms."
Also recently, a chieftain of Labour Party and community leader in Uturu was killed and beheaded by yet to be fished out hoodlums.
The situation in neighbouring Imo State is worse. Of the three senatorial zones of the state, only Owerri zone can be said to be relatively calm security-wise. Orlu zone is the epicenter of the security crisis in the region. Some communities in Orsu, Orlu and Oguta council areas have been deserted due to incessant attacks by hoodlums who would kill and set homes ablaze.
Few days ago, yet to be identified gunmen killed five security officers at Umuezeala Owerre in Ehime Mbano Council Area. The action of the hoodlums provoked security operatives to invade the community.
Shops and other business concerns were destroyed by the angry securitymen.
A resident of the community said: "They burnt our shops. They destroyed the Ehime Mbano guest house. We have run away. We have abandoned our homes. Some of us are now in the bushes. We are afraid. We can't come back home. Our people have lost millions in the properties destroyed. We are in pains now. Let the world come and see what we are passing through."
Who indeed are behind the security crisis in the region?
For close to three years that the South-East has been engulfed by insecurity, it is not clear those who are behind it. Security agencies have been pointing accusing fingers at IPOB who in turn denied any involvement, and also accused security agencies of just killing Igbo youths and labeling them IPOB members. This back and forth has continued but the South-East governors had exonerated IPOB from the security crisis. They blamed Simon Ekpa and his autopilot group for the ugly situation. They noted the need for the Federal Government to activate diplomatic engagement to bring Ekpa to book.
Group emerged to claim responsibility
But while this blame game lingers, a group emerged recently to claim responsibility for security crisis in the region. They also claimed to be behind the recent killing of security operatives in Ehime Mbano and threatened to unleash more mayhem in Igbo land.
In trending videos, the group identified themselves as "Biafra Revolution Army", saying they run what they called Unknown Government. Their leader, who spoke in the videos, dressed in complete military fatigue, was identified as Igwe Obata Obie (the supreme leader) of Okigwe land. His real name was not mentioned at all.
He called out the South-East governors, naming specifically the Imo State governor as being those who caused them to take arms against Igbo land and threatened to continue until the "governors do the needful; they know what to do". The group did not say, however, what actually their grouse is with the governors, except in one of the videos where the leader said that one Ikonso, whom he called his boss, was killed by security operatives and vowed to revenge.
Enforcers of sit-at-home behind attacks in Imo—Villagers
Rural dwellers in Imo State, however, strongly believe that enforcers of Ekpa's illegal sit-at-home are responsible for the bloodletting in the state. Some of the villagers spoke in reaction to the killing of securitymen in Ehime Mbano Local Government Area of the state. They based their claim on the warnings and comments of the attackers.
An indigene of Ehime Mbano, who gave his name as Kenneth Maduka, linked the latest attack to the three-week curfew declared by those who insisted that the residents of South-East must sit at home in the morning hours for 21 days. He recalled that the unidentified gunmen had previously stormed the Orieagu Market axis where the securitymen were killed, to warn indigenes of the community to obey the one week sit-at-home which they had declared then.
According to Maduka: "The people have always said they are enforcing sit-at-home. Sometimes, they would be shouting obey the sit-at-home or you die. We are now living in fear in our own community."
We've nothing to do with Biafra Liberation Army or govt in exile— IPoB
Distancing themselves from the group that claimed to be behind the security crisis, IPoB said: "IPoB has nothing to do with the so called Biafra Liberation Army and/or a Government in Exile. IPOB is a global peaceful movement of millions of people who are fighting for the restoration of Biafra. We are not a government, and we do not have an army, nor do we have a government body anywhere in the world. The leader of IPoB is Mazi Nnamdi Kanu. We have remained peaceful and have never turned to armed struggle. IPoB's demand from the Nigerian government is a dialogue and agreement on a Biafra referendum date, not war.
"The sponsored criminals seen parading as Biafra Liberation Army are the double agents working for Simon Ekpa against Mazi Nnamdi Kanu and the IPOB struggle.
"These criminals in the so-called Liberation Army and the Fulani terrorists are behind most of the kidnapping, car snatching and organ harvesting in our territory. They have kidnapped and collected organs of many Biafrans who identified them as non-IPoB members.
"These criminals are the ones enforcing the infamous sit-at-home imposed by the DSS Agent in Finland. They are not IPOB members or ESN operatives at all and have no link to Mazi Nnamdi Kanu," Emma Powerful, the spokesman explained.
S-East govs, leaders, resolve to tackle insecurity collectively
In a well attended gathering in Owerri, christened: South-East Security and Economic Summit, Igbo political, economic and traditional leaders unanimously admitted that the entire region is under serious security threat which can only be tackled with sincere collective effort, and noted that without tackling the menace, no economic or political progress would be achieved in Igbo land.
We should stop attacking, undermining each other—Okonjo-Iweala
Addressing the summit virtually, the Director-General, World Trade Organization, WTO, a well respected global voice, Dr. Ngozi Okonjo Iweala advised the leaders, particularly the governors to work together and desist from undermining each another in order to make progress.
"This is an extraordinary gathering while coming together to consider the economic and social development of the region. I will say it is about time. Nigeria is facing a lot of crises and at the same time changing rapidly. If the initiative of this gathering succeeds and achieves results, then it will be a start of enjoyment to improving the lives of our people in Anambra, Ebonyi, Enugu, Abia and Imo states.
"The zone has the potential to become a place of good governance. A redirected South-East will make our young men and women become part of the team of the digitizing world.
"Back home, we must fully own up to our problems while looking at the many available solutions. The South-East has so many talents and opportunities. I think they can plan how to explore them all to the benefit of the region and its people," she said.
Insecurity is a big challenge in the region
"On the challenges, I am sure you want me to mention the gaps in infrastructure. Yes, that is the challenge and we have to come to that. And I don't think it is our biggest challenge. Our biggest challenge in the South-East is itself. We have often been our own worst enemies. We have allowed ourselves to be divided. We have lost focus. We have lost sight of our biggest community assets. We are fragmented as a people. We don't support each other. Instead, we attack and undermine each other. We are too individualistic.
An individual can be good but not better than when we come together as a body.
"But there is a bright side to this challenge. The big problems are us and it means that the solution lies in our hands. If we can build a sense of common purpose and coalition, we can solve any problem. We have to do that through joint leadership as you are taking this step today.
"Our other big challenge is security. Insecurity in our region is sending the wrong signal that no one can invest in the South-East. The lesson is clear. We can't have development without security. To sustain development is possible but the sit-at-home is one of the problems. And to move forward, we have to solve the issue of insecurity," Okonjo-Iweala stressed.
We will work together to tackle insecurity—South East governors
In their submissions, the governors, individually made firm promises to commit to genuine tackling of the insecurity that has destroyed the social and economic life of their people. They admitted that time has
come for them to work together for the good of the region. However, the coming weeks and months will tell how serious they are.