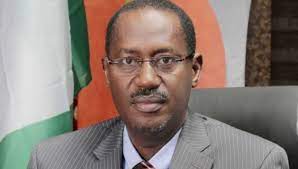 John Alechenu, Abuja


The Minister of Housing and Urban Development, Arc Ahmed Musa Dangiwa has commended BUA Cement Plc over its recent decision to reduce the price of cement to about N5,500 to N3,500.

He said described the company's action as a proactive gesture which will go a long way to will reduce the cost of cement, which is a major cost in housing construction.

This the minister said it in line with the Renewed Hope Agenda of President Bola Ahmed Tinubu, to provide affordable housing to Nigerians.

In a statement signed by the Deputy Director, Information of the Ministry, Salisu Haiba Badamasi, the Minister was quoted to have said this in response to BUA Plc's Sunday, 1st October 2023 official announcement reducing the price of cement in Nigeria.

According to him, the soaring cost of cement has led to a drastic increase in house prices, making them unaffordable for the average Nigerian, adding that that BUA Cement Plc's decision represents a substantial stride toward easing the financial burden on aspiring home owners.

Dangiwa emphasized that since assuming office, he has made promoting the delivery of affordable housing as a top priority in line with the Renewed Hope Agenda of Mr President

The minister said, "The escalating prices of building materials, especially cement, have placed a daunting obstacle on the path to home ownership for many Nigerians.

"BUA Cement Plc's decision to reduce the price of cement to N3,500 is highly commendable. It reflects their understanding of the struggles faced by ordinary Nigerians and is a positive step towards making housing more affordable and attainable for all," he noted.

" I commend BUA Cement Plc for their socially responsible decision to reduce the price of cement. Accessible and affordable housing is a fundamental right, and this move by BUA Cement Plc will undoubtedly alleviate the challenges faced by our citizens. It demonstrates a shared commitment to improving the lives of our people and furthering the goals of sustainable urban development."

The Minister further stated that BUA Cement Plc's initiative will not only benefit individual home owners but will also stimulate economic growth, create jobs, and lift many Nigerians out of poverty by fostering affordable housing construction and infrastructure development.

Accordingly, Dangiwa encouraged other industry players to emulate BUA Cement Plc's example, urging them to consider the social impact of their decisions.

The minister also expreseed confidence that collaborative efforts between the government and private sector entities are essential in overcoming the challenges related to housing affordability and ensuring the realization of decent living conditions for every Nigerian citizen.