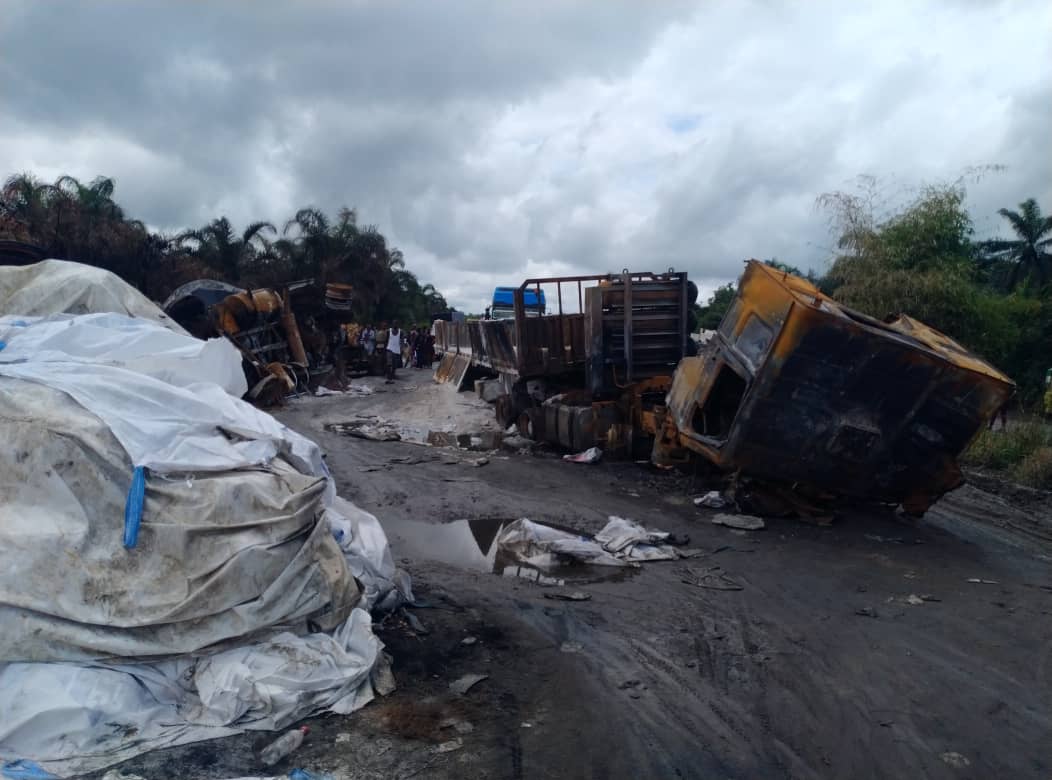 By Ozioruva Aliu
BENIN CITY – FEAR of a possible epidemic looms in Ugbenu and environs in Delta state along the Benin Sapele Road where a fuel tanker explosion on October 1 led to multiple accidents that resulted in the death of people as corpse of the dead the people said were still recovered floating on the swampy area on Tuesday and more were expected.

This discovery was made late Wednesday when the Executive Director, African Network for Environment and Economic Justice (ANEEJ), Rev David Ugolor led other people to on-the-spot assessment where he blamed the federal government for the disaster as a result of its abandonment of the East – West Road and other federal roads in Edo and Delta States.

It was discovered that four days after the accident, dead bodies were still being pulled out of the swampy water while the entire area was filled with offensive ordure.

One of the sympathizers who preferred anonymity, said dead bodies were recovered from the swampy water on Tuesday while others are yet to come up.

He said that when the fire broke out, many of the victims made attempts to escape through the swamp water without knowing its depth and were trapped inside.

He said some others have been buried by the roadside close to the scene of the incident by their relatives.
Speaking at the scene of the accident, Ugolor called on the federal government to declare a state of emergency on the road and take immediate and decisive action to remedy the failed portions of the road.

He noted that such a colossal loss could have been averted if the federal government has taken a steps to complete the East-West Road project which was started many years ago.

According to him, "We stand here today with heavy hearts, burdened by the weight of yet another tragedy that could have been averted.

"As you are already aware, many commuters plying the Benin-Sepele road and onlookers were killed on October 1st in a multiple auto crashes involving a tanker with petrol and over 15 commercial and private vehicles.
"The tanker was said to have fallen on its own while meandering through the deplorable portion between Ologbo in Edo State and Koko junction in Delta State.

"It immediately exploded, resulting in the razing of nearby vehicles, which were trapped in the usual gridlock on the failed road. This incident has left us in a state of mourning and deep sorrow", Ugolor said.
He said it is disheartening to note that the Ologbo portion of the Sapele-Benin road has been a nightmare for travellers, especially during the rainy season as commuters are often trapped for hours and at times an entire day losing man hours.

Ugolor said pointed that the challenges on the road have also increased transportation costs, thereby increasing the "suffering of the people who are already living in hardship and extreme poverty."

He said several appeals have been made to the federal government "to urgently address this issue, but the pleas have fallen on deaf ears, only recently, the Minister of Works, Eng. Dave Umahi, visited the areas for on-the-spot assessment, we expected rehabilitation work to commence immediately, but this has not happened."