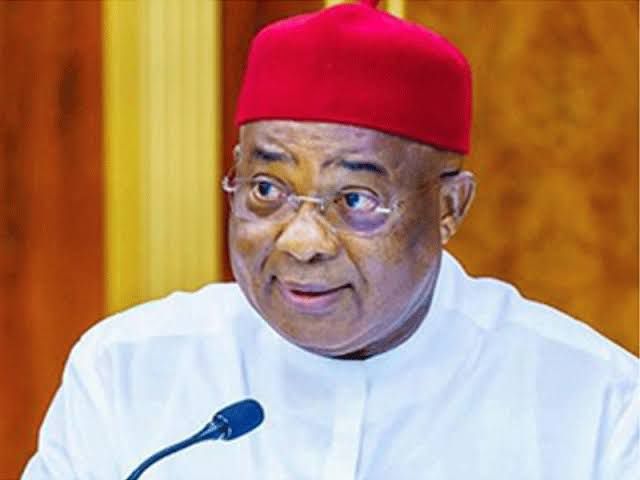 Uzodimma
By Chinonso Alozie
A top ex-governorship aspirant, and convener Ground Game for Hope, Jerry Chukwueke, on Tuesday mobilized his people of Imo East Senatorial district, to vote for the reelection bid of governor Hope Uzodimma, of the All Progressives Congress, APC, as doing so would be a full guarantee for Imo East to produce governor in 2027.
He disclosed this to newsmen while addressing residents across party lines at Awaka ward 1, in Owerri North council area of Imo state.
Chukwueke relied on the Imo charter of equity recently produced by Imo state stakeholders, adding that the charter of equity would ensure peace in the state.
According to him, "We called all political parties together. I called you people because of the interest of Imo East senatorial zone. Elders, women, youths have agreed that governorship will now be a rotational bases. Enugu, Abia, Anambra, Ebonyi and Imo people have agreed to join it.
"All we want is candidates from Orlu, any other candidate from other senatorial zones should wait. What we saying is that a vote for Uzodimma is shortest way for Imo East to produce next governor after Hope Uzodimma, concluded his second term.
"We agreed that after Hope, the governorship will come to Owerri zone (Imo East) that is part of the Imo charter of equity. So many people have argued that Orlu has ruled for long and it is the normal thing to do, and at the end stakeholders agreed that is time to rotate this position. So that we have peace in our state."
"Also, in the interest of charter of equity the governor selected a woman to balance the charter of equity, the governor no problem with his current deputy governor, but because women were also asking for charter of equity. The governor selected a woman to be his running mate. We have visited so many people contesting governorship fron Owerri and Okigwe and asked them to step down.
"So that we must support Uzodimma and be proud to talk about the charter of equity by the time is our turn to produce governor," he said.